Donald Trump Within 102 Delegates Of Clinching GOP Nomination
With the field before him now clear, Donald Trump is now assured to win the Republican Presidential Nomination. After that, though, his plans don't seem to make a lot of sense.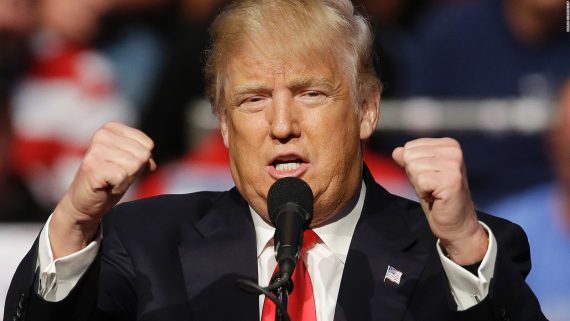 With everyone else but Donald Trump out of the race, the remaining primaries in the race for the Republican nomination are, of course, a mere formality Nonetheless, the contests went forward as scheduled and Trump won in both West Virginia and Nebraska easily. In West Virginia, Trump walked away with  76.9% of the vote, which was sufficient for him to win at least 31 of the 34 delegates from that state. In Nebraska, Trump won with 61% of the vote, which was good enough for him to win all 36 of the delegates up for grabs in that state. This puts Trump at 1,135 delegates as of this morning, just 102 delegates short of officially clinching the Republican nomination. If everything goes according to schedule, Trump should accomplish that task with a win in the New Jersey primary on June 7th, and will add to the delegate total with wins in the remaining states scheduled for that day as well. This is really happening folks, whether the Republican Party wants it to or not.
Meanwhile, as the Trump campaign and the Republican Party shift focus toward the General Election, Trump is telling reporters that he doesn't foresee changing the brash, arguably offensive, tone that he became known for during the primary campaign:
Donald Trump says he won't change his tone as he turns toward a general election match-up against Hillary Clinton, likening his appeal to a winning baseball team or a hit Broadway musical.

"You win the pennant and now you're in the World Series — you gonna change?" the presumptive Republican presidential nominee said in an interview with The New York Times published Wednesday. "People like the way I'm doing."

Doubling down on that notion, the real estate mogul said he had a "mandate from the people" to continue being who he is, a free-speaking political outsider who's drawn historic turnout and knocked out 16 opponents in the Republican primary.

"The people are tired of incompetent leadership at the highest level," he said. "They're tired of trade deals that are ripping our jobs apart and taking their wages."

The reality TV star's rallies have drawn thousands of supporters, and he likened the response to such events to "Broadway theater."

"In a Broadway theater, the best, the best, absolute best sale is called 'word of mouth.' If people love a Broadway show, it's better than if you write a good review," Trump said. "Word of mouth is the No. 1 thing. And the word of mouth at my rallies is like, 'You've got to go see it.' And, you know, one person goes and they talk about it to 20 people."
Ordinarily at this point in a race for President you'd start to see a Presidential candidate who has effectively wrapped up their party's nomination start to move to the center politically to some degree and to begin to moderate the tone of their campaign in an effort to appeal to voters beyond the party base that they have campaigning to for the past ten months. Only by doing this, the conventional wisdom maintains, can a candidate hope to attract the voters they would need to actually mount a winning campaign that does appeal to voters that are likely to support them in any case. Donald Trump isn't a conventional candidate, though, so I suppose it's not surprising that he might not follow the traditional path. Nonetheless, one has to wonder how successful Trump is going to be if he directs the same kind of insults at Hillary Clinton and her eventual running mate as has did at opponents for the Republican nomination such as Jeb Bush, Marco Rubio, and Ted Cruz. For one thing, those candidates largely failed precisely because they didn't fight back against Trump's rhetoric until it was far too late to make a difference and Clinton's campaign is unlikely to make that mistake in the fall. For another, it's arguably the case that voters outside the Republican Party may not react quite as enthusiastically to Trump's brash style as GOP primary voters, apparently including most of those that did not support him, have. This is especially true given the fact that, this time, Trump will almost exclusively be attacking a woman and that he already has a reputation as someone who says brutish and inappropriate things about women.
Trump is also saying that he doesn't plan on changing campaign tactics either and will continue to rely on big rallies, Twitter, and free media:
But in a break from recent major party nominees, Trump does not plan to invest heavily in a data-driven effort to target voters in the fall campaign. Despite pressure, the billionaire businessman also doesn't expect to release his tax returns before November, citing an ongoing audit of his finances. He said he will release them after the audit ends.

"There's nothing to learn from them," Trump told The Associated Press in an interview Tuesday. He also has said he doesn't believe voters are interested

Trump's comments came as he begins to prepare for a long, expensive general election campaign. His two remaining Republican rivals suddenly dropped out of the race last week, anointing him the party's presumptive presidential nominee faster than even the confident candidate expected.

(…)

In the interview, Trump outlined a general election campaign that banks heavily on his personal appeal and trademark rallies while spurning the kind of sophisticated data operation that was a centerpiece of Barack Obama's winning White House runs.

"I've always felt it was overrated," Trump said. "Obama got the votes much more so than his data processing machine. And I think the same is true with me."

He also ruled out for the first time the option of taking public financing for his campaign, money that would have saved him the time-consuming task of raising vast sums but would have dramatically limited the amount he would have been able to raise.

"I don't like the idea of taking taxpayer money to run a campaign. I think it's inappropriate," he said.

Trump stunned the political world at every turn during the Republican primary season, prioritizing large rallies over intimate voter interactions in early voting states and operating with a slim campaign operation. Even as he brings in new staff for the general election campaign, he says his emphasis will continue to be on raucous rallies to put him in front of thousands of voters and generate free media coverage.

"My best investment is my rallies," Trump said. "The people go home, they tell their friends they loved it. It's been good."

The businessman said he'll spend "limited" money on data operations to identify and track potential voters and to model various turnout scenarios that could give him the 270 Electoral College votes needed to win the presidency. He's moving away from the model Obama used successfully in his 2008 and 2012 wins, and which Clinton is trying to replicate, including hiring many of the staff that worked for Obama.
While it's hard to argue with the success that Trump had during the primary campaign, it's also true that General Election campaigns have always been far different in character from primary campaigns and the assumption that what worked in the primary is going to work in the General Election is most likely mistaken. During primary campaigns, for example, the primary calendar itself tells candidates which races they generally need to focus on the most at which point during the race. In the General Election, with every state in the Union voting on the same day, there is no similar guide and it's simply not practical for any campaign to assume that it makes sense to spend as much time in, say, Michigan as it does to spend it in Virginia, where there may be a stronger likelihood of pulling off a win. Similarly, without the kind of data driven campaign that President Obama ran in 2008 and 2012, and which Mitt Romney and the Republicans sought to replicate in 2012, any candidate is going to be at a disadvantage if they go up against a candidate with a world class data operation. As I said, it's hard to argue with the success that Trump's unconventional primary campaign, but given the considerable obstacles Trump already faces in a General Election campaign choosing to disavow traditional campaign techniques in favor of what may have been a fluke seems odd indeed.