Donald Trump Displays Appalling Disrespect For A Soldier Who Died On His Watch
President Trump sinks even lower.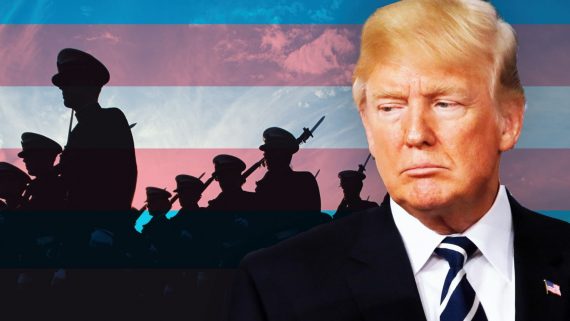 Yesterday I noted that President Trump had responded to questions about why he hadn't contacted the family members of four American servicemen killed during a mission in the African nation of Niger that remains clouded in no small degree of mystery by attacking his predecessors with the lie that they also failed to reach out to family members of slain soldiers. By Tuesday evening, though, he had apparently reached out to at least one of the four families, but in doing so, he found himself in the middle of yet another controversy:
When asked on Monday why he had yet to say anything about the deaths of four U.S. service members killed when they were ambushed by ISIS fighters in Niger on October 4, President Trump said he had drafted letters to their loved ones, and planned to call them too. Then he tried to deflect criticism by falsely suggesting that President Obama and his other predecessors did not regularly call the families of fallen soldiers.

Trump then doubled down on the claim, implying that Obama hadn't called his chief of staff John Kelly after his son was killed in Afghanistan in 2010. Kelly, who has tried to keep his son's death out of the political arena, attended at least two events the Obamas held for military families in the years after his son's death.

Incredibly, the story took an even more appalling turn on Tuesday evening. In his call with Sergeant La David T. Johnson's widow, Myeshia Johnson, on Tuesday, Trump said, "He knew what he signed up for … but when it happens, it hurts anyway," according to Representative Frederica Wilson.

The congresswoman told WPLG Local 10 News in Miami that she listened to the entire call on speakerphone while she was riding in a limousine with Johnson's family to meet his casket at the airport. Wilson told the Washington Post that Johnson broke down when Trump made the remark. "He made her cry," Wilson said, adding that she wanted to take the phone and "curse him out," but the Army sergeant holding the phone wouldn't let her talk to the president.

Sergeant Johnson, 25, leaves behind two children, a 6-year-old daughter and a 2-year-old son, and Myeshia is six months pregnant with their third child. Friends praised his dedication to his family, and the determination he showed in working his way from a job at Walmart to becoming a special operations soldier, fighting alongside Green Berets. He was a member of 5000 Role Models of Excellence Project, a mentorship program founded by Wilson, which set up a scholarship fund for his children.

As The Atlantic's David A. Graham argued, whether intentionally or not, Trump's inflammatory rhetoric over the past two days shifted the focus to defending previous presidents from his attack, and away from questions about what happened in Niger. The Pentagon has not offered many details about the attack, and an administration official told CNN that nearly two weeks later it's still unclear what happened.

Twelve U.S. soldiers from the Army's 3rd Special Forces Group were accompanying about 30 Nigerien troops on a mission near Tongo Tongo, Niger. According to CNN, following a meeting with local leaders, the troops were ambushed by roughly 50 ISIS-affiliated militants wielding small arms, machine guns, and rocket-propelled grenades.

The U.S. soldiers were armed only with rifles, and had traveled to the site in unarmored pickup trucks. The U.S. troops called in French fighter jets for air support, but they were unable to engage. Reuters said they could not help because the firefight was at close quarters, but multiple officials told CNN that Niger does not allow air strikes on its territory.

Eventually French military helicopters were able to evacuate the dead and wounded U.S. soldiers. The remains of three U.S. soldiers — Staff Sergeants Bryan Black, Jeremiah Johnson, and Dustin Wright — were retrieved, but somehow Sergeant La David Johnson was separated from the rest of the group. His body was recovered two days later.
Congresswoman Wilson recounted the conversation between the President and Johnson's widow during an appearance on CNN last night and a subsequent appearance on the network this morning, and again this morning on The View, as well as during an appearance on Morning Joe
Trump, for his part, denied the Congresswoman's version of events, and claimed that he had "proof" she was lying:
Democrat Congresswoman totally fabricated what I said to the wife of a soldier who died in action (and I have proof). Sad!

— Donald J. Trump (@realDonaldTrump) October 18, 2017
Sgt. Johnson's family, however, is confirming the Congresswoman's version of the call:
Johnson's mother, Cowanda Jones-Johnson, told The Post on Wednesday that she was in the car during the call from the White House and that "President Trump did disrespect my son and my daughter and also me and my husband."

Jones-Johnson, speaking to The Post via Facebook Messenger, declined to elaborate.

But asked whether Wilson's account of the conversation between Trump and the family was accurate, she replied: "Yes."
Congresswoman Wilson also stated during her interviews that the conversation, which took place via speakerphone while Sgt. Johnson's widow and his family was on its way with her to meet her late husband's coffin as it was brought to the airport by a military escort, ended with Johnson's widow in tears and only able to say "He [Trump] didn't even remember his name."
There really isn't much that one can say about this incident that isn't already apparent on its face. Once again, the President appears to display a level of narcissism and detachment from empathy for his fellow human beings that we haven't seen in a President in recent memory, and there's nothing surprising about it. Throughout the time that he's been a public figure Trump has acted in pretty much the same manner that is being reported by Congresswoman Wilson and Johnson's family, and that behavior continued when he became a candidate for President and since he became President on January 20th. Nor is it surprising that he would display callousness toward the widow of a fallen soldier since it's entirely consistent with the way he treated the mother and father of a soldier who died defending his fellow soldiers from a terrorist attack in Iraq.
With that record, there's unfortunately nothing surprising about this latest report. Nonetheless, as I said this morning it does demonstrate something I made note of this morning:
Every day we play a game of "What can @RealDonaldTrump do to demean this country?" and every day he comes up with something new.

— Doug Mataconis (@dmataconis) October 18, 2017
How much lower can it go? Just stay tuned, my friends.