Donald Trump's Iowa Supporters Not Sure They'll Show Up At The Iowa Caucuses
Donald Trump is drawing large crowds in Iowa, but at least some of his supporters aren't sure if they'll be showing up for the caucuses.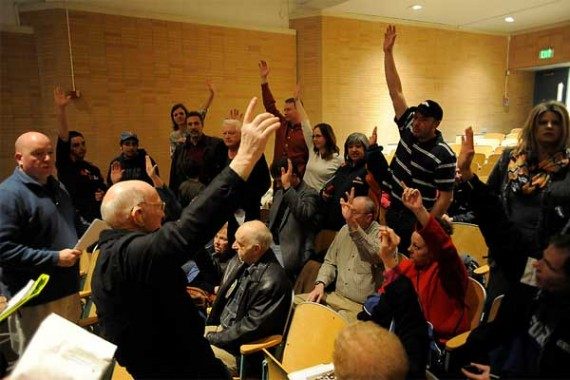 A report from the campaign field in Iowa demonstrates what could be a big problem for Donald Trump, getting all those people who have been showing up at his rallies to actually show up to vote:
When Donald Trump held one of his boisterous rallies at the state fairgrounds this month, Bonnie and Randy Reynolds arrived two hours early to make sure they could snag seats. They bought "Make America Great Again" hats, put on campaign T-shirts and passed through a security checkpoint.

The West Des Moines couple, who have two grown children, had never been to a political event before. Bonnie works in a mailroom; Randy is a press operator. They don't live paycheck to paycheck, but it would take just one small catastrophe to push them there.

"In the end, everything that he's saying might not happen if he is elected — but I'm willing to give it a shot," said Randy Reynolds, 49, who used to vote for Democrats but switched to Republicans a decade ago. "I will give him 100 percent. . . . It would be amazing if the majority of things that he said would actually happen. That would be amazing."

So, obviously, the couple plan to caucus for Trump on Feb. 1?

"We're going to see," Reynolds said. "With kids and grandkids and all this, it's kind of hectic. . . . We'll look into it. If our time is available, then yeah, maybe we'll do it. Maybe. We'll have to see."

Trump's unexpected and sustained popularity has, at least in part, been fueled by his appeal to a voting bloc that seems to be emerging: blue-collar workers without college degrees who are slightly younger than the traditional Republican voter. Many say they haven't cared about politics until now, as they flock to Trump rallies like groupies to a rock concert, read his books, buy his products, quote his jokes and follow his social-media accounts.

But is their devotion to Trump deep enough to vote?

For those who don't regularly vote in primaries, doing so for the first time is a hurdle — especially in Iowa, which uses a caucus system that can intimidate first-timers.

In states with early primary contests, Trump's staffers are trying to teach their supporters how to vote and get a commitment that they actually will. Before each rally here, Trump's state co-chairs walk the crowd through how the caucuses work and urge them to attend. But they are also hoping word will spread through social media and in conversations after church, at the school bus stop, during coffee breaks and over holiday dinners.

Bonnie Reynolds, 47, said she didn't know much about caucusing until her co-worker explained it to her and encouraged her to get involved. When the couple showed up at Trump's rally on Dec. 11, a campaign volunteer asked them to sign a sheet committing to caucusing. Reynolds signed them up, although she's not sure whether she will follow through.

In the past few weeks, Trump himself has started talking about the importance of voting in early states. At a rally in western Iowa in early December, Trump said there's no excuse not to vote.

"You've got to get there," he said. "Even if you're not feeling good, if you're feeling horrible, if you had a horrible fight with your wife or your husband. . . . If you caught your husband cheating the night before, you've got to go to the caucus."

Trump's campaign strategy is far from traditional, although his ground game in early voting states has followed a relatively standard playbook in some respects. Over the summer, he hired 10 staffers in Iowa, who traveled around the state in a Trump-branded bus to hand out T-shirts, bumper stickers and hats in exchange for contact information.

But just as Trump doesn't spend money on pollsters or focus groups, the campaign has yet to purchase databases of potential voters, a key organizing tool used by most campaigns. Instead of buying such a tool from a private contractor, the campaign has compiled its own database using contact information from every rally attendee, either when they registered online or showed up at the door.

With just five weeks until the Iowa caucuses, other Republican candidates have started to flood the state with more staffers and volunteers. Trump's campaign now has an Iowa staff of 15, who organize at least one large rally per week in addition to continuing to recruit "caucus leaders" who can be the voice of the campaign at caucus locations.

Trump's Iowa team remains confident that his rally crowds will serendipitously translate into caucus support. Sam Clovis, Trump's Iowa co-chair, pointed to a rally Trump held in Clay County in northwest Iowa in early December. Only 16,500 people live in the county, but 1,500 showed up at the rally in Spencer, and Clovis said he asked the crowd how many had never caucused before.

"Twenty percent of the hands went up," Clovis said. "And I said: How many of you are going to caucus this time? Same 20 percent of hands went up, because he has done something. This is something that's not reflected in the polls. It's not reflected in any of the ways that you go out and count things."
The issue of whether Trump will be able to translate poll numbers to votes is one that has become increasingly central to his campaign as we get closer to the start of voting in Iowa and New Hampshire in just over a month. As we've seen in the past, candidates can often be leading or doing very well in polling leading up to a primary only to see their numbers collapse when the votes are actually counter, or see themselves surprised by a candidate who ended up having a much better ground game that got voters to the polls that weren't being picked up in the polls. This is why, as I've said before, campaigns traditionally spend a lot of time and money on efforts to getting people to the polls, a process that ideally begins early on in the campaign when staffers make sure to get contact information from as many people who attend rallies as they are able to. That data is then used to create voter contact lists that are used for fundraising, but also as part of the get out the vote effort. These and other select target voters are sent direct mail appeals, and called on the phone by campaign volunteers, with reminders about the date of the election or caucus. When necessary, campaigns will often arrange for transportation to polling places or caucus locations for people who need it. There are other elements to the get out the vote effort, of course, but the most important element of any such campaign is to do everything possible to make sure that that people who have expressed interest in and support for your candidate do what's necessary to get your candidate's most enthusiastic supporters to the polls. Based on The Washington Post's report from Iowa, it appears that the Trump campaign may have some difficulty in that regard.
On some level, of course, it's not surprising that the Trump campaign is running into this problem. By all accounts, many of the voters it is attracting to rallies around the country are people who generally have not participated in primaries or caucuses in the past. This is especially true of caucus states like Iowa where participants have to be willing to commit as many as two or three hours of what could be a cold, windy, snowy Monday night in February to standing around a room in front of family, neighbors, and strangers, as everyone tries to convince each other to support their favored candidate. As I've said before in my criticism of caucuses in general, this method of choosing a nominee leaves much to be desired, in no small part because it makes it difficult for those who lack transportation, or who have health issues, small children for whom they cannot arrange babysitting, or who work an evening or night shift to participate in the process at all. Because of this, turnout for caucuses is typically a fraction of the numbers of people who participate in a primary or General Election. For example, in 2008 some 121,501 people participated in the Republican Caucus in Iowa. By contrast, there were more than 1.5 million votes cast in the Hawkeye State in the General Election, of which the Romney/Ryan ticket received roughly 730,000 votes. In other words, just about 16% of the people inclined to vote Republican in Iowa participated in the caucuses. This is why it's so easy for well-organized groups like the evangelical wing of the Iowa GOP to have such a big voice. With respect to the Trump campaign, this is also a strong indication for why they may have trouble getting people to the caucuses to begin with.
Looking past Iowa, the get out the vote effort in primary states like Iowa and New Hampshire is much easier. Since polls are open for 10-12 hours in most states, voters can show up whenever might be convenient for them, and the availability of early and absentee voting means that people can take care of voting at their leisure if they don't want to go the polls on Primary Day. This is still requires a get out the vote effort on the part of the campaign, of course, and there hasn't been much reporting on the status of the Trump's GOTV efforts in the Granite State, or any of the other primary states for that matter. If the reports out of Iowa are any indication, though, the Trump campaign may find that it's support is a mile wide but only an inch deep.