Don't Bother Searching For A 'Trump Doctrine," There Won't Be One
When it comes to foreign policy, Donald Trump has no over-arching philosophy and little knowledge, so don't expect anything approaching a coherent doctrine from his Administration.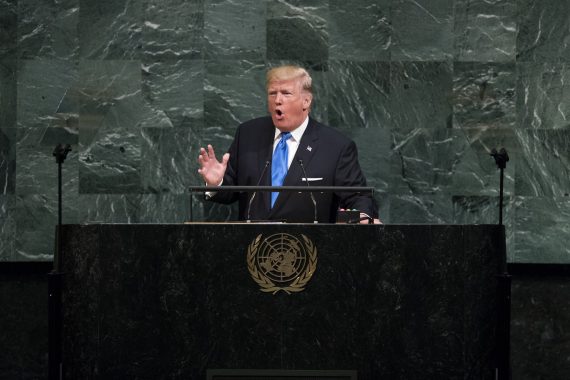 In the wake of the State of the Union Address and the events of the past year, several political pundits and foreign policy analysts have tried to figure out what President Trump's foreign policy legacy might be or to put it another way what the "Trump Doctrine" might end up looking like. Dave Schuler argues that they're looking for something that's never going to exist:
 Trump is transactional in his approach. There will be no Trump Doctrine. He'll throw any number of bargaining chips up against the wall and see how many he can get. That's so obvious it's amazing that everyone can't see it.
I tend to agree with Dave's assessment here. Trump has demonstrated quite aptly over the years that he's not a person to him over-arching political philosophy or strategy is very important or even something he's familiar with. He's also demonstrated nothing but a very simplistic understanding of foreign policy in particular, and what we have seen is usually boiled down to simplistic slogans and an obsession with painting himself in the most positive light possible. During the campaign, of course, it did seem as if Trump was actually inclined to take American foreign policy in a direction quite different from what we've seen in recent Presidents. He expressed some skepticism about American commitments overseas, including not just the NATO alliance but also our ties to other allies such as Japan and South Korea. He also expressed skepticism about the interventionist foreign policy that has been part of American foreign policy since the September 11th attacks and claimed, albeit incorrectly, that he had always been opposed to the Iraq War. At the same time, he promised crowds that he would "bomb the hell" out of ISIS and claimed, falsely, that the Obama Administration was not pursuing the terrorist group aggressively enough.
To some extent, of course, Trump has followed through with many of the promises he made on the campaign trail, but he hasn't done so in a way that makes it appear that he has anything approaching a coherent foreign policy. Within days after taking office, for example, he withdrew from the Trans-Pacific Partnership, but it's clear from his campaign rhetoric that his motivations there had more to do with domestic concerns and appeasing his base's disdain for international trade than it did with the impact it might have on America's position on the world stage. Similarly, his decision to withdraw from the Paris Climate Accords was based more on domestic concerns and pleasing his base than anything else. The same can be said for his other major foreign policy decisions during his first year in office such as d recognizing Jerusalem as Israel's capital and decertifying Iranian compliance with the  Joint Comprehensive Plan Of Action (JCPOA), the 2015 agreement with Iran that has led to an effective halt of their nuclear weapons research program.
Beyond these moves, the major issues that have confronted Trump when it comes to foreign policy have come from North Korea and its expanded nuclear weapons and ballistic missile testing. In this regard, of course, we've seen Trump take a far more aggressive approach than his immediate predecessors, but it's not at all clear that he has any concept of where to head beyond what his advisers might be telling him. In response to those provocations, Trump has responded by promising "fire and fury" in response to any provocative North Korean attack, openly talking about the possibility of nuclear war, and referring to the leader of the DPRK as "Little Rocket Man." As with his other policies, all of it seems more concerned with appeasing his base at home and making himself look good, or at least what he thinks looks good.
What all of this means, of course, is that to a large degree American foreign policy is being run by Trump's foreign policy team. To some extent, I suppose that's better than nothing. The members of that team — Defense Secretary James Mattis, Secretary of State H.L. McMaster, and Secretary of State Rex Tillerson — all seem to have a relatively sane outlook on the world and, to the extent that Trump listens to them we're probably fortunate. The problem with this is two-fold. First of all, the final word on foreign policy doesn't come from these three men, it comes from Trump and we've already seen instances where Trump has been more than willing to go against their advice and take foreign policy in a direction that often makes no sense whatsoever. For example, both Mattis and Tillerson reportedly advised against decertifying Iranian compliance with the JCOPOA, but Trump went ahead and did it anyway. Additionally, on several occasions last year he actively undermined diplomatic efforts that Tillerson was undertaking, seemingly without Tillerson even knowing what Trump was doing and saying. In the end, it doesn't matter what Mattis, Tillerson, or anyone else, advises Trump to do, what matters is what he decides to do. Moreover, it's likely that one or more members of the foreign policy team could leave the Administration at some point. At that point, the question will become who replaces them, and given the fact that one of the leading candidates to replace McMaster is former Bush United Nations Ambassador John Bolton, someone who doesn't belong in a position of influence over foreign policy for reasons that are rather obvious.
So, don't expect anything approaching a coherent foreign policy from the Trump Administration, because you're not going to get one.