Dysfunctional Government Has A Real World Impact
The real world impact of what's happening in Washington is becoming apparent.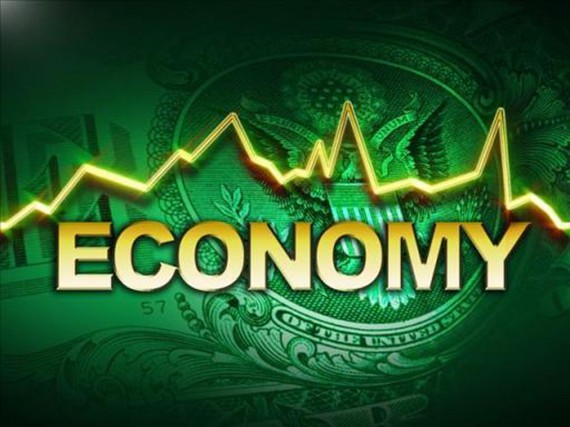 The combined crises of the government shutdown and the impending debt ceiling fiasco are having a very serious impact on consumer confidence according to a new Gallup poll:
WASHINGTON, D.C. — Americans' confidence in the economy has deteriorated more in the past week during the partial government shutdown than in any week since Lehman Brothers collapsed on Sept. 15, 2008, which triggered a global economic crisis. Gallup's Economic Confidence Index tumbled 12 points to -34 last week, the second-largest weekly decline since Gallup began tracking economic confidence daily in January 2008.

Fiscal brinksmanship in Washington is related to many of the largest weekly drops in Americans' confidence in the economy since 2008. Gallup's Economic Confidence Index fell nine points in late February and early March 2013 as Congress and President Barack Obama failed to reach an agreement to avoid automatic federal spending cuts as part of sequestration. Economic confidence fell eight points during the week ending Feb. 20, 2011, as Congress and the president reached an agreement on the federal budget at the last minute, avoiding a government shutdown.

Americans' confidence in the economy fell eight points during two separate weeks in July 2011, as leaders in Washington debated over whether to raise the debt limit or default on the nation's debts. Standard & Poor's subsequent downgrading of the U.S. credit rating and falling U.S. stock market prices also negatively affected Americans' confidence in the economy. Similarly, economic confidence could continue to fall in the coming days and weeks as Congress and the president work to reach an agreement to raise the debt ceiling by the upcoming Oct. 17 deadline.
Looking at the three day average of this poll, you can see just where the drop off started right before we actually hit the shutdown date on October 1st: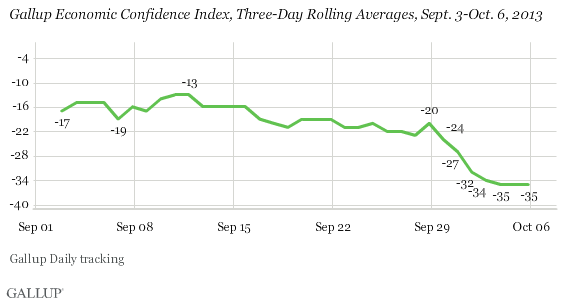 Yes, consumer confidence was already somewhat negative for much of September, but it wasn't until we hit the weekend right before the shutdown that things really started moving south. Many commentators will point out, not without some justification, that at least part of what's being reflected here is a reaction to the media coverage of the shutdown and the debt ceiling showdown, which has been quite negative and some might say needlessly so. Whether that's the case or not, though, doesn't really seem to matter. Negative consumer sentiment is a reality regardless of why it turned so negative so quickly. Furthermore, as we've discussed here at OTB several times over the past week, there are very good reasons to be concerned about the negative economic impact of both the shutdown and breaching the debt ceiling so perhaps the poll respondents are just reflecting that reality.
What's most illustrative, I think, is this chart of recent significant drops in consumer confidence: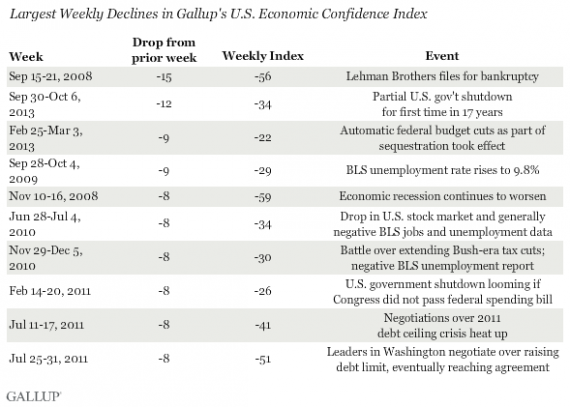 Notice anything? All of the largest weekly declines in consumer confidence on this list have occurred in the last five years, either during the 2008 financial crisis and its aftermath that stretched into 2009, or during the numerous mostly manufactured crises that have occurred in Washington over the past several years, quite honestly mostly since Republicans won control of the House in 2010. To some degree, Consumers did tend to recover at least some of their confidence in the state of the economy as these various crises ran their course, but there's been little doubt all along that these crises have been having real world economic effects. Most importantly, when consumer confidence is down they tend to spend less money, especially on items that aren't considered necessities. The question, though, is how long we can continue having these governmental crises before the impact on economic confidence becomes more permanent.
One possible answer to that question can be found in another Gallup poll out this morning that shows that concerns over dysfunctional government have surpassed the economy as the biggest issue of concern to voters:
PRINCETON, NJ — Americans are now more likely to name dysfunctional government as the most important problem facing the country than to name any other specific problem. Thirty-three percent of Americans cite dissatisfaction with government and elected representatives as the nation's top issue, the highest such percentage in Gallup's trend dating back to 1939. Dysfunctional government now eclipses the economy (19%), unemployment (12%), the deficit (12%), and healthcare (12%) as the nation's top problem.

Americans' mentions of either the economy in general or jobs in particular as the nation's top problem had already been declining in 2013. Both issues dropped further as top-of-mind concerns in the Oct. 3-6 survey, conducted in the midst of the U.S. government shutdown.

At the same time, the percentage of Americans who mention some aspect of government leadership as the nation's top problem has doubled, 33% this month from 16% last month. This almost certainly reflects the current upheaval in Washington and party leaders' inability to agree on a way to fund the government or avoid a possible government default. October is the first time since 2008 when an economic issue was not at the top of Americans' list of most important problems.

Democrats (36%) and independents (33%) are somewhat more likely than Republicans (23%) to mention dysfunctional government as the most important problem facing the country, perhaps reflecting partisans' differing views about the role and importance of government.
There's really no need to go into the reasons why these numbers are where they are. You just need to open a newspaper or turn on cable news to see the reasons for that. What's becoming worrisome is that this "dysfunction" has now become not the exception but the rule, at least when it comes to Washington, D.C. That's not healthy for our political system and, as we're learning, it's not healthy for our economy either.