Early Poll Numbers Show Hillary Clinton Trouncing Donald Trump
If these numbers hold up, then the GOP may as well start planning for the 2020 primaries now.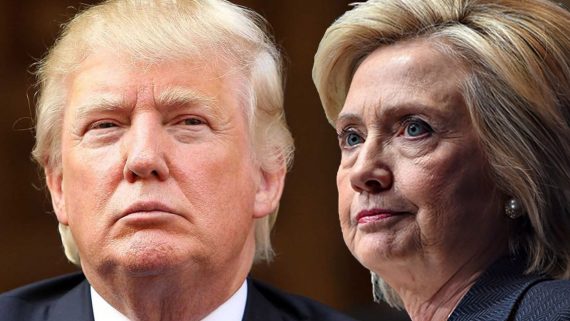 With Donald Trump now assured of winning the Republican nomination, Republicans were presented this afternoon with new polling data that provides a sobering reminder of just how difficult 2016 is likely to be for them:
As Donald Trump captures the mantle of presumptive Republican nominee, a new poll finds he begins his general election campaign well behind Democratic front-runner Hillary Clinton.

The new CNN/ORC Poll, completed ahead of Trump's victory last night, found Clinton leads 54% to 41%, a 13-point edge over the New York businessman, her largest lead since last July.

Clinton is also more trusted than Trump on many issues voters rank as critically important, with one big exception. By a 50% to 45% margin, voters say Trump would do a better job handling the economy than Clinton would
Almost 9 out of 10 voters in the poll called the economy extremely or very important to their vote for president, outranking any other issue tested in the poll.

Clinton has the edge on a range of other issues. She is more trusted than Trump on terrorism (50% Clinton to 45% Trump), immigration (51% to 44%), health care (55% to 39%), the income gap (54% to 37%), foreign policy (61% to 36%), education (61% to 34%) and climate change (63% to 30%).

Overall, voters are evenly split on their opinion of Clinton — 49% see her favorably and the same share unfavorably. But a decidedly larger group (56%) see Trump unfavorably than see him favorably (41%).

Trump's path to the GOP nomination became clearer after his win in the Indiana Republican primary Tuesday led to his primary rival, Texas Sen. Ted Cruz, to drop out of the race. While Clinton lost Indiana to her primary rival, Sen. Bernie Sanders, the former secretary of state has a broad lead among delegates.
Trump and Clinton would be the most disliked major party nominees in CNN's polling dating back to 1992, with only two other candidates meriting less than 50% favorability heading into the election — Mitt Romney was 44% in April 2012 and Bill Clinton was viewed positively by 42% of voters in April 1992.

Asked why they back Clinton or Trump, most of those behind each candidate say their preference in the matchup is more about opposing a candidate than supporting one. Among Clinton supporters, 51% said their choice was mostly about opposing Trump and 57% of Trump supporters said they went with him because they don't want Clinton in the White House.

Few in the poll say they feel well-represented by the government in Washington, 24% say they feel very or somewhat well represented, with Democrats (35%) more likely to feel that way than Republicans (10%). Among Democrats who back Sanders, 39% say they are not represented, more than double the 18% of Clinton supporters who say the same. Among those Republican voters who back Trump, 64% say they are unrepresented by the government vs. 55% among those who favored another GOP candidate.

Although Trump and Sanders supporters both tend to feel less well represented, there isn't much overlap between Sanders' supporters in the primary and Trump voters in a hypothetical general election matchup with Clinton. Just 10% of Sanders' primary backers say they would back Trump in a Clinton-Trump hypothetical head-to-head. That's about the same as the share of Clinton backers who say they would vote Trump in a Sanders-Trump matchup (11%).
For the most part, this poll is largely consistent with the head-to-head polling that has been done in the past between Clinton and Trump, with most every poll that has been done between the two with the exception of a handful of Rasmussen polls showing Clinton beating the New York real estate mogul. In the RealClearPolitics model, Clinton (47.3%) has a 6.5 point lead over Trump (40.8%), with the numbers from Pollster showing a lead of roughly the same size notwithstanding the fact that it includes several polls that RCP does not take into consideration. In any case, perhaps the most notable thing about this these numbers is the large size (11.9%) of the group that consists of people who are either undecided between Clinton and Trump or who may be leaning toward another candidate. Given the fact that this election will feature two candidates with very high unfavorable ratings that are unlikely to change significantly, that number could be important if a significant number of voters start getting behind a third-party candidate, such as prospective Libertarian Party nominee and former Governor of New Mexico Gary Johnson. While it is admittedly unlikely that Johnson or any other third-party candidate will poll as high as 11% in the end, the fact that there appears to be a lot of dissension in both parties over their respective party nominees suggests that 2016 could be a year that a properly positioned candidate from outside the two party system garners at least enough support to gain some real media attention.
As usual, there are plenty of caveats to apply to these early head-to-head polls, including the fact that, in the end, it will be the results at the state level that actually matter when it comes to selecting the next President and that we won't really have an idea of where the race stands even this far out until we start seeing polls from battleground states such as Florida, Ohio, and Virginia. That being said, there's no way that these early numbers can be at ll comforting to Republicans who will decide to swallow their pride and get in line behind a flawed candidate at the top of the ticket. Among other things, they indicate that, by nominating Trump, Republicans are putting at risk not only their chance to take back the White House after eight years of Barack Obama, but also control of the Senate and, in some states perhaps, control of state legislatures and Governor's Mansions, both of which will be exceedingly important as we get closer to the 2020 Census. Perhaps all of these numbers will be proven wrong and Trump will find a way to win the election, although personally I don't really believe that, but as things stand right now the Republican Party may as well start planning for another contested primary in 2020, because it doesn't look like they're going to win in 2016.