Electoral Vote Map
A new tool for looking at possible Presidential election outcomes.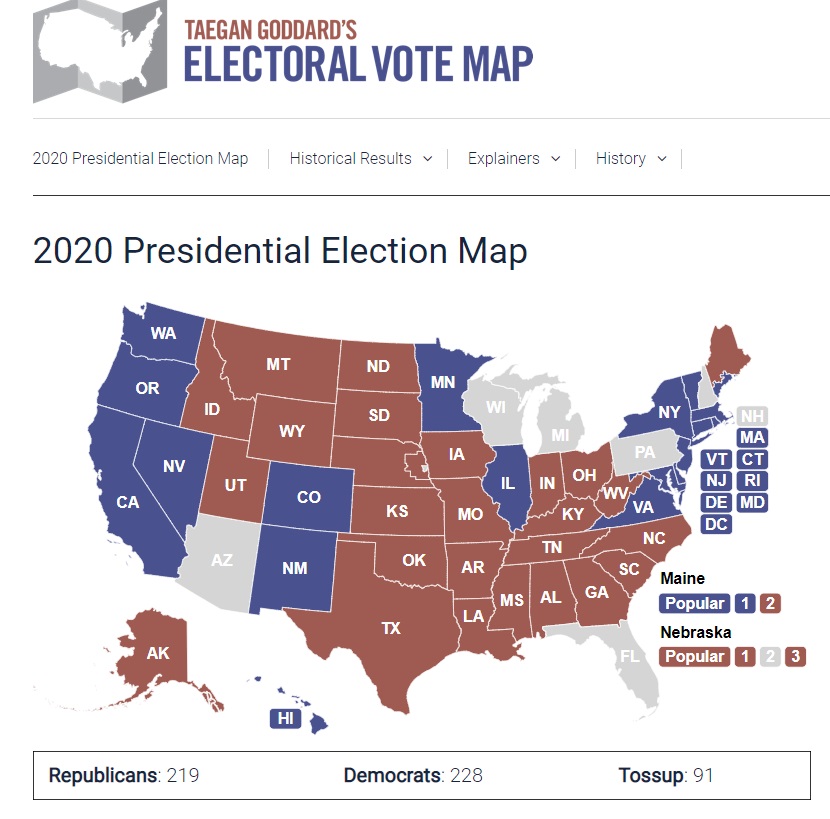 Taegan Goddard, the founder of Political Wire, one of the oldest politics blogs (established way back in 1999), has a new project: Electoral Vote Map.
As its name implies, it's a map of the 50 states plus DC weighted by their electoral votes. It's currently based on an aggregation of Larry Sabato's Crystal Ball, the Cook Political Report, and FiveThirtyEight's general election polls—three well-regarded estimators. (As of this writing, it shows Republicans with 219 votes, Democrats with 228,  and 91 in the Tossup category.
Taegan writes,
We'll be updating this consensus map as more forecasts come in. Check back often or sign up for our mailing list.

To make your own forecast, click on the states to toggle them between Democrat, Republican and Tossup and watch the electoral vote tallies change. The winner of the presidential election needs at least 270 electoral votes.

If you prefer, you can also use the 2016 election results or the 2018 midterm elections popular vote as the starting point for your forecast.
EVM isn't the only site doing this, of course. The one I've been using in recent years is 270toWin. Its starting point is perhaps less useful but more variable. That is, rather than an aggregation of polls it allows you to begin with either Sabato's, Cook's, the 2016 outcome, or various other choices.
The feature I like there is "Winning Combinations" which shows various ways in which currently-identified tossup states could lead to various outcomes. So, for example, starting with Sabato's most recent projection, Republicans have a 248-244 lead. While that seems like a toss-up, there are 5 winning combinations for the GOP and only 3 for Dems (along with 2 routes a 269-269 tie). The Republican combinations: Pennsylvania+Arizona, Pennsylvania+Wisconsin, Arizona+Wisconsin+New Hampshire, and Arizona+Wisconsion+Nebraska's 2nd District. The Democratic combinations: Pennsylvania+Arizona, Pennsylvania+Wisconsin, Arizona+Wisconsin+New Hampshire, and Arizona+Wisconsion+New Hampshire+Nebraska's 2nd District.
Obviously, it's way, way too early for these projections to matter. A few states currently in one column may well be in another a year from now. But, as a starting point, I'd say 1) President Trump's re-election is more likely than most think but 2) Pennsylvania will again be the key state–and I'd certainly give Democrats the better odds of taking it.
In terms of the EVM vs 270toWin, it depends on how you want to use it. I prefer EVM's starting point, as averages of respected polls and predictions are almost certainly better than any single one.  (I'd recommend adding in the RealClearPolitics average unless they've made it proprietary.) But 270toWin's "Winning Combinations" feature is quite valuable.