Eliot Spitzer Plots Return To Politics With Run For NYC Comptroller
Is 2013 the year of second acts in American politics? Eliot Spitzer seems to be the latest disgraced politician to hope that it is.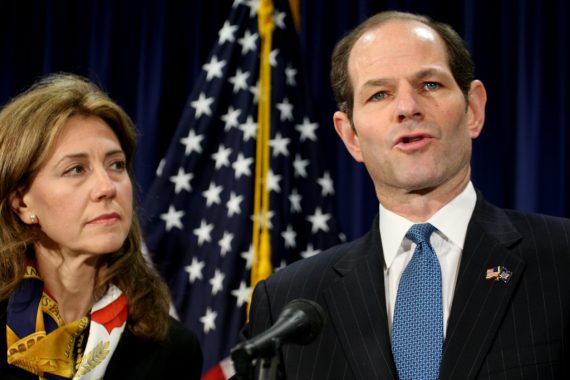 Elliot Spitzer, who resigned as Governor of New York after it was revealed that he had used high-priced prostitutes while in office,  is re-entering politics with a run at one of the top city-wide offices in the Big Apple:
Eliot Spitzer, who resigned as governor of New York five years ago amid a prostitution scandal, is re-entering political life, with a run for the citywide office of comptroller and a wager that voters are ready to look past his previous misconduct.

In a telephone interview on Sunday night, Mr. Spitzer, 54, sounding restless after an unwelcome hiatus from government, said he had re-envisioned the often-overlooked office and yearned to resurrect the kind of aggressive role he played as New York State's attorney general. He said that after consulting with his family and taking the temperature of the city's electorate, he believed New Yorkers would be open to his candidacy. "I'm hopeful there will be forgiveness, I am asking for it," he said.

His re-emergence comes in an era when politicians — like Representative Mark Sanford of South Carolina and the New York mayoral contender Anthony D. Weiner — have shown that public disapproval, especially over sexual misconduct, can be fleeting, and that voters seem receptive to those who seek forgiveness and redemption.

His decision startled the city's political establishment, which is already unsettled by the rapid rise of Mr. Weiner, who also plunged into a campaign without party elders' blessing.

Mr. Spitzer batted away a question about whether the reception enjoyed by Mr. Weiner, who is running neck and neck with the front-runner Christine C. Quinn, factored into his decision, but said he was approached regularly by New Yorkers who say they would support him if he ran for office again.

"It happens all the time," he said. "People who walk with me on the street say, 'People really do want you to get back in.' "

Mr. Spitzer, who built a national reputation as a zealous watchdog of Wall Street while attorney general, imagines transforming the comptroller's office into a robust agency that would not merely monitor and account for city spending, as it does now, but also conduct regular inquiries into the effectiveness of government policies in areas like high school graduation rates.

Such a reading of the office, which would significantly expand its scope, could put Mr. Spitzer, a Democrat, into conflict with the city's next mayor, much as his tenure as attorney general put him at odds with federal regulators of Wall Street.

"The metaphor is what I did with the attorney general's office," he said. "It is ripe for greater and more exciting use of the office's jurisdiction."

Since Mr. Spitzer's resignation as governor, public surveys have shown little appetite for his run to elective office. So instead, he has worked as a television commentator on CNN, Current TV and NY1. None of them seemed to satisfy his thirst for political combat. Asked if he missed the frenetic pace and power that comes with a public platform, Mr. Spitzer responded readily, "Yes."

The son of a wealthy real estate developer, Mr. Spitzer said he would pay for the campaign himself, forgoing the city's public financing system. The race is expected to cost several million dollars.

Mr. Spitzer has little time to waste: To make the primary ballot in September, candidates for citywide office — mayor, comptroller and public advocate — must collect at least 3,750 signatures from registered voters from their political party by Thursday.

With Mr. Spitzer's name recognition and three million Democrats in the city, this should not be a difficult task, but he plans to flood the streets and supermarkets with some 100 signature gatherers starting on Monday.

"I am going to be on the street corners," he said. "We will be out across the city."
Does Spitzer actually have a chance in this race? I've honestly got no idea, but he's got the name recognition and the money and, as both Mark Sanford and Anthony Weiner have shown us recently, bouncing back from a sex scandal doesn't seem to be as hard as people might have thought that it was. Yes, the poll numbers are saying that the voters are negative on him, but there were polls saying the same thing about Sanford and Weiner when they first entered their respective races. Sanford, of course, ended up winning his race and Weiner has, at least at the moment, made the New York City Mayor's race a two-person race between him and City Council Speaker Christine Quinn. So, anything seems to be possible and that's probably what Spitzer is counting on. Besides, notwithstanding his downfall, Spitzer's record as a crusader against Wall Street may be one that would play well in a populist campaign in the city, although it obviously cause Wall Street to send a lot of money to his opponents.
Buzzfeed's Ben Smith isn't counting Spitzer out:
Spitzer has basically nothing in common with Weiner, aside from their low body fat, and shared (and lightly observed) Jewish faith. Weiner is a talented politician who left Congress with no major legislative accomplishments and everything to prove. Spitzer was a major force in American public life for eight years despite having no particular talent for politics. Weiner's online romances brought him down because they were weird. Spitzer's ordinary sin — any number of politicians have survived prostitution scandals — ended his tenure as governor because his governorship was already going terribly.

The question about Weiner is whether, as Mayor, he will be able to turn his talent for communications into leadership, something he's never done — but the sort of thing that can happen when you're mayor, as it did to Ed Koch.

The question for Spitzer is whose head he will take off first.

Spitzer was, as New York State Attorney General, a terrifying and fascinating figure. He had learned from his legendary former boss Robert Morgenthau that under-resourced public prosecutors can't beat deep-pocketed law firms on a level playing field, and that where banks and wealthy defendants may have time and money on their side, prosecutors can use the press to erase at least the first advantage.

(…)

New York City Comptroller does not have the kind of tools to play on the national stage that pertain to the office of New York State Attorney General. Spitzer also faces a capable candidate — Manhattan Borough President Scott Stringer, a smart and well-liked local pol. But there are elements of an opening for Spitzer in the fact that the Comptroller manages some of the biggest pools of money in the world, retirement funds for city employees. He told the Times: "It is ripe for greater and more exciting use of the office's jurisdiction," whatever that means.

One thing is true: There is more demand than supply right now in the Democratic Party for the sort of outsider, frankly anti-corporate politics embodied by Massachusetts Senator Elizabeth Warren — that that turned her into an instant star and one of the party's top fundraisers. And Eliot Spitzer would be one hell of an activist shareholder.
I do have one thought, thought, though. Perhaps Mr. Spitzer could have said something slightly less obviously joke-worthy than "I am going to be on the street corners" when describing how he's going to collect the requisite petition signatures by Thursday.
The only question now is which disgraced politician is next on the comeback list. Larry Craig? Jim McGreevey? John Edwards?
Finally, as always, we can count on the New York Post to be on top of this story as only they can be: