Elites Signal, the Rank and File React
Trumps words, Michigan GOP Canvassers' actions.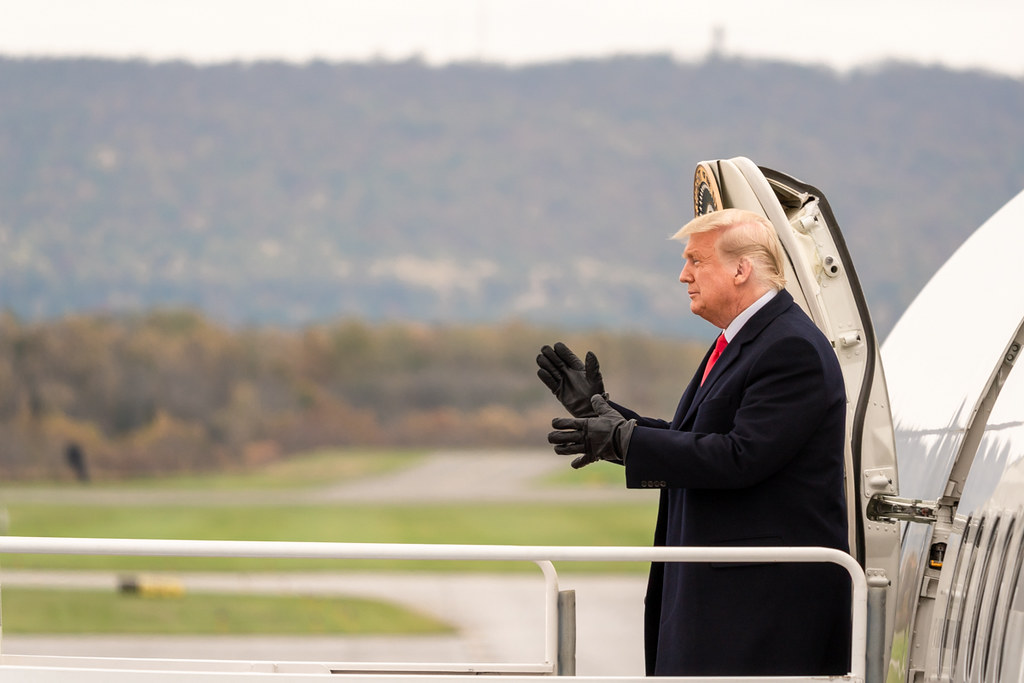 What harm could it do, some have asked, to tell Trump have his tantrums about the election? Well, when elites send signals, those further down the chain often respond. Not only do we know that some number of American voters do not believe the outcome of the election, we saw in Michigan yesterday how lower-level party operatives can respond to upper-level rantings.
Via the NYT: Michigan Republicans Backtrack After Refusing to Certify Election Results.
Republican members of a key Michigan elections board refused on Tuesday to certify Detroit's election results in a nakedly partisan effort to hold up Joseph R. Biden Jr.'s victory over President Trump — only to reverse themselves after an outcry from the city's voters and state officials.

[…]

At first, the two Republicans on the board said they were voting against certifying the results because many precincts in the county had conflicting figures for the numbers of votes cast and the number of voters they recorded as having participated, even though the disparities mostly involved a small number of ballots. The board deadlocked, with Michigan Democrats denouncing the opposition as a blatantly political intrusion into the process, and criticizing the Republican move as racist.

At one point, a Republican board member, Monica Palmer, had made a motion to "certify the results in the communities other than the city of Detroit" — a move that would effectively disenfranchise one of the nation's major predominantly Black cities.
The point of contention was that in some precincts the number of voters who signed it was out of balance with the number of votes cast:
At issue in Wayne County were minor discrepancies in which the number of votes cast did not match the number of voters listed as having shown up to vote in various election precincts. This could have stemmed from scenarios like a voter leaving a long line, or an absentee ballot kicked out of a tabulator, among other possibilities. Most involved a handful of votes, and were the types of inconsistencies that are frequently found during canvassing processes without leading to deadlocks like the one that happened on Tuesday.
The reporting on the exact numbers and processes is poor (or, at least not detailed enough for my tastes/preferences). As best I can tell, it would be possible for a precinct to have fewer votes than voters if a person, once signing in, failed to vote or if there was an error with the ballot and provisional ballot was not counted. It is less clear to me how more votes than voters could occur (someone didn't sign in, but was given a ballot?). Since it seems the numbers are mostly +/- 3 or 4, we simply are not talking about significant fraud.
Here are some additional details from the Detroit Free Press: GOP members reverse course, vote to certify Wayne County election results (emphases mine).
Of Detroit's 503 Election Day precincts, 66 recorded unexplained discrepancies in the vote totals as did 94 of the city's 134 absent voter counting boards. The majority of Election Day precincts and absent voter counting boards that were not in "balance," recorded discrepancies of three votes or less. Ten Election Day precincts and 43 absent voter counting boards recorded discrepancies of four or more votes or more. The discrepancies amount to roughly 367 votes. Detroit's unofficial election results show roughly 150,000 Detroiters voted in November's election.
That level of error, in an undertaking of this size that is heavily influenced by human behavior (and in a process run largely by volunteers) strikes me as expected, reassuringly small, and not mathematically relevant. Every election has errors of some sort. The good news is that they tend to be very, very small in the grand scheme of things.
We can also throw in the 2016 general election numbers:
Detroit's voting problems in 2016 led to a Michigan Bureau of Elections audit of 136 of the city's most irregular precincts, which found an "an abundance of human errors" but no evidence of "pervasive voter fraud." There were 216 questionable votes that resulted in a net overvote of 40 ballots — or 40 more ballots cast than voters.
Don't get me wrong: we would want zero errors, but these are really small numbers. They are nowhere near numbers that would justify disenfranchising a major city.
Here's what I have ascertained about this story:
A precinct is "out-of-balance" if there is a discrepancy of one ballot. (Although another passage I read suggested that perhaps an error of up to three ballots was allowed).
We aren't talking about a lot of total votes.
This is a common occurrence.
Elections with similar discrepancies have been certified in the past.
The female Republican canvasser (Palmer) was willing to certify the city in with the second-most out-of-balance precincts in the county (Livonia) while making a motion to not certify Detroit, which had the most out-of-balance precincts. Detroit is 78% Black, while Livonia is 4.4% Black.
The out-of-balance issue is significant to Michigan electoral law because out-of-balance precincts cannot be recounted.
I know there was a great deal of drama about this process yesterday, although as best I can tell the actual possibility of Detroit's votes not being certified was essentially, as state-level officials still could have done so. The audit that has been ordered appears routine.
However, this is just another example of undercutting trust in the system along with an attempt, however ultimately feeble, to derail vote certification. This would not have happened if Trump had not been shouting about fraud for weeks.
It is also yet another example of Republicans acting in opposition to democratic outcomes.
Meanwhile, via the Detroit Free Press, here's What's next now that Wayne County Board of Canvassers certified election results
Now that the county's board of canvassers has certified the election results, the Board of State Canvassers is tasked with certifying the statewide results. The board is scheduled to meet Nov. 23 to vote on certifying the results.

Recount petitions for the presidential, Senate, U.S. House and state House seats must be filed with the Secretary of State within 48 hours after the board has certified the statewide results.

A change to Michigan's recount process made after the 2016 presidential election requires candidates to prove they have a reasonable chance to win in order to initiate a recount. Biden won Michigan by a wide margin — more than 146,000 votes — the state's unofficial results show. Legal experts said they expect the State Board of Canvassers will meet the deadline for certifying the results of the presidential contest, despite pending lawsuits seeking to delay the process.
Also, in a matter not linked to Biden v. Trump, Complaint to unseat Monica Palmer from Wayne Co. Board of Canvassers to be investigated.