Eric Cantor: No Federal Relief For Earthquake Or Hurricane Damage Unless It's Offset By Spending Cuts
With a hurricane bearing down on the East Coast, the House Majority Leader is engaged in an accounting exercise.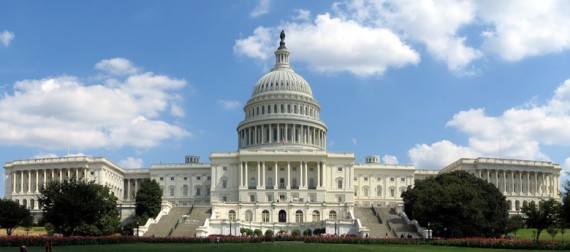 House Majority Leader Eric Cantor's district was the epicenter of the earthquake the rattled the East Coast on Tuesday, and Mineral , Virginia has suffered serious damage to many of its buildings. Notwithstanding this fact, Cantor made it clear that he would not back Federal emergency relief for earthquake damage unless it was offset by spending cuts:
House Majority Leader Eric Cantor assured his constituents on Wednesday that Congress "will find the monies" to assist earthquake victims in Mineral, Virginia – but the Republican lawmaker noted that "those monies will be offset with appropriate savings or cost-cutting elsewhere."

Cantor and Virginia Governor Bob McDonnell, speaking together in a news conference, had previously toured Mineral to assess the amount of damage the city sustained in the wake of Tuesday's 5.8 magnitude earthquake. Mineral, which was at the epicenter of the quake, falls in Virginia's 7th district, which Cantor represents.

Cantor was in Israel when he heard news of the quake, but said he "quickly decided that I had to get home to ensure I could do anything I could."

When asked if the district would be receiving federal assistance from the government, McDonnell noted that the state had yet to do a thorough analysis determining "our own capacity through state and local resources and private and benevolent resources to be able to handle it," and had not yet determined whether it was "prudent" to request federal aid.

But, Cantor added, "the federal government does have a role in situations like this. When there's a disaster there's an appropriate federal role and we will find the monies. But we've had discussions about these things before and those monies will be offset with appropriate savings or cost-cutting elsewhere in order to meet the priority of the federal government's role in a situation like this."
Now, with one of the most serious hurricanes to threaten the region in decades bearing down on the Mid-Atlantic and Northeast, Cantor is also saying that any funds for hurricane damage relief must be offset, before we even know how big that bill might end up being:
Looks like House Majority Leader Eric Cantor (R-VA) will extend his requirement that federal disaster relief be paid for by cutting spending elsewhere in the budget to Hurricane Irene.

"We aren't going to speculate on damage before it happens, period," his spokesperson Laena Fallon emails. "But, as you know, Eric has consistently said that additional funds for federal disaster relief ought to be offset with spending cuts."
The thing about hurricanes that makes them different from a minor earthquake that has only caused, thankfully, minor structural damages even at the epicenter, is that they can cause damage in the billions of dollars from wind damage, coastal erosion, and flooding. Depending on the track it takes, one of which takes it very close to the heart of lower Manhattan, Irene could end up leaving a damage toll in the hundreds of billions of dollars in its wake. I'd love to see how Cantor is going to offset emergency spending that high.
I'm not unsympathetic to the point that Cantor is making here. As I said back in May when he made similar comments in the wake of the tornadoes that swept across the Mid-west and South, the idea that we should be forced to go into debt every time there's a natural disaster makes no sense whatsoever. In fact, there seems to me to be a rather sensible solution:
If we are going to continue making payments like this, wouldn't it make sense to have it be a budgeted item instead of having these requests added as supplements to a budgets that's already been passed? Congress could approve the funding of a disaster relief fund every year and, to the extent it isn't used, it would roll over to the next year to be added to the next year's amount. Obviously, a large scale disaster like Katrina or 9/11 could require more funding, but most of the money that is paid out if Federal Disaster Relief goes for incidents that are far smaller in scale than those events. Perhaps this wouldn't work given current budgeting rules, but it makes sense to me.
We already do something similar with the Highway Trust Fund, and even I'll concede that there's a role for the Federal Government in the case of a large scale disaster that is far beyond the ability of an individual community or state to handle. Setting up some kind of a fund like this, however, would make it far easier for Congress to allocate money for emergency relief without having to fight the partisan battles that inevitably result when you try to find offseting budget cuts.  I am probably being atypically optimistic about the ability of Congress to agree to something like this, and to resist the temptation not to tap into it to fund other programs, but it seems to me like a better way of handling emergency relief than what we're doing now.
There's a final point to be made, however, and it's directed solely to Majority Leader Cantor. Picking political fights over disaster relief immediately after the emergency has occurred, or while people are still preparing for what looks like a pretty terrifying storm, isn't exactly the way to win friends and influence people. You might want to work on your public relations skills just a bit, starting with the idea that nickel-and-dime accounting in the midst of a disaster makes you look like a bit of a jerk.