Explaining The GOP's Relative Silence On Same-Sex Marriage
Republican politicians have largely avoided the topic of same-sex marriage since President Obama's announcement. Why?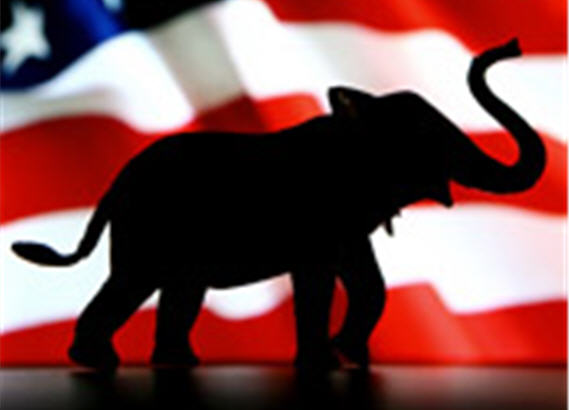 In the week or so since President Obama publicly announced his support for same-sex marriage, the one remarkable thing has been the fact that, for the most part, Republican politicians, as well as Mitt Romney and his campaign surrogates, have been relatively silent about the issues. Yes, there were some initial comments criticizing the President for a politically motivated announcement, but for the most part leading Republicans have responded to this development by increasing the discussion of the economy and the budget. Notwithstanding the insistence of people like Rick Santorum, this is a fairly smart strategy on the GOP's part.
The question is why we're seeing this. In part, no doubt, it's driven by recent polling that shows that same-sex marriage is supported by a slight majority of Americans, a number that increases to nearly 2/3 of all respondents if you make the choice "same-sex marriage and/or civil unions." That's certainly part of it, but it strikes me as an incomplete explanation. After all, just the day before Obama's announcement an overwhelming majority of North Carolinians had approved a Constitutional Amendment that bars both same-sex marriage and civil unions, just the latest in a string of 30-odd referendums stretching back to 2004 that has all been won by the "traditional marriage" crowd. Clearly, there's still some segment of the voting public that is open to the argument of the marriage equality opponents. So, there must be something else going on.
Over at Forbes, Josh Barro thinks its because Republican elected officials are getting pressure from friends, family members, and donors:
Only a handful of states have legalized gay marriage, but among upscale people in New York and Washington, opposition to gay marriage is now impolite. And expressing opposition in such a setting is exhausting.

I'm not talking about "the Georgetown cocktail party circuit." I'm talking about Republicans politicians' own wives and children, their young staffers, and even in a lot of cases, their donors. How many Republican members of Congress have children like Meghan McCain, who are reproaching them at home when they go out and talk about how terrible gay marriage is? I bet it's a lot.

To be clear, I think this is a great thing. Republican elected officials are feeling acute elite pressure on gay marriage, and that's making it more difficult for them to pander to mass prejudices against gays, even when doing so might be a winning move electorally. And in a lot of cases, that elite pressure is coming from inside the house.
Conor Friedersdorf agrees:
Among the conservative and Catholic families I was surrounded by growing up in Orange County, California, there's a solid majority where parents and their now adult kids have very different opinions about the rise of gay marriage in America. And it's one of the political disagreements that tends to come up at the kitchen dinner table. That isn't to say my impressions prove anything. But given the polling data we've seen showing a generational difference in support for gay marriage, it would be fascinating to see a study about whether having children makes older people more or less likely to change their minds about same sex marriage, or more or less likely to shift the degree of their opposition to it.

There are a lot of abstract arguments for and against on this issue. In my offline life, I've found older adults, and especially family members who love me (and are aware of my impending nuptials), are far more likely to be swayed by the pointed question, "If I was gay, wouldn't you still want me to be able to get married and share my life with someone I love, and who loves me?"
It wouldn't surprise me at all if this were true. Politicians are human beings with families and it's only natural that they're going to be influenced by the exhortations and opinions of their wives, children, friends, and (of course) donors. Sometimes, personal circumstances will be the thing that leads them to change the minds on an important issue. That may be the reason that Dick Cheney was such an early supporter of same-sex marriage, although it's worth noting that Cheney was never really known as a strong Social Conservative to begin with, Wyoming tends to produce Republicans of a more libertarian bent than other states for some reason.  More broadly, as we have noted here at OTB many times in the last two years or so, there is a clear demographic shift going on when it comes to gay rights. The younger one is, the more likely it is that one supports things like same-sex marriage and the ability of gay couples to adopt. The people in that age group are now the children of the people in positions of political influence, and they're likely having some influence on their parents.
At the same time, though, I've got to believe that there's no small degree of naked self-interest here. Republican leaders are smart enough to read the polls and to realize that opposition to same-sex marriage is ultimately a losing position. The longer the GOP remains identified with it, the worse off it will be when the people who are now part of those younger demographics I spoke of become older and become a larger part of the voting pool. Emphasizing those positions is fast becoming a long-term loser. Moreover, in the short-term it is fairly clear that the issues that are going to drive voters to the polls in November are jobs and the economy, not cultural issues. Spending any significant time talking about something like same-sex marriage is going to tell voters that you're out of tune.
Mark Halperin makes a similar point:
The greatest indication that public opinion on same-sex marriage has shifted over the past few years: almost no prominent GOP elected officials raised the issue after the day of the endorsement; party leaders, almost to a person, changed the topic to the economy when asked about Obama's now evolved stance. Besides, at a time when Republicans are trying to minimize the impression that their party is intolerant, the last thing they want is to pick a big fight over personal liberty and morality. Rest assured, they will quietly communicate Obama's position to targeted voters via religious organizations and mail as the election nears. And if Obama loses narrowly, some of his supporters are sure to look back and wonder if publicly backing gay marriage cost him his job."
That last part may be true, I'm honestly not quite sure. Regardless of how the November elections turn out , the long term future of the gay rights in general, and same-sex marriage in particular, is rather clear. While they may be able to continue to delay the full acceptance of these things by the law, there's very little that social conservatives are going to be able to stop it. Outside of isolated areas where people like them are the majority, I think we're near the days where political appeal to anti-gay bigotry is a thing of the past.