Santorum To Romney: Make Opposition To Same-Sex Marriage Part Of The Campaign
Rick Santorum is urging Mitt Romney to go all-in on opposition to same-sex marriage. Not surprisingly, this is bad advice.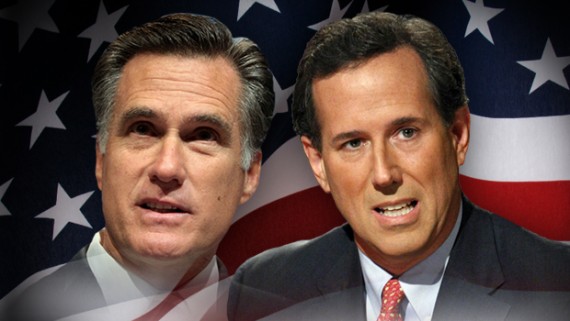 Rick Santorum is telling Mitt Romney that he should make opposition to the President's position on same-sex marriage a centerpiece of his campaign:
Washington (CNN) – Rick Santorum is urging Mitt Romney to "step up" and weaponize the issue of same-sex marriage.

"This is a very potent weapon, if you will, for Governor Romney if he's willing to step up and take advantage of a president who is very much out of touch with the values of America," Santorum said in an eye-opening live interview with Arkansas TV station KARK, a CNN affiliate.

The former presidential candidate made the remarks before appearing at the Benton County Republican Lincoln Day Dinner in the northwest corner of the state Friday night. Santorum's comments also came the night before Romney's speech before the Christian conservative Liberty University in Virginia on Saturday.

Romney's one time rival noted the recent results of a ballot issue in North Carolina where voters approved a constitutional amendment banning same-sex marriage.

"Hopefully Governor Romney will continue to stand tall for his position on this issue and understand how detrimental it would be for society for it to have this changed," Santorum also told the Arkansas station.

"Governor Romney has to talk about his values," he added. "That's the most important thing."
Indeed, in his Commencement Address at Liberty University today, Romney did indeed address the marriage issue:
Mitt Romney is telling students at a Christian university that marriage is between one man and one woman.

Romney on Saturday told the Liberty University commencement that marriage is an "enduring" institution that's reserved for one man and one woman. He also says that culture "what you believe, how you live, what you value it matters."

The crowd cheered his comments, made days after Democratic President Barack Obama embraced same-sex marriage.
I've argued here  and here that the political impact of President Obama's announcement would be fairly minimal both because it would be likely to attract the attention of supporters and opponents pretty much equally and because the people who feel strongly about this issue on either side of it were already inclined to support or oppose President Obama anyway. Additionally, we've got plenty of polling evidence to establish that, for the population as a whole, same-sex marriage is far, far down the list of issues that voters care about this year. The likelihood that it would have the kind of major impact on the election that Santorum suggests seems to be pretty low. Of course, nobody ever said that Rick Santorum was a top-notch political analyst. Rather, he seems to be playing the role of an ideologue who is advancing his interests, rather than the best interests of the Romney campaign.
It's still very early after the President's announcement so it's hard to say exactly how this will play with the public, but a new poll from Gallup and USA Today suggests that the impact will be fairly minimal after all:
More than half of Americans say they approve of President Obama's stance that same-sex couples should be allowed to marry legally, but 60% say that his shift in position will have no bearing on how they vote in the November election, according to a new USA TODAY/Gallup poll.

Overall, 51% approve of Obama's new position on same-sex marriage, compared with 45% who disapprove. Nearly 13% say his shift in position will make them more likely to vote for him, while 26% say it will make them less likely, suggesting that more supporters of likely GOP nominee Mitt Romney feel more strongly about this issue than do base supporters of Obama.
Some political analysts, such as Aaron Blake and David Weigel are making note of that highlighted portion of the poll results, and specifically this breakdown of that question: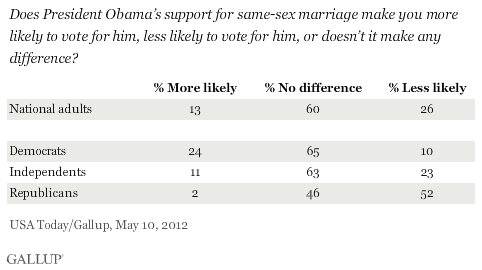 At first glance, one could argue that Obama has a potential problem here. Independents, who will be a crucial factor in the election, say by more than 2-to-1 that they're less likely to vote for Obama after his announced support for same-sex marriage. It's worth noting, of course, that the vast majority of Independents, like the vast majority of "adults" polled, said it would make no difference. It's also worth noting that this was a poll of "adults," and not either registered or likely voters so it's not at all clear what this poll even tells us about the election itself. In that regard, it would be far more helpful to at least see this question limited to Registered Voters. The other thing a poll like this can't really tell us is how intensely people feel about a given issue. How likely are those 23% of independents to be so adamant on the issue of same-sex marraige that they'd let it determine their vote for President to the exclusion of everything else? My guess is that it's not very likely at all. Even taking this poll on its face, though, it's worth noting that the next question seems to contradict the answers given in the first: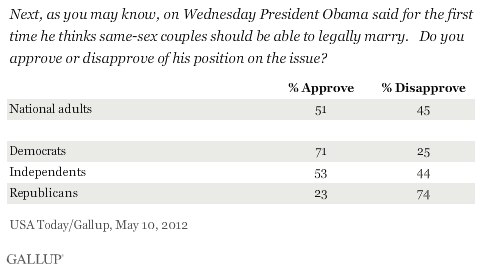 By a margin of 53-44, Independents are fine with the President's position on same-sex marriage. This suggests that he's not in nearly as much danger on this issue as some of the analysts who've looked at this poll have suggested. It also suggests that the advice that Rick Santorum is giving Mitt Romney is, not surprisingly, mistaken.