February Jobs Report: Slow But Steady Employment Growth
Another good monthly jobs report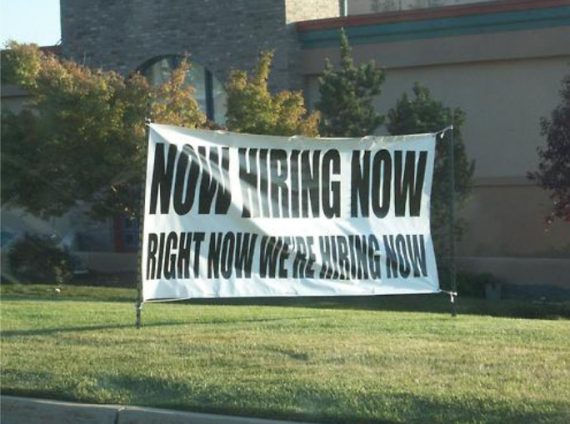 The February jobs reports wasn't quite as good as January, when we saw some of the strongest job growth since the recession ended while the unemployment rate dropped to its lowest level since early in 2009, but it was still fairly good news nonetheless:
The slow melt-up in employment continued during February as the economy added 227,000 new jobs while the unemployment rate held flat at 8.3 percent

With warm weather helping to spur activity and as the European sovereign debt crisis [cnbc explains] receded into the background, the American economic engine continued its slow but steady drive toward recovery.

Economists had expected 210,000 net new jobs and the unemployment rate [cnbc explains] to hold steady at 8.3 percent.
Private payrolls in February grew by 233,000. Manufacturing added 31,000 jobs and services 203,000. Government subtracted 6,000 jobs from the total.

(…)

Professional and business services added 82,000, though more than half were temp jobs. Health care gained 61,000, while hospitality — primarily bars and restaurants — contributed 41,000 for the month, while the industry has added a total of 531,000 jobs over the past two years.

Though the construction trade was expected to benefit most from the unseasonably warm weather, employment in the industry actually was flat for the month.
In other good news, the employment reports for December and January were revised upward, showing that job growth for the past three months has been strong, although assuredly not nearly as strong as it needs to be. December's job growth was revised upward to show 223,000 net jobs created, an January's number was revised upward to show 284,000 jobs created. All told, and pending final revisions to January next month and revisions to February over the next two months, there have been 734,000 new jobs created over the past three months. At that pace, that would be able 2.8 million jobs created over the course of the year. Good, not great and not nearly enough to deal with the long-term unemployment problem, but still pretty good.
There were others signs of good news, including the fact that the labor force participation rate increased last month, which means that people are at least entering the job hunt again in the hope that things are improving. This is likely the reason that the unemployment rate itself didn't go down. Additionally, the broadest measure of unemployment, U-6, is now at 14.9%, the lowest level its been at since January 2009.
That said, there are, as there have been for some time now, plenty of caveats. February marked the 36th straight month where the unemployment rate was above 8%, the longest such stretch since the Great Depression. And the number of unemployed people remains unacceptably high. Additionally, all-too-recent should remind us that these reports can bring false hope:
The recovery has been here before — last February, March and April saw net gains of more than 250,000 jobs each month. But then the effects of high gas prices, the earthquake in Japan and the resurgence of the fiscal woes in Europe kicked in, slowing job growth to a crawl.

"Everyone got burned last year, from being elated over the better economic data only to have their hopes dashed come spring," said Ellen Zentner, an economist with Nomura Securities International. "If we can get past April and these trends continue, I'll breathe easy."

This year, the economy appears to be somewhat less vulnerable to shocks. There were 1.4 million more jobs in January than there were last April, and they were spread across more industries and more cities. Consumers have paid down some of their debt and begun to make large purchases, particularly cars. And so far, gas prices have not risen enough to dampen spending.
Of course, there are events outside of anyone's control that could slow the rate of economic growth in the next few months. Gas prices continue to rise and are likely to dampen consumer and business spending in other areas if they continue to rise at this rate. The warm weather in February may have front-loaded some spending that ordinarily occurs in the early Spring, meaning that March and April might be slightly weaker than they otherwise would have been. And, of course, anything that increases tensions in the Middle East has the potential to push oil prices higher.
Nonetheless, there's at least some anecdotal evidence that things are starting to turn around:
Martin Okekearu, 58, an engineer in Kansas City, Mo., with a master's degree, has had long dry spells in his eight-month search for work. But in the last two weeks, he said, he has received two promising leads from manufacturing firms in the area. One found his résumé, which has been posted for six months, on the local employment center's Web site.

He was relieved that either job would make use of his skills. "My younger son says, 'Daddy, they talk about somebody educated — you are one of them. They talk about somebody experienced, you are one of them,' " he said. "The job market is improving."

Others said it had become easier to find work, but only temporary or freelance work. "My feelings are mixed about the recovery," said Pam Sexton, 45, also of Kansas City, who was laid off by Sprint in 2009 but later went back to work for the company on a contract basis. "So far, I've managed to find work, but a full-time, permanent job is somehow elusive to me."
So what we've got right now is growth, not fast growth, but growth nonetheless, and if that continues then that's good news for the economy. Politically, of course, it also happens to be good news for President Obama:
At this point, if we have a weak month between now and the election, it's going to be the bad figure which looks like an aberration: only a sequence of two or three consecutive weak payrolls reports will really convince economists and the market that the recovery is going off the rails. It's taken far too long to get here, but we're finally moving in exactly the right direction, at an eminently healthy clip. Or, to put it another way: you can start breathing easier again, come the first Friday of the month. All those good job numbers were real, after all. And maybe next month the pundits won't be on quite as many tenterhooks as they were this time around.
Oh, I think we'll all be watching the monthly employment reports closely for quite some time before we're assured that good, or at least better, times are hear to stay for awhile. Right now, though, things are moving in the right direction.