Good News All Around In January Jobs Report
The January jobs report was the best we've seen in more than three years.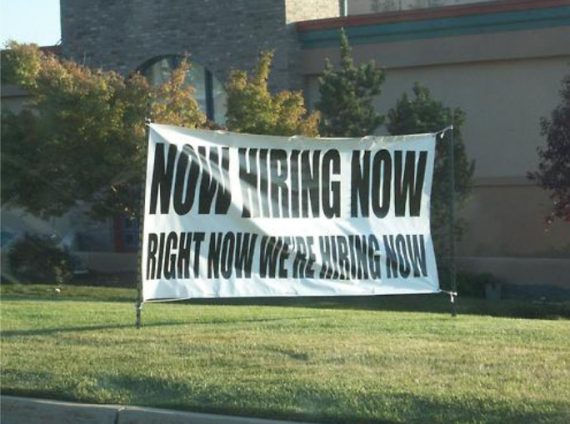 Since August, the unemployment rate has dropped from 9.1% to, as of the last report in January, 8.5%. Good news, without question, although incomplete given the fact that several of those monthly drops occurred because the labor force participation rate fell as people dropped out of looking for work. Additionally, the monthly jobs reports weren't really great news since the net jobs numbers was far below where it needs to be in order for the jobs market to really recover. You can't say that this month, though, because the January jobs report is good news all around, and the best jobs report we've seen in more than three years:
The pace of job creation surged in January, with the US economy generating 243,000 new positions while the unemployment rate dropped to 8.3 percent, according to government data released Friday.

Both numbers were far better than consensus, which expected a growth of 150,000 jobs and a steady unemployment rate of 8.5 percent.

Stock market futures jumped on the report, indicating a positive opening on Wall Street. Treasury yields also moved sharply higher on the news.

The overall work week remained unchanged at 34.5 hours while wages rose an average of four cents an hour to $23.29.

Job gains have been concentrated primarily in the service sector, particularly in retail and the food and beverage industries. Warehousing, manufacturing, mining and health care also have participated.

True to form, services were responsible for 162,000 of the January swell, with manufacturing payrolls growing 50,000. Government cuts subtracted 14,000 from the total.

The total number of unemployed fell below 13 million for the first time since February 2009, while the total amount of employed Americans rose to 141.6 million, an increase of 847,000 from December.

The unemployment rate was last this low in February 2009 as well.
The BLS also revised previous month's jobs reports upward. December's number was revised upward slightly to 203,000 (a net increase of 3,000 jobs)  and November's number increased by a net 57,000 jobs created. Additionally, the broadest measure of unemployment, U-6, fell against last month to 15.1%; at one point during that number was above 17%. This was also the month that the BLS makes its annual adjustments to underlying jobs data as well as the Household Survey and, while the numbers themselves won't be adjusted, there was at least some marginally good news in that area as well:
With today's jobs report, the government issued its annual benchmark update, aligning the data with corporate tax records covering the period from April 2010 to March 2011. The Labor Department added 165,000 to the job count over the period.

The report also included methodology changes to the household survey, incorporating new population data from the decennial census, according to the Labor Department.

It also included changes to the figures used to adjust the data for seasonal swings affecting numbers back to January 2007.
Most of these adjustments, however, are really only of interests to economic statisticians and historians and didn't really impact the report for January. In fact, there's very little to nit pick in this report at all. By every measure, this was a very good month all around. Hours worked are up, as is labor force participation. Private sector job growth is booming, and not just in the retail areas. We're seeing job growth in the manufacturing, construction, and service sectors that, if sustained, could signal the beginning of a very good year for people who have spent the better part of the Obama Administration looking for steady work.
The political implications of this should be rather obvious. If this is a sign of jobs reports to come, then it's largely good news for the Obama Administration (good news for all incumbents, actually) since it tends to take off the table the GOP's biggest weapon against the President, the struggling economy. Earlier today before the jobs report came out, Nate Silver posted a detailed historical and statistical analysis suggesting that any jobs growth figure about 150,000 new jobs is good news for the President. Well, this number wasn't that far from being twice that number — after revisions over the coming months it may well come even closer to being there — so there's no doubt that they'll be popping a few champagne corks in the West Wing and at Obama 2012 HQ in Chicago later today.
Of course, there's still reason to be cautions. The CBO forecast from earlier this week is rather sobering, as are the forecasts for 2012 and onward that we've seen from other sources. Europe remains a problem all its own that could push the rest of the world over the brink. The possibility of rising tensions with Iran, with the inevitable increase in oil and gas prices, are a factor whose impact no economic forecaster can anticipate until it actually happens. There are plenty of possibilities that the economy could stumble just as it did in the early spring of 2011. Nonetheless, this is very good news and, hopefully, a sign that we've really turned a corner this time.