Federal Government Advises, And Warns, Public Schools On Rights Of Transgender Students
Begun, the bathroom wars have.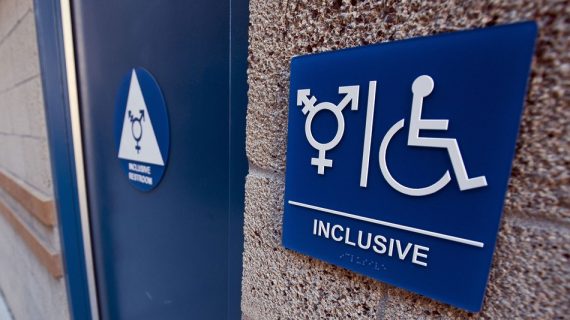 The Federal Government is advising public school districts across the country to allow transgender students access to the restroom facilities corresponding to the gender they identify with or risk losing funding and/or facing civil rights charges under Title VII of the 1964 Civil Rights Act and Title IX of the Education Amendments of 1972:
WASHINGTON — The Obama administration is planning to issue a sweeping directive telling every public school district in the country to allow transgender students to use the bathrooms that match their gender identity.

A letter to school districts will go out Friday, adding to a highly charged debate over transgender rights in the middle of the administration's legal fight with North Carolina over the issue. The declaration — signed by Justice and Education department officials — will describe what schools should do to ensure that none of their students are discriminated against.

It does not have the force of law, but it contains an implicit threat: Schools that do not abide by the Obama administration's interpretation of the law could face lawsuits or a loss of federal aid.

The move is certain to draw fresh criticism, particularly from Republicans, that the federal government is wading into local matters and imposing its own values on communities across the country that may not agree. It represents the latest example of the Obama administration using a combination of policies, lawsuits and public statements to change the civil rights landscape for gays, lesbians, bisexual and transgender people.

After supporting the rights of gay people to marry, allowing them to serve openly in the military and prohibiting federal contractors from discriminating against them, the administration is wading into the battle over bathrooms and siding with transgender people.

"No student should ever have to go through the experience of feeling unwelcome at school or on a college campus," John B. King Jr., the secretary of the Department of Education, said in a statement. "We must ensure that our young people know that whoever they are or wherever they come from, they have the opportunity to get a great education in an environment free from discrimination, harassment and violence."

Courts have not settled the question of whether the nation's sex discrimination laws apply in matters of gender identity. But administration officials, emboldened by a federal appeals court ruling in Virginia last month, think they have the upper hand. This week, the Justice Department and North Carolina sued each other over a state law that restricts access to bathrooms, locker rooms and changing rooms. The letter to school districts had been in the works for months, Justice Department officials said

"A school may not require transgender students to use facilities inconsistent with their gender identity or to use individual-user facilities when other students are not required to do so," according to the letter, a copy of which was provided to The New York Times.

A school's obligation under federal law "to ensure nondiscrimination on the basis of sex requires schools to provide transgender students equal access to educational programs and activities even in circumstances in which other students, parents, or community members raise objections or concerns," the letter states. "As is consistently recognized in civil rights cases, the desire to accommodate others' discomfort cannot justify a policy that singles out and disadvantages a particular class of students."

As soon as a child's parent or legal guardian asserts a gender identity for the student that "differs from previous representations or records," the letter says, the child is to be treated accordingly — without any requirement for a medical diagnosis or birth certificate to be produced. It says that schools may — but are not required to — provide other restroom and locker room options to students who seek "additional privacy" for whatever reason.

Attached to the letter, the Obama administration will include a 25-page document describing "emerging practices" that are in place in many schools around the country. Those included installing privacy curtains or allowing students to change in bathroom stalls.

In a blog post accompanying the letter, senior officials at the Justice and Education Departments said they issued it in response to a growing chorus of inquiries from educators, parents and students across the country, including from the National Association of Secondary School Principals, to clarify their obligations and "best practices" for the treatment of transgender students.

"Schools want to do right by all of their students and have looked to us to provide clarity on steps they can take to ensure that every student is comfortable at their school, is in an environment free of discrimination, and has an opportunity to thrive," wrote Catherine E. Lhamon, the assistant secretary of education for civil rights, and Vanita Gupta, the head of the Justice Department's Civil Rights Division.
This policy memorandum hardly comes as a surprise given the direction that the Obama Administration has been moving on this issue. The process began last year, when the Department of Education advised a school district in the Chicago area that it was violating the law by failing to accommodate a transgender student who identified as female. That advisory was one of the first times that the Federal Government had advanced the argument that transgender status was a protected status under Title XI and/or Title VII, and it is a position that doesn't come without some degree of controversy. Neither law explicitly mentions transgender rights or protections for transgender individuals, for example, and there is no evidence in the Congressional Record that Congress contemplated that either law would be applicable in situations such as this when the respective laws were passed in 1964 and 1972. Additionally, the actual state of the law on this issue is rather unclear at the moment. In the past, Federal Courts in Virginia and Pennsylvania have ruled that  current Federal laws such as Title IX may not apply to transgender students at all due in no small part to the fact that there's no evidence that Congress intended for the law to reach that far when they passed the Education Amendments some 44 years ago. More recently, a panel of the Fourth Circuit Court of Appeals ruled that a transgender teen who who was born female can proceed with a lawsuit against their local school board over the issue of bathroom access in a ruling that largely accepted the legal arguments that the Department of Education made in the Chicago case. You can read the opinion in that case, G.G. v. Gloucester County School Board at the link)
Not surprisingly, the announcement of this new policy directive isn't passing without some degree of controversy. Both the Lt. Governor and Attorney General of Texas have already spoken out against the policy, with the lawsuit hinting at a lawsuit against the policy similar to the one currently pending against President Obama's deportation relief executive actions. In this case, though, neither the Education Department nor the Department of Justice have taken any explicit action against a school district as of yet so it's likely that a lawsuit at this point would be considered premature by a Court and dismissed as a request for an "advisory opinion," which is generally something that Federal Courts have refrained from granting. Eventually, though, there will be a school district somewhere in America that will find itself dealing with this issue and the issue will be joined. To some degree, of course, that has already begun with the cross-lawsuits filed by the Federal Government and North Carolina Governor Pat McCrory over the recently passed law in the Tarheel State that, among other things, requires people to use the bathroom that corresponds to their biological gender regardless of what gender they identify with and live their lives pursuant to.
Apropos all of the recent controversy on this issue, Kevin Drum suggests that this issue of "bathroom privacy" and the transgendered" could become the new wedge issue for social conservatives looking for something to replace their failed arguments against marriage equality. Based on the extent to which certain segments of the right seem to be pushing the issue of late, that certainly seems like it could be the case. Whether it will be something that draws people to the polls the way opposition to marriage equality did in the years before public opinion shifted on that issue, though, remains to be seen. In any case, this issue clearly isn't going away any time soon.
Here's a copy of the DoJ/DoE Letter:
Dept of Justice and Education Letter on Transgender Students by Doug Mataconis
And the accompanying Guidelines:
Dept of Justice and Education Guidelines on Transgendender Students by Doug Mataconis