Final Iowa Polling Shows It All Depends On Turnout, Plus A Projection
The final polls of the Iowa Caucus show that the outcome of tonight's caucuses depend almost entirely on turnout at this point. Plus, a projection of who will win and the order of finish.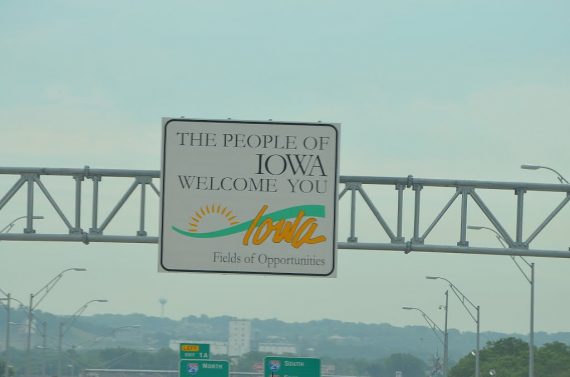 While the Des Moines Register Poll released on Saturday is considered the "gold standard" poll for the Hawkeye State, it wasn't the last poll released prior to tonight's caucuses. Two more polls dropped this morning, and they show that, in the end, tonight's outcome is going to depend heavily on turnout. In both parties, higher turnout is likely to be good news for the insurgent candidates in both races, Donald Trump and Bernie Sanders, while more traditional turnout would likely be good news for Hillary Clinton and Ted Cruz. In either case, though, it seems apparent that it could be a long night tonight before we get final results.
On the Republican side, a new Quinnipiac poll shows Donald Trump taking a seven point lead over Ted Cruz:
Donald Trump leads his nearest rival, Texas Sen. Ted Cruz, by 7 percentage points — 31 percent to 24 percent — heading into today's caucuses, the final Quinnipiac University poll of Iowa finds.

Trump's edge, powered as it is by a big lead among what Quinnipiac has identified as likely first-time caucus-goers, could be more tenuous than it looks. The race is still fluid: Although 3 percent said they were undecided, 28 percent of those who did name a candidate said they were open to changing their minds.

Florida Sen. Marco Rubio trails both men with 17 percent, with retired neurosurgeon Ben Carson in fourth place at 8 percent. The other GOP candidates are all at or below 4 percent.

The poll shows Trump pulling away from Cruz and Rubio catching up — Quinnipiac's Jan. 26 survey had Trump at 31 percent, Cruz at 29 percent and Rubio at 13 percent.

Trump leads among male likely caucus-goers 38 percent to Cruz's 24 percent, but the two are neck and neck ammg women — 24 percent are for Cruz and 23 percent for Trump.

Trump is also leading in another area that is less positive. Among likely Republican caucus-goers in the state who would "definitely not support" a candidate, the businessman gets 35 percent compared to Cruz's 15 percent.

Just under 1 in 3 likely GOP caucus participants are most concerned about the economy and jobs (27 percent) while 15 percent are most concerned with terrorism and 11 percent are focused on immigration.
This number, of course, is largely consistent with the DMR poll, which showed Trump leading by five percentage points and, like the DMR poll, includes the caveat that a significant portion of Trump's support comes from people who have never caucused before, suggesting that these numbers could end up proving to be soft if those supporters don't end up showing up tonight after all. In that regard it is worth nothing that there are two polls that show the race as being far closer than any of the other recent polling. One, from something called the Emerson College Polling Society, has Trump with a one point lead over Ted Cruz 27% to 26% with Marco Rubio at 22%, which is the highest that the Florida Senator has polled in the Hawkeye State since the election cycle began. After Rubio, the next highest candidate is Mike Huckabee at 5%, Jeb Bush and John Kasich at 4%, Ben Carson, Rand Paul, and Chris Christie at 3%, and then no other candidate above 2%. It appears this is only the second time this election cycle that this group has polled Iowa, with the previous poll having been released just last week. Another new poll, from a group calling itself Opinion Savvy that doesn't appear to have ever polled Iowa before, also has a one point gap between Trump and Cruz at 20 to 19% with Cruz actually tied with Marco Rubio at 19%, followed by Ben Carson an Rand Paul at 9%, Jeb Bush at 5%, Mike Huckabee, John Kasich, and Carly Fiorina at 4%, and no other candidate higher than 3%. Based on the numbers alone, these two polls appear for all the world to be outliers, but they are included in the RealClearPolitics average and they could end up catching trends that other polling has missed so they're at least worth taking note of.
All of this leaves the poll averages and the trends looking like this, according to RealClearPolitics: (click to enlarge)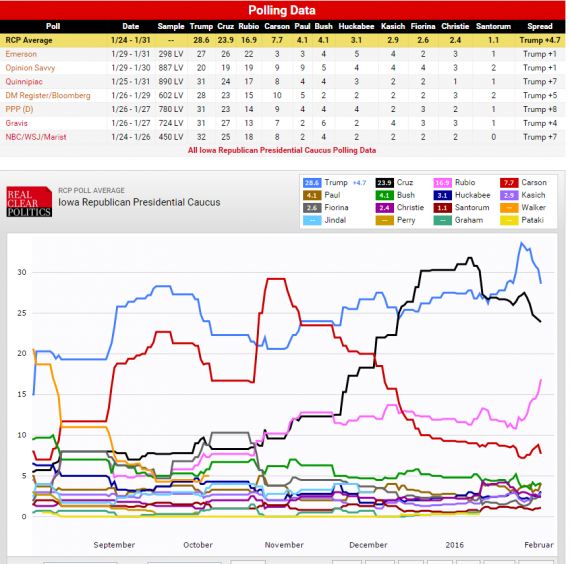 The dips for Trump and Cruz have been somewhat enhanced by the results from Emerson and Opinion Savvy, a has the upward trend for Cruz, but this more or less shows up where the race is according the the last set of polling. Donald Trump remains with a narrow lead, 4.2 points according the the RealClearPolitics average, slightly more according to the Pollster average. Marco Rubio remains firmly in third place with many wondering whether he might be able to pick up more support before the night is over, and the rest of the field remains essentially full of also-rans, but not necessarily unimportant to the race. In the end, it's possible that some portion of the people supporting the candidates below Marco Rubio could decide to back one of the top three candidates if only because of the natural human desire to get behind a candidate who actually has a chance of winning. If that happens, then it could have a big impact on the relative positions of the top three candidates. Additionally, Rand Paul continues to argue that his support among younger voters has been ignored by the polls, and that he will surprise people tonight. While there's no evidence in the polling to support that contention, it's worth keeping in mind as the night goes on because support from college students is also an important part of Bernie Sanders' support on the Democratic side of the aisle.
Speaking of the Democratic race, the Quinnipiac poll shows that race as being as close as ever:
First-time Democratic caucusgoers also boosted Bernie Sanders in Iowa, pollsters found, with the Vermont senator holding a 3-point lead over Hillary Clinton, 49 to 46 percent.

Among first-time voters, Sanders holds a major lead over Clinton, 62 to 35 percent, while Clinton holds a 9-point lead among those who have caucused before.

Martin O'Malley has 3 percent support in the Hawkeye State.
As with the Republican race, there is also a poll from Emerson College of the Democratic race and, in this case, it shows Clinton leading Sanders by eight points 51% to 43%, but again it's unclear if this poll is an outlier or evidence of a late-breaking trend that other polls are missing. All of this leaves the Democratic race looking like this according to RealClearPolitics: (again, click to enlarge)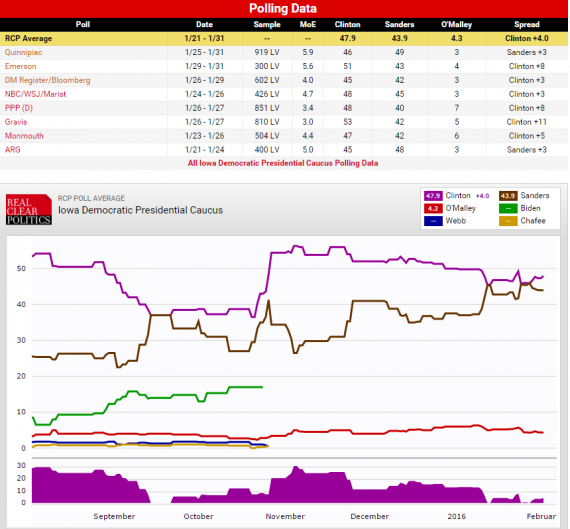 In other words, the Democratic race in Iowa remains close, with Clinton holding an average 4.6 point lead over Senator Sanders and Martin O'Malley basically a non-entity. As  I mentioned this morning, though, the format of the Democratic Caucus and the manner in which it's conducted means that O'Malley's supporters could end up being decisive in some areas since they will have to decide whether to throw their support to Sanders or Clinton, or to simply go home. Combined with the turnout issue, this will probably be the story of the night and, outside of those caucus meetings that may choose to allow network cameras to record their proceedings, this will largely occur behind closed doors with the results not being known until they are officially announced. In any case, given the narrow gap between Clinton and Sanders the biggest factor is likely to be which campaign has the better turnout operation and, as with the Republican race, it could be well into the late evening before we have an idea who may have won the night.
In any case, now that we know where the race stands, and as I did four years ago, here are my predictions for the outcome tonight. Given the fact that I completely missed Santorum's last minute momentum last time, you can take these predictions for what they're worth:
Republicans
Donald Trump — 28%
Ted Cruz — 25%
Marco Rubio — 18%
Ben Carson — 6.5%
Rand Paul — 5%
Jeb Bush — 4.5%
Mike Huckbee — 4%
John Kasich — 3%
Carly Fiorina — 2%
Chris Christie — 2%
Rick Santorum — 1.5%
Jim Glimore —

<

.5%
Democrats
Hillary Clinton — 50.5%
Bernie Sanders — 49.5%
Martin O'Malley —- N/A, Eliminated due to failure to meet 15% threshold
In both races, I'm somewhat more confident about the order of finish than I am the percentages, and that the turnout among Republicans will be sufficient to largely justify Trump's presence at the top of the polls. On the Democratic side, turnout may well be high, but I tend to doubt it will be as high as 2008 when Barack Obama shocked Hillary Clinton and John Edwards. Nonethless, the gap between Clinton and Sanders is likely to be much closer than the final polls are showing. We'll see if I'm right in the end.