Finally, It's Caucus Day; Plus, A Prediction
After almost a year of campaigning, it's finally time for someone to cast a vote.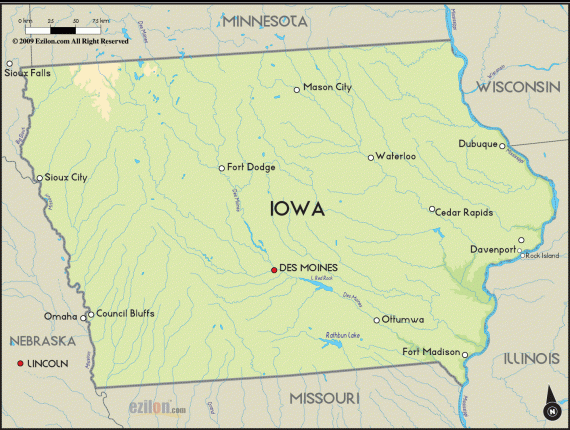 It already seems like the race for the Republican nomination has been going on for more than a year (actually it was January 12, 2011 when Herman Cain formed the first Presidential Exploratory Committee of the cycle) but finally tonight we actually get to the point where the voting actually starts:
Iowa became the stage for electrifying political theater on caucus eve as six GOP presidential candidates tried to make a last-minute connection with voters — all while hounded by hundreds of reporters who documented their every move in mini messages on Twitter.

An expected 115,000 to 120,000 Iowa Republicans will record their choices tonight, GOP strategist John Stineman of West Des Moines estimated.

The race has shaped up as a three-way dead heat among Mitt Romney, Ron Paul and Rick Santorum, according to The Des Moines Register's Iowa Poll, conducted last week. But in a sign of how unsettled the race remains, 41 percent of those who have a first choice could still be persuaded to change their minds, the poll found.

After 354 days of campaigning and more than 900 events, from the sweaty heat of the Iowa State Fair to skin-biting wind on Monday, the candidates are making their final arguments.

They spent the final full day of campaigning before the first-in-the-nation vote in one last-gasp scramble, traveling from town to city.

The words "mob scene" cropped up on Twitter throughout the day
For Mitt Romney, that meant another day of repeating the same positive, patriotic stump speech he's been giving since he landed in Iowa two weeks ago and decided to go all out for victory in a state that it looked like he would mostly ignore. In fact, last night Romney appeared to predict victory:
Mitt Romney went beyond the cautious expectations set by his advisers at an event in Marion, Iowa just now, and set the bar for his performance tomorrow night a bit higher, via the Des Moines Register:

"We're going to win this state with all our passion and strength and do everything we can to get this campaign on the right track to go across the nation and to pick up the states and to get the ballots I need and the votes I need to become our nominee. That's what we're going to get, with your help."
Romney appeared to back out of that comment this morning, saying in TV show appearances that he was not predicting a first place finish in Iowa. Nonetheless, it's fairly clear that the Romney camp is confident of if not a 1st place finish at least a decent 2nd place showing behind either Santorum or Paul, candidates that quite honestly don't pose any real threat to Romney for the nomination.
Rick Santorum's day, meanwhile, was marked by an endorsement from the 19-member Duggar Family and a bizarre comment by a cable news commentator that led to an emotional cap to the day. It started when Fox News's Alan Colmes made what many took to be an insensitive remark about one of Santorum's children, who died after being born prematurely:
Fox News Radio host and political contributor Alan Colmes found himself in sticky territory on Monday, after criticizing the way GOP candidate Rick Santorum and his wife, Karen, handled the 1996 death of their infant son, Gabriel.

In a heated clash on Fox News, Colmes appeared on air with Rich Lowry, editor of National Review. The two contributors were discussing Santorum's recent surge in the polls, when Colmes brought up the death of Santorum's infant son, Gabriel, who died just two hours after being born.

Colmes said, " "Once [voters] get a load of some of the crazy things he's said and done, like taking his two-hour-old baby who died right after childbirth home and played with it for a couple of hours so his other children would know that the child was real…"

Lowry interjected and called Colmes' comment a "cheap shot." "It's not, it's not a cheap shot," Colmes said.

Lowry continued to cut off Colmes and said, "To say it's 'crazy,' something that's that personal and harmful as losing a child, and to mock it, to mock him like that, is really beyond the pale and beneath you." Lowry added that Colmes' comment was "contemptible."

Colmes doubled down on his comments and said, "I'm not mocking the losing of the child, but what I'm saying is I think it shows a certain unusual attitude to take a two-hour baby home that died to play with his other children."
This led to an event later in the day where both Santorum and his wife were present:
During the question and answer portion of Rick Santorum's second to last campaign event of the day, a voter brought up a painful memory from the former Pennsylvania senator's past.

At a Pizza Ranch restaurant in Newton, Iowa,  a member of the audience asked Santorum to react to a controversial attack leveled by liberal Fox News contributor Alan Colmes, who called the Santorum family's approach to grieving for their dead baby boy, who lived for only two hours after his birth in 1996, "crazy."

In a Fox News interview on Monday, Colmes characterized Santorum's decision to bring the deceased child home an example of "some of the crazy things he's said and done."

But in Iowa this afternoon, Santorum explained that it was important for his other children to "know they had a brother."

Santorum's wife, Karen, who was at the event and listened to her husband talk about the experience, began to weep.

"It's just so inappropriate," she said as tears streamed from her eyes.
Colmes later apologized, apparently, but the story is still out there and is likely to make Santorum something of a more sympathetic character in the eyes of some Iowa voters.
The other candidates, meanwhile, closed out the campaign with their own standard messages.
Ron Paul continued hitting on the idea that failure to deal drastically with the debt will lead to dire consequences:
DAVENPORT, Iowa — Representative Ron Paul closed out his Iowa campaign with predictions of dire consequences if the nation does not follow his recipe for large and immediate cuts to the federal debt and federal budget, as well as a warning that the country's civil liberties have been eroded to the point that the president can target for assassination Americans whom he and his administration believe to be a "bad person."

The crowds greeting him have only been growing, and he spoke before more than 300 people at a hotel here after being introduced by his son Rand, a Republican senator from Kentucky, who warned that "we are borrowing $40,000 a second."

Mr. Paul, a 76-year-old Texas congressman, came in fifth place in the 2008 Iowa caucuses, but now polls show him sitting at the top of the pack with Mr. Romney, a remarkable change of fortune for a candidate who was mainly an afterthought two months ago. And in many ways, the party has drifted toward his agenda of curtailing government spending and its reach into individual lives.

Mr. Paul suggested that his campaign's rising popularity showed that people want fundamental changes. "All of a sudden this message of the Constitution and freedom and American traditions, all of a sudden has become much more accessible and people are thinking about it," he said.
Michele Bachmann continued to put a brave face on a  dying campaign:
WEST DES MOINES — As she made her way down a street of small shops here, Representative Michele Bachmann of Minnesota greeted supporters and reminded them over and again: "Tomorrow night is our chance to speak out."

From diner to pet shop to florist, she glad-handed the crowd, which seemed much larger than those gathered at her campaign stops in recent days. Some were curiosity seekers, others were celebrity watchers. But many were her faithful: One man brought his Bible to be autographed. And Mrs. Bachmann said she was delighted to do it.

Then she made her final pitch to an electorate that seems to have turned its attention elsewhere after holding her up, just months ago, as a top-tier candidate.

"In this particular election, we can't take a chance," Mrs. Bachmann said. "We can't settle. We need to have someone who's going to campaign and govern in the image and likeness of a Ronald Reagan and a Margaret Thatcher. And that's what I will do."
So did Newt Gingrich:
But on the campaign trail Monday, Mr. Gingrich betrayed little sense of defeat.  His crowds were strong, even if not quite as large as in the past, with more skeptical questions echoing the issues raised by his rivals.

"Whatever I do tomorrow night will be a victory because I'm still standing," he said.

Asked the "fire in the belly" question by reporters, he said running for office was not the most important thing in the world to him.

"I want to be with my wife and children and grandchildren," Mr. Gingrich said, but added, "I am prepared to campaign endlessly from now until November."

"I regard it as aduty, not a pleasure. I regard it as an obligation, not an ambition. And I am prepared to do it."
And Rick Perry continued to stumble along:
CARROLL, Iowa — On his first campaign stop of the day on Monday, Gov. Rick Perry of Texas was introduced by a supporter as "the next governor of the United States."

But the flub was fitting: In his final day of campaigning before the Iowa caucuses, Mr. Perry emphasized his experience as Texas's chief executive, suggesting that state government in that state — and his efforts to create jobs and rein in lawsuits — was a model for the kind of administration he would run as president.

Accompanied by a dozen Texas lawmakers, Mr. Perry boasted of slashing Texas spending, deploying state troopers to the Mexican border and governing in collaboration with home-state Democrats.

And he lit into his Republican opponents as a crowd of Washington insiders tainted by the federal government's failures to budget responsibly and control the country's borders.

"An outsider to go into Washington, D.C. An outsider who's not tainted by how they've always done business in Washington. An outsider who's not tainted by that connection to Wall Street," Mr. Perry said, describing his credentials before a receptive crowd at a vineyard's tasting room here.

Just a few months ago, Mr. Perry entered the race as a potential front-runner, a proven fund-raiser and three-term governor of the country's second-largest state. But as Iowa Republicans prepare for the first caucus contest of the primary season, Mr. Perry remains stubbornly mired in the second tier of candidates, fighting for the allegiance of conservative caucusgoers who remain skeptical of Mr. Romney and Mr. Paul, who lead in recent polls.
There will be some campaigning today, for sure, but the primary concern today will be getting ready to run the ground operation needed to get supporters to the caucus sites, at least for the campaigns that can afford to do so. By all accounts, Romney and Paul seem to have the best operations in that regard, but Santorum's surge over the past week cannot be discounted at all.
Anyway, here's my prediction for both order of finish and vote percentage (rounded). If I'm right, great. If not, I'm sure someone will point it out to me:.
Mitt Romney — 24%
Ron Paul — 22%
Rick Santorum -21%
Newt Gingrich — 13%
Rick Perry — 11%
Michele Bachmann — 7%
Jon Hunstman — 2%
Well, see later tonight if I'm right. All three cable news networks will be covering the caucuses starting at 8pm Eastern, of course, and you can also find some excellent coverage over at The Des Moines Register. By this time tomorrow, though, we can forget about Iowa for another four years and move on to New Hampshire and the parts of this race for the nomination that actually matter.