Five Weeks Out
Joe Biden's chances remain extraordinarily good.
I've been using RealClearPolitics polling data and especially their poll aggregator since the earliest days of the site, going back to the 2004 election cycle. It's slightly skewed toward Republicans in its selection of polls and in some ways not as sophisticated as Nate Silver's FiveThirtyEight but it's easier for non-statsheads to understand and pretty reliable over time.
They haven't added any new polls in a couple of days and, obviously, this doesn't account for the impacts, if any, of last night's debate. Still, it's a solid snapshot of where we were five weeks from the ostensible Election Day.*
Here's the average of all their polls trending over the entire time they've been polling Biden vs. Trump: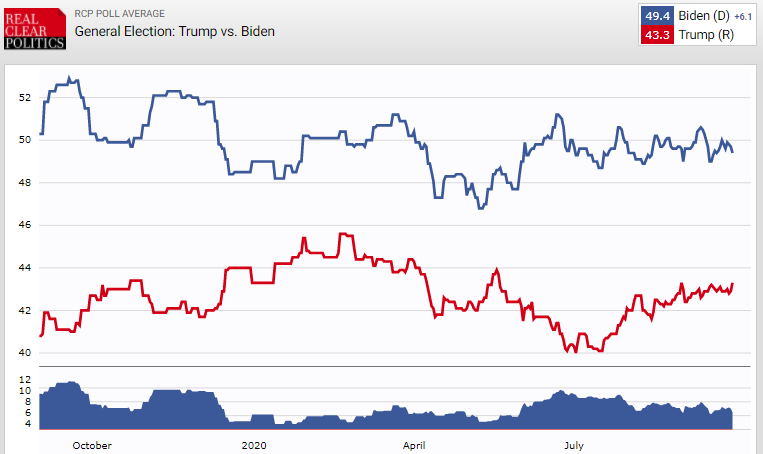 The numbers have fluctuated with events but the trend is clear: Biden has had a significant lead from the beginning and never given it up. He's 6.1 points up as of a couple days ago.
Here's their Electoral College map, based on state-by-state polling: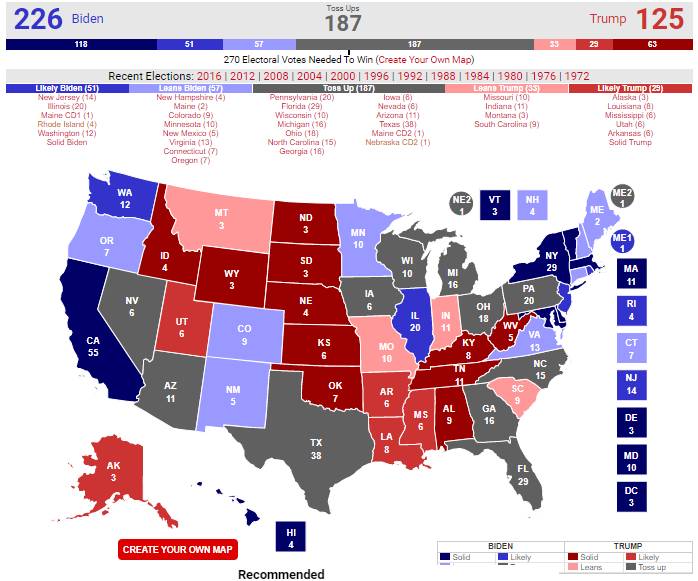 As noted many times, that Texas and Georgia are "toss-ups" is a horrible sign for Trump's re-election chances. And Biden only needs to pick up 44 electors to get to the magical 270 majority; there are an inordinate number of ways for him to do that. Trump needs 145 of 187—essentially an inside straight.
Here are their "top battleground states" polls:

Literally all of them are leaning toward Biden at the moment, some of them rather strongly.
Which produces this Electoral Map including leaners: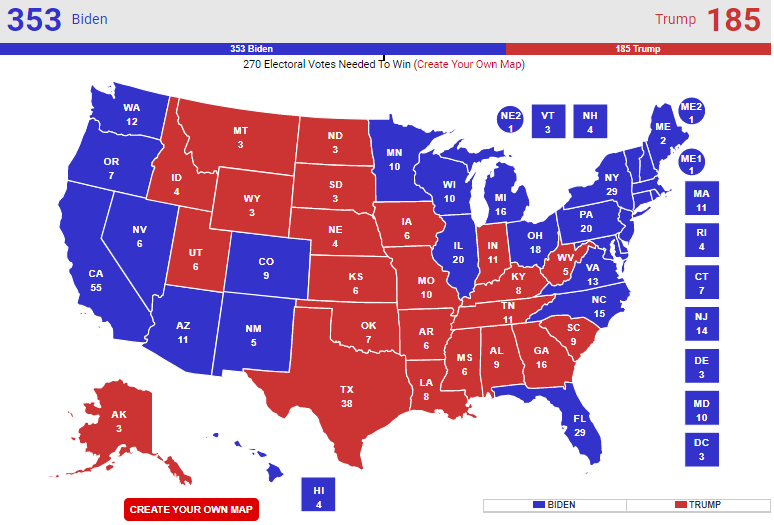 Even if he runs the table—which is unlikely—353 electors is fewer than Barack Obama won in 2008 or Bill Clinton won in either 1992 or 1996. But still a pretty solid margin in a hyper-polarized political culture.
_______________
*For good and ill, the increasing trends toward mail-in voting and no-questions early voting means we no longer have an election in the sense most of us have long conceived of it. Indeed, thousands if not millions of people had already voted by the time of the first debate.