Flying On A Plane Is Safer Than It Has Ever Been
Despite yesterday's tragic events in San Francisco, flying by plane remains the safest way to travel.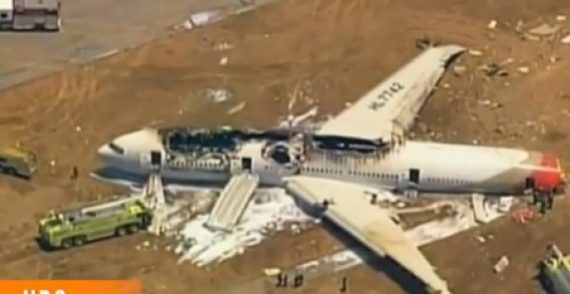 Despite the non-stop coverage that yesterday's horrific crash of Asiana Airlines Flight 214 has generated, mostly on cable news outlets, flying by airplane is safer than its ever been:
Cable news is full of coverage of the Asiana Airlines crash at San Francisco Airport right now. And it makes sense—a large plane crashing is news. At the same time, it's worth reiterating that plane crashes are news because they're so amazingly rare. On a per passenger mile basis, you're over seventy times likelier to die driving a car.
Yet even though car wrecks (and cars running down bicyclists or pedestrians) are a much larger social risk, they never get this kind of coverage which is a bit of a shame.
That's from Matthew Yglesias, who also created this chart: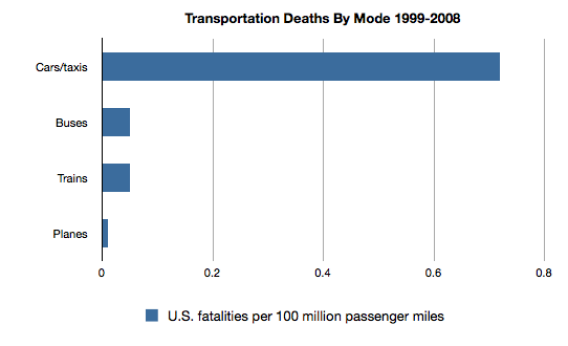 Lydia DePhillips points out that, before yesterday, there had not been a fatality on a U.S. commercial jetliner in four years. This despite the fact that air miles traveled continues to increase year after year. And, this chart shows that fatalities as a whole for jetliners have been far lower than they were 30 years ago:

And the decline in accidents and fatalities also applies to General Aviation:

It's not surprising that events like the crash of Flight 214 get a lot of media attention. For one thing, as the charts above note, they've become rare enough, at least in the United States, that they are become immediate attention getters. Second, they provide the cable networks with lots of spectacular footage they can show over and over again. Third, on a slow news weekend they gave those networks something to fill hours of coverage consisting of mostly baseless speculation with. Despite all of that, the reality is that we're living in an era where it has become far more safer to fly than it has ever been before. That's thanks both to enormous enhancements in airplane engineering and the things that we learned from those eras in the past when deaths from jetliner accidents were tragically more common. Whether the cause of this accident turns out to be mechanical, the result of pilot error, or something else, we'll learn something from yesterday's accident as well, and the industry will adjust accordingly. That's because, as Ezra Klein notes, they have an incentive to do so:
The Asiana Flight was a nightmare for those aboard. But planes remain extraordinarily, almost unbelievably, safe. That's in part because plane crashes affect the national psyche — and the airline industry — in a way that car crashes simply don't. People hear about car crashes and move on with their day. They even move on with plans to buy a new car.

When a plane crashes, it's covered live on every network — and it can destroy the airline. Remember ValuJet? They sure hope you don't. After their 1996 crash, they had to merge with a smaller airline and give up their name in order to survive.

The airline industry has an enormous incentive to make sure planes pretty much never crash. Safety checks, training certifications  and equipment redundancies that would strike us as insane if applied to cars are routinely insisted on in planes. And it works. In the United States, at least, planes operated by the major airlines almost never crash.
"Almost never," of course, doesn't mean "never," but it's pretty darn close. The deaths of two and injury of some 182 is nothing to just ignore, of course. However, it's worth noting that this plane was able to be evacuated within a matter of minutes, that most everyone on board escaped without injury, and that the circumstances of this crash likely would have been much different had it happened thirty years ago.