For Some Reason, Mitt Romney Releases His Birth Certificate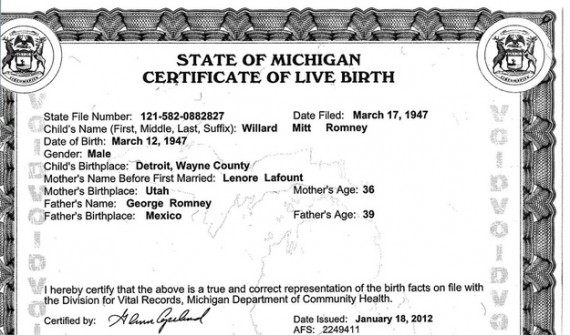 Shortly before he hit the stage with Donald Trump for a big Las Vegas fundraiser last night, the Romney campaign decided to release a copy of the candidate's birth certificate:
(Reuters) – Finally, there is definitive proof: The presidential candidate was born in the United States, and his father was not.

Yes, Republican Mitt Romney appears eligible to be president, according to a copy of Romney's birth certificate released to Reuters by his campaign. Willard Mitt Romney, the certificate says, was born in Detroit on March 12, 1947.

His mother, Lenore, was born in Utah and his father, former Michigan governor and one-time Republican presidential candidate George Romney, was born in Mexico.
Of course, the document does remind us that Barack Obama wasn't the first Presidential candidate to be subject to a "birther" controversy, it happened in 1968 when George Romney ran for President:
Records in a George Romney archive at the University of Michigan describe how questions about his eligibility to be president surfaced almost as soon as he began his short-lived campaign.

In many ways, they appear to echo today's complaints that Trump and some other conservative "birthers" have made about Obama while questioning whether Obama – whose father was from Kenya and mother was from Kansas – was born in Hawaii.

In George Romney's case, most of the questions were raised initially by Democrats who cited the Constitution's requirement that only a "natural born citizen" can be president.

As early as February 1967 – a year before the first 1968 presidential primary – some newspapers were raising questions as to whether George Romney's place of birth disqualified him from the presidency.

By May 1967, U.S. congressman Emmanuel Celler, a Democrat who chaired the House of Representatives Judiciary Committee, was expressing "serious doubts" about George Romney's eligibility.

The next month, another Democratic congressman inserted a lengthy treatise into the Congressional Record in which a government lawyer – writing in a "personal capacity" – argued that George Romney was ineligible for the White House because he was born outside U.S. territory.
Romney's campaign was ultimately unsuccessful, although it had nothing to do with where he was born. In fact, that issue ended up being largely resolved before the 1968 primaries even started:
The New York Law Journal published a lengthy argument by a senior partner from Sullivan & Cromwell, one of Manhattan's elite law firms, arguing that the fact that both of George Romney's parents were U.S. citizens clearly established him as a "natural born citizen" who was eligible to be president.

George Romney himself was unequivocal.

"I am a natural born citizen. My parents were American citizens. I was a citizen at birth," he said, according to a typewritten statement found in his archives.

At one point, the Congressional Research Service – an arm of the Library of Congress that is supposed to provide authoritative but impartial research for elected members – advised that its analysts agreed with George Romney, according to a congressional source.

In a paper in November aimed at clarifying presidential eligibility, the Congressional Research Service declared that the practical, legal meaning of "natural born citizen" would "most likely include" not only anyone born on U.S. soil but anyone born overseas of at least one parent who was a U.S. citizen.
One wonders why people forgot this simple fact between 1967 and 2008.