For The Eighth Time, Obama Pivots To The Economy
Time to "pivot to the economy" again.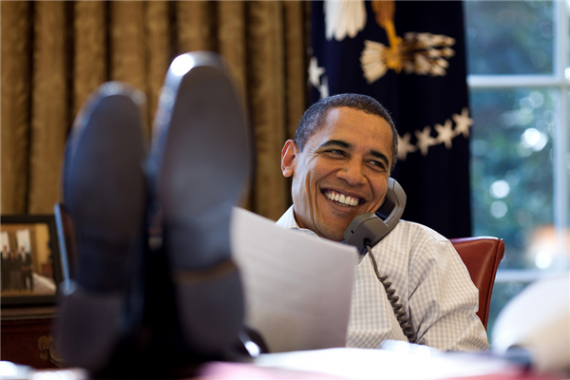 With gun control dead until the elections in 2014 at least,  immigration seemingly  on life support as the House makes clear that it will be taking its sweet time on the issue, and other parts of the President's second term agenda seemingly in disarray, the President is preparing to do something he's done many times before:
WASHINGTON — President Obama's push to restart an economic conversation with the American public this week is a clear indication of how often world events, his Republican adversaries and his own competing agenda have conspired to knock him off that subject.

It may also be a reflection of how little the president — any president — can do to alter the country's economic trajectory while he is faced with global forces that shape the financial system in the United States, as well as a domestic political system that has ground to a standstill, particularly over economic issues like taxes and spending.

The new public relations effort, which begins with a major address Wednesday and as many as six economic-themed speeches over the next two months, is intended to give Mr. Obama a chance to claim credit for the improving economy and to lift his rhetoric beyond the Beltway squabbles that have often consumed his presidency.

But the speeches will not contain big new proposals, senior administration officials said Monday, speaking to reporters on the condition that they not be quoted. Nor are they designed to break the hardening stalemate on economic issues between a president and his Republican adversaries in Congress. Instead, they will repackage economic proposals that the president has offered for years — sometimes in new formats, the officials said.

"The point is to chart a course for where America needs to go," Dan Pfeiffer, the president's senior adviser, said in an e-mail to the president's supporters Sunday night. Officials said that course has improved significantly during Mr. Obama's administration, giving Americans a sense of stability, if not complete economic security.

Mr. Obama's adversaries on Monday were quick to point out that the president has frequently launched similar efforts to redefine or restate his economic agenda, often accompanied by rhetoric from his advisers about a new direction or emphasis. Most have run headfirst into opposition on Capitol Hill.

In the fall of 2011, Mr. Obama addressed a joint session of Congress to unveil a $447 billion jobs bill that has not passed. In 2012, as his re-election campaign neared its end, Mr. Obama renewed his vision with a 20-page economic plan. In his State of the Union speech in February, the president refocused on the economy after beginning his second term focused on gun control, immigration, climate change and gay rights.

And just this past May, Mr. Obama announced he was restarting his "Middle Class Jobs and Opportunity Tour," with stops in Baltimore and Austin.

"They've been saying the same thing for four years," said Don Stewart, a spokesman for Senator Mitch McConnell, the minority leader in the Senate. "The previous Democrat Congress passed his agenda — Obamacare, the stimulus, thousands of pages of regulations — and the economy is treading water. More taxes, more regulation, and more failures to unleash American energy jobs are not the answer."

Republicans say Mr. Obama should have spent less time passing health care legislation early in his presidency and more time improving the economic fortunes of Americans.

"Memo to Obama and the White House: speeches don't create jobs," said Kirsten Kukowski, a spokeswoman for the Republican National Committee.

Senior administration officials on Monday conceded that the president was partly to blame for the Washington conversation veering away from the economic issues that many Americans believe are the most important. One official said that it was incumbent on Mr. Obama to shift the overall focus of the debate in Washington, and that has not happened.

In some cases, the White House has chosen to spend its time and political capital on other topics. Mr. Obama made it clear early this year that he wanted Congress to make a major push to pass an overhaul of the nation's immigration system. The president also responded to the shooting of 20 children at Sandy Hook Elementary School by calling for broad new gun laws. His allies argue that the health care law and an immigration overhaul will help the economy, and they blame Republicans for blocking many of Mr. Obama's economic policies.

But officials also criticized Republicans, especially in the House, for seizing on what the White House says are overblown scandals: the targeting of nonprofit groups at the Internal Revenue Service and the actions of officials in the wake of the attacks in Benghazi, Libya.

And they noted that some of the distractions in Washington have been out of Mr. Obama's control. When oil spilled from the Deepwater Horizon well in the Gulf of Mexico in the summer of 2010, it consumed the White House for weeks. Hurricane Sandy's destruction late last year and the tornadoes in Oklahoma City in May required presidential attention, as did tensions in the Middle East. Even the verdict in the Trayvon Martin case prompted presidential remarks on Friday.
As the Washington Examiner's Conn Carroll notes, this isn't the first time that the Obama Administration has "refocused" on the economy. Indeed, this exact same thing has happened seven times before, each time seemingly after some other political initiative has failed or after some outside event like the Gulf of Mexico oil spill. More often than not, though, this "pivot" to the economy has ended up being little more than an excuse for speech making and partisan rhetoric from the President about Republican obstructionism and other such things. The real, question, as Walter Russell Mead wonders, is whether this pivot will be any different from all the others:
That seems unlikely; this White House grows more cautious as time goes by. And as we've noted, there's a certain tendency to see carefully crafted speeches as a substitute for action. It seems sadly likely that rather than announcing brave new ideas and making bold and sweeping proposals, President Obama will work to rally supporters behind the conventional set of Democratic talking points.

As a strategy, it's unlikely to change GOP minds and votes. Many presidents have tried to turn public opinion by barnstorming the country; few succeed. President Obama faces an uphill climb. The President's Republican opponents in the House of Representatives are long past worrying what the President says about them. If hot White House rhetoric couldn't budge Congress on gun control, we don't see much chance that words from the bully pulpit, carefully crafted and powerfully delivered as they may be, will stampede the GOP into endorsing the President's economic program.
In other words, this "pivot to the economy" won't be much different from the last seven in  that it will be more of an excuse for partisan rhetoric than any effort to actually come up with policies that could help the economy. Ironically, though, this pivot may be coming at a time when it may not even matter very much. While economic growth remains far below where it really ought to be, there's also plenty of good economic news out there. Job growth for the past several months has been steady and, dare I say, at least somewhat healthy. The housing market seems to be moving in a positive direction. The stock market keeps going up, although it's fairly clear that this is more directly related to the current direction of Federal Reserve Board policy than anything fantastic about the economy itself. In other words, the economy seems to be doing okay and, most importantly, it's rather apparent that there's not very much that they Federal Government can do in terms of positive action that will actually improve the economy. On the other hand, there are more than a few things that the President could propose doing that might help the economy, but they all involve doing less or putting political capital behind something like comprehensive tax reform, neither of which seem to be things that this President or his allies in the Democratic Party are interested in doing.
So, in the end, I'm not expecting much of anything from this "pivot" to the economy other than the expectation that it will peter out sometime by September or so at the latest, and that we'll see yet another "pivot" when the 2014 election cycle kicks in this time next year. That's all the past five years or so has really been it seems, smoke and mirrors but very little in terms of anything constructive.