Four Seats
31 of the 35 Senate races next month are noncompetititve.
Kevin Drum points to a story I saw a couple of days ago but didn't get around to blogging, a NYT report titled "With Control of the Senate in Play, These Are the Races to Watch," which is itself based on the latest Cook Political Report Race Ratings.
Drum extracts this chart from the interactive site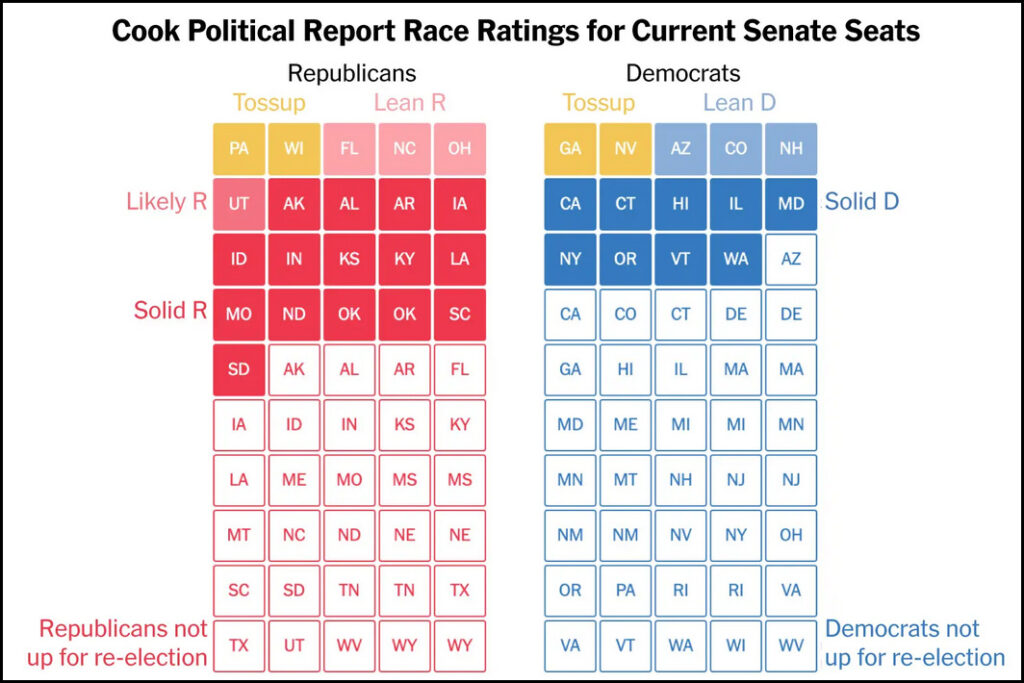 and observes,
If we take the leaners seriously, it means there are only four real Senate races in the entire country. Democrats have merely to beat Dr. Oz in Pennsylvania and Herschel Walker in Georgia and they remain in control of the Senate. The other two toss-up states are tougher: Wisconsin's seat is currently held by incumbent Ron Johnson, while Nevada's Adam Laxalt is political royalty as the son of Pete Domenici and grandson of Paul Laxalt. He's also a MAGA nutter, but that may or may not be a negative among Nevada voters.

So that's that. With less than a month to go, there are basically only four seats still in serious competition, and Republicans are surging in all of them. Democrats have their work cut out for them over the next four weeks.
Both because I spent much of the day writing a longish piece that will hopefully be published elsewhere and because I have little insight into the races in question, I didn't bother to write about it. And it may well be that Walker's latest scandals have shifted that race.
Regardless, what's interesting to me is the contrast between the schoolboy civics version of American politics and today's reality. In the former, the United States Senate is the "saucer" to the House of Representatives' "cup." Because it is elected to six-year terms rather than two, and only a third of it stands for election at a time rather than all, it is more detached from the passions of a fickle electorate.*
In reality, while 35 Senators are up for re-election,** 31 of them—a whopping 88.6%—are not competitive races. To be sure, that's partially a function of voters in many of those states being happy with their current Senator's job performance and voting record. Mostly, though, it's because the winner of the party primary in most states is all but guaranteed to win the general election absent truly extraordinary circumstances.
In this case, all four states would likely feature competitive races regardless of the candidates. Georgia and Pennsylvania Republicans have hurt their chances, although likely only by a little, by nominating extraordinarily unqualified, sleazy men. (I haven't paid any attention at all to the Nevada or Wisconsin contests.) Regardless, were they running in California or Massachusetts, they would get absolutely trounced. Were they running in Alabama or Mississippi, they would win in landslides.
___________________
*Even more so, since the Senate at the time of the probably apocryphal conversation between Washington and Jefferson was appointed by the state legislatures rather than elected directly by the people.
**Which is one more than usual because Warnock was elected to fill out the remainder of Johnny Isakson's term when he resigned citing health reasons and is now running for a full term two years later.