Free John Edwards?
John Edwards is a pathetic human being, but that doesn't mean he's necessarily a criminal.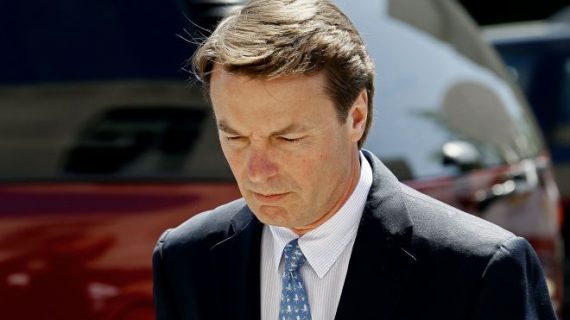 The trial of former Senator, Presidential, and Vice-Presidential candidate John Edwards began about a week ago in Raleigh, North Carolina and is still in the middle of a jury selection phase that seems likely to at least last into next week. As everyone is well aware, Edwards is on trial for alleged criminal violations of campaign finance laws related to his efforts to keep the identity of Rielle Hunter, his mistress and the mother of his child, secret during his 2008 Presidential campaign. As I noted at the time that Edwards was indicted, the government was proceeding on a theory that was rather unique in that none of the money that went to Hunter actually came from the Presidential campaign's accounts. At the same time, though, the funds did come from friends of Edwards who had been long time contributors to his campaigns, including an extremely wealthy elderly woman in Virginia named Rachel "Bunny" Mellon which appears to be the primary basis upon which the government was basing its allegations that this fell within the bounds of campaign finance law. Nonetheless, as Edwards's defense team has argued from the beginning, the indictment does present a uniquely broad interpretation of Federal criminal law that Courts usually frown upon.
Of course, there aren't many people willing to cut Edwards all that much slack in this situation. Legalities aside, there seems to be little disagreement that his behavior throughout this entire episode was loathsome, self-serving, and hypocritical. If nothing else, we can all perhaps be happy that someone this consumed by ambition and lacking in even a basic moral character never made it to the White House. But the fact that Edwards is basically a jerk doesn't mean he's guilty and, today, the Editors of National Review raise some very valid questions about this prosecution:
If being a louse were a crime, John Edwards would hang for it. But he is instead facing prison for alleged campaign-finance violations, and it is our obligation to come unenthusiastically to his defense. He may be guilty of bribery, and if he were a sitting senator he would likely be guilty of gross ethics violations, but the facts do not support prosecuting Edwards under campaign-finance laws.

Edwards's mistress, Rielle Hunter, was paid off by his supporters. The financial chairman of Edwards's presidential campaign, the late Frederick Baron, gave financial support to Hunter and to Andrew Young, the staffer who lied about being the child's father. In a picturesque twist, another Edwards supporter, the heiress Bunny Mellon, is believed to have sent Hunter checks secreted in boxes of chocolate, though her lawyer denies that she knew her money was going to Hunter.

The prosecution's case is built upon a note from Mellon, who described herself as "furious" about the way in which Edwards was lampooned for his infamous $400 haircuts. "From now on," she wrote, "all haircuts, etc., that are necessary and important for his campaign — please send the bills to me. . . . It is a way to help our friend without government restrictions." And she did indeed write some $725,000 in checks for sundry expenses — all of which went to Hunter, not to the Edwards campaign.

Because none of the money went to the campaign, and none of the money went for campaign expenses — inasmuch as maintaining a mistress is not a campaign expense — it is difficult to see why this should be prosecuted as a campaign-finance violation. At most, the evidence would seem to justify charging Mellon with conspiring to subvert campaign-finance laws, though in the event those laws were not subverted, since her money did not go toward financing the Edwards campaign.

(….)

Campaign-finance laws are a tricky business, because they put political incumbents in charge of setting the rules under which their positions and their power may be challenged. Such laws should be as transparent and straightforward as possible, and prosecutions under them should be undertaken with proper care. If Edwards et al. have committed other crimes, then they should be prosecuted, but to prosecute him under campaign-finance rules in a situation in which no campaign funds were used and no campaign expenses paid seems a stretch. We have had enough unseemliness associated with Edwards without adding a questionable prosecution to the catalog.
It's an argument worth considering. Had they wanted to, the Federal prosecutors could have charged Edwards and others under Federal bribery statutes and they might have had a pretty strong case. Of course, doing so would have also likely required indicting the other people involved in this scheme, including Mellon, who will turn 102 years old in August. But they chose to proceed directly against Edwards by only proceeding on campaign finance law violations using a rather unique theory.
As the NR Editorial notes, none of the money that went to Hunter ever passed through any campaign account, instead going from Mellon to a third party and then to Hunter. Calling this a campaign contribution rather than the personal gift that Mellon's family says she considered it to be would seem to require a series of suppositions about what people were actually of thinking when there's no real evidence of what the parties' intentions were. There is, of course, the note that Mellon sent to Andrew Young saying that she wished to pay the costs of Edwards's haircuts going forward so that "help our friend without government restrictions." The one problem with that is that there's no requirement that candidate's haircuts be paid for via campaign funds to begin with, and one could argue that Mellon merely wished to remove haircuts as a political issue by assuring that Edwards wasn't paying for them personally or out of campaign funds. More importantly, though, there's not necessarily a nexus between that note and the payments that went to Hunter, which were far beyond the cost of a haircut.
The evidence will speak for itself once the trial actually starts, but it strikes me that the government has a huge burden to overcome here. In order to avoid having the case dismissed summarily by the Judge, they're going to have to come up with facts that support their argument that Mellon was intending to aid Edwards's campaign when she wrote checks totaling nearly three-quarters of a million dollars that ultimately went to Rielle Hunter. As it stands, there doesn't even appears to be evidence that she knew who Hunter was or why the money was needed, only that someone that she'd developed a grandmotherly affection for was in trouble and needed help. The fact that she thought dropping down checks for $700,000 was no big deal would seem to suggest just how wealthy she actually is.
The danger in cases like this is that personal animus  toward the Defendant will impact the ultimate result in the case. Before we even get to that stage, though, we seem to be getting an object lesson in the potential dangers of overzealous prosecution.