French Decry U.S. Surveillance Programs, Are Discovered To Have Their Own Surveillance Program
The French were indignant about reports of the NSA's surveillance programs. Now we know they have own of their own.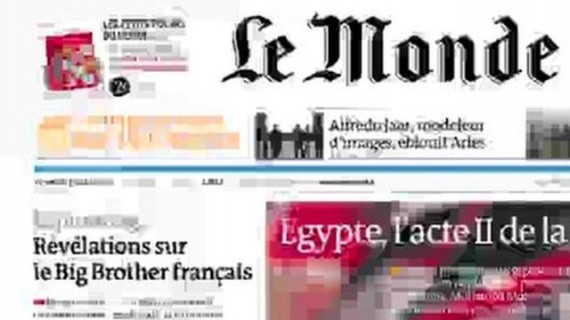 It is customary for U.S. Ambassadors around the world to host receptions at the local U.S. Embassy on the 4th of July marking the holiday and to invite officials of the national government where they are located and other members of the diplomatic corps. Yesterday in Paris, one of the guests at the American Embassy was French Interior Minister Manuel Valls, who decided to use the occasion to join French President Francois Hollande in dressing down the U.S. over reports of NSA surveillance of European allies:
PARIS (AP) — France's top security official publicly dressed down the United States at the American ambassador's July 4 garden party, denouncing alleged U.S. "espionage" of France and other countries, while the European Parliament voted to open an investigation.

Interior Minister Manuel Valls was a guest of honor at the fete hosted by Ambassador Charles Rivkin on Thursday. In a speech before hundreds of guests, he said that "in the name of our friendship, we owe each other honesty. We must say things clearly, directly, frankly."

He said that President Francois Hollande's demand for clear and precise explanations about reports of U.S. spying are justified because "such practices, if proven, do not have their place between allies and partners."
Perhaps Valls should have kept his words to himself, though, because the same day that he was saying this, one of France's leading newspapers was revealing that France has been operating a data mining program pretty much identical to the ones that our National Security Agency and Britain's GCHQ have been recently revealed to be running:
PARIS — Days after President François Hollande sternly told the United States to stop spying on its allies, Le Monde newspaper disclosed on Thursday that France has its own program of massive data collection, which sweeps up nearly all the data transmissions, including telephone calls, e-mails and social media activity, that come in and out of France.

Le Monde reported that the General Directorate for External Security does the same kind of collection of metadata as the American National Security Agency and Britain's GCHQ, but does so without clear legal authority.

The system is run with "complete discretion, at the margins of legality and outside all serious control," the newspaper said, describing it as "a-legal."

Nonetheless, the French data is available to the various police and security agencies of France, the newspaper reported, and the data is stored for an indeterminate period.

The main interest of the agency, the paper said, is to trace who is talking to whom, when and from where and for how long, rather than in listening in to random conversations. But the French also record data from large American networks like Google and Facebook, the newspaper said.

Le Monde's report, which French officials would not comment on publicly, appeared to make some of the French outrage about the revelations of Edward J. Snowden, a former National Security Agency contractor, about the American data-collection program appear somewhat hollow.

But French officials did say privately on Thursday that there was a difference between data collection in the name of security and spying on allied nations and the European Union. While French officials have said that they do not spy on the American Embassy in France, American officials are skeptical of those reassurances, and have pointed out that France has an aggressive and amply financed espionage system of its own.
Walter Russell Mead comments:
Count VM among the less-than-shocked crowd at the news. Collecting the best possible signals intelligence has just been what states do since the rise of telecommunications. Things were already headed this way in the late 1990-s, and 9/11 just accelerated the trend.
Indeed, it really does come as no surprise that the French are doing the same thing as the United States and Britain are doing. The Germans and other of our allies are likely doing much the same things. These are the things that nation states have been doing since modern intelligence gathering methods began. Also, notwithstanding Interior Minister Valls admonition, it's a virtual guarantee that the French are engaging in similar monitoring of allied communications to the ones that he and President Hollande have been have been condemning so loudly in public for the past several days. As I've said previously, this is the game nations play. They all know what intelligence gathering is all about but, when it becomes public like this they are required to condemn it for purposes of public consumption. Nonetheless, there is something delicious about pointing out their hypocrisy when news like this comes out.
Photo via BBC News screenshot