From "Don't Tread On Me" To "Don't Touch My Junk"
Are the American people finally waking up to the absurdity of TSA security theater? One can only hope they are.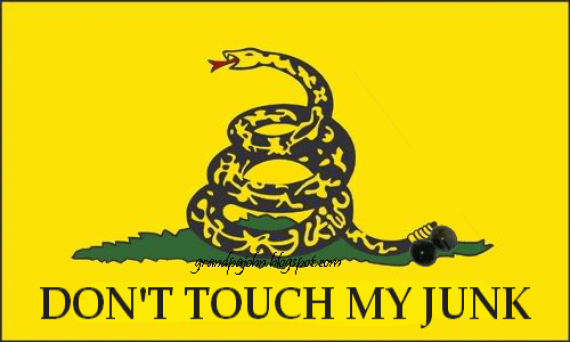 Charles Krauthammer explains  why the TSA search uproar has resonated so strongly with the American public:
Ah, the airport, where modern folk heroes are made. The airport, where that inspired flight attendant did what everyone who's ever been in the spam-in-a-can crush of a flying aluminum tube – where we collectively pretend that a clutch of peanuts is a meal and a seat cushion is a "flotation device" – has always dreamed of doing: pull the lever, blow the door, explode the chute, grab a beer, slide to the tarmac and walk through the gates to the sanity that lies beyond. Not since Rick and Louis disappeared into the Casablanca fog headed for the Free French garrison in Brazzaville has a stroll on the tarmac thrilled so many.

(…)

Not quite the 18th-century elegance of "Don't Tread on Me," but the age of Twitter has a different cadence from the age of the musket. What the modern battle cry lacks in archaic charm, it makes up for in full-body syllabic punch.

Don't touch my junk is the anthem of the modern man, the Tea Party patriot, the late-life libertarian, the midterm election voter. Don't touch my junk, Obamacare – get out of my doctor's examining room, I'm wearing a paper-thin gown slit down the back. Don't touch my junk, Google – Street View is cool, but get off my street. Don't touch my junk, you airport security goon – my package belongs to no one but me, and do you really think I'm a Nigerian nut job preparing for my 72-virgin orgy by blowing my johnson to kingdom come?

That riff is a crowd-pleaser because everyone knows that the entire apparatus of the security line is a national homage to political correctness. Nowhere do more people meekly acquiesce to more useless inconvenience and needless indignity for less purpose. Wizened seniors strain to untie their shoes; beltless salesmen struggle comically to hold up their pants; 3-year-olds scream while being searched insanely for explosives – when everyone, everyone, knows that none of these people is a threat to anyone.

The ultimate idiocy is the full-body screening of the pilot. The pilot doesn't need a bomb or box cutter to bring down a plane. All he has to do is drive it into the water, like the EgyptAir pilot who crashed his plane off Nantucket while intoning "I rely on God," killing all on board.

But we must not bring that up. We pretend that we go through this nonsense as a small price paid to ensure the safety of air travel. Rubbish. This has nothing to do with safety – 95 percent of these inspections, searches, shoe removals and pat-downs are ridiculously unnecessary.
Indeed, as has been noted here and elsewhere many times, what we have been encountering at the airport is more security theater than actual security. Prodded by a government led by politicians who have a strong motivation not to be blamed in the event of another terrorist attack for doing too little, airlines and airport authorities (many of which are quasi-government entities themselves) have implemented security procedures that seem designed primarily to make people think that they're safe.
Yes, it is true that enhanced security procedures after 9/11 have made it far less likely that commercial airliners will be used as missiles to bring down skyscrapers again. Cockpit doors have been hardened and locked. You're not allowed into the boarding area of an airport unless you have a boarding pass. And, most importantly, people are now conditioned to view an airplane hijacking not as an 80s-style hostage taking, but as a signal that they might be dead very soon. In some sense, we're all Todd Beamer now.
Of course, hardening security to prevent another 9/11 is sort of like fighting the last war. As we've learned in London and Madrid, though, terrorists can and do find other ways to attack. Forcing everyone to stand in long lines, take off their shoes, and subject themselves to groping by someone who most likely has their job because they couldn't get into college or the police academy doesn't accomplish much of anything, and the American people are waking up to that fact.