George W. Bush Rebounds In The Polls, Still Below Other Ex-Presidents
A George W. Bush renaissance? Not exactly.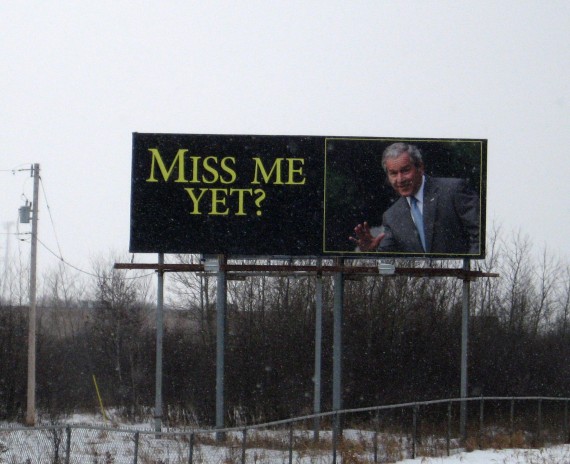 According to a new Gallup poll, former President George W. Bush is enjoying some of the highest favorability numbers he has seen in many years:
PRINCETON, NJ — Americans' views of former president George W. Bush have improved, with 49% now viewing him favorably and 46% unfavorably. That is the first time since 2005 that opinions of him have been more positive than negative.

Bush has maintained a fairly low profile in the four years since he left office. However, he returned to the public eye this year with the April opening of his presidential library at Southern Methodist University in Dallas.

Bush left office with 40% viewing him favorably and 59% unfavorably in January 2009. That worsened to 35% favorable and 63% unfavorable in March 2009, but his favorable rating recovered to the mid-40% range by 2010.

The June 1-4 poll shows further improvement in Americans' ratings of Bush, which had not been more positive than negative since April 2005. Prior to then, Americans had always viewed Bush more favorably than unfavorably, including an 87% favorable rating in November 2001 after the 9/11 terrorist attacks. That is one percentage point below the all-time high Gallup has measured for any public figure, shared by Colin Powell (2002) and Tiger Woods (2000).

Bush's lowest favorable rating was 32% in April 2008, as the economy was in recession and gas prices were headed toward record highs in the U.S. Also at the time, Hillary Clinton and Barack Obama were engaged in a spirited campaign to become the Democratic nominee who would run for president to succeed Bush.
As this chart shows, it's taken some time out of office for the public to begin to reconsider their opinion of Bush: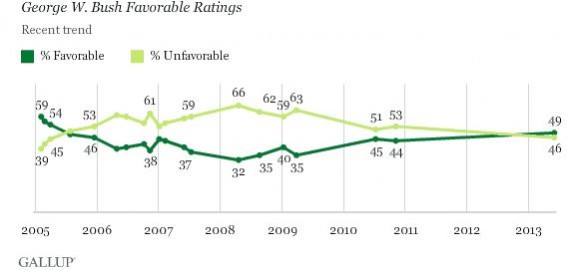 Additionally, Bush still has lower favorable numbers than any other recent former President:

Unlike people on either the left or the right, I would not take this recent up-tick in Bush's favorable numbers to be some kind of indication that the American public has begun reconsidering its evaluation of the eight years of the Bush Presidency. Instead, it's a reflection of something that's been true of former Presidents since the beginning of the modern political era. After the passage of time, the public seems to separate their opinion of these men, and so far they've all been men, from their opinions about the policies that were enacted while they were in office. From the time of Harry Truman, who left office in 1953 with very low approval numbers, there has come a time for every ex-President when the public shift away from a political evaluation of the former President to a more personal one, this becomes even more true if it's a former President who maintains a presence in the public eye and becomes associated with charitable causes, something we've seen from former Presidents Carter, Bush 41, and Clinton most notably. Truman's numbers eventually started to turn around, as did former President Hoover's, who remained mostly out of the public eye until his death in 1964. Even Richard Nixon enjoyed something of a renaissance in the final years of his life as he started to contribute columns and other writings on the subject of foreign policy, something which he'd been associated with since the 1950s. Indeed, when Nixon died, we learned that he and President Clinton had spoken personally many times while Clinton was in office. Given all of that that, it's not too surprising to see Bush's numbers starting to turn around. It's worth noting that this uptick comes just about two months after there was some fairly positive coverage of Bush all over the media on the occasion of the opening of his Presidential Library and Museum. Obviously, he has reaped some benefit from all of that nostalgia.
What this doesn't mean, I would suggest, is that Americans are reevaluating their opinion of Bush era policies. Polls continue to show that the public places more blame for the state of the economy on President Bush than they do on President Obama. The war in Iraq remains highly unpopular even a year and a half after the last American soldier crossed into Kuwait. And, most importantly, the election results last November, would seem to suggest that the public still isn't willing to trust the GOP with control of the White House. In the end, all these poll respondents seem to be saying is that George W. Bush seems like a pretty nice guy and they're glad he's enjoying his retirement. I can agree with that, and say emphatically that I'm glad he'll never be President again.