Georgians Didn't Split Their Vote
The two races are almost identical.
Given both the results in the November general election and the differences in campaigns and personalities, there was serious speculation that Democrat Raphael Warnock might defeat Kelly Loeffler while Republican David Perdue held off the challenge from Jon Ossoff. With the votes almost completely tallied, however, it's clear that not only did the Democrats both win but that just about everyone who voted did so along party lines: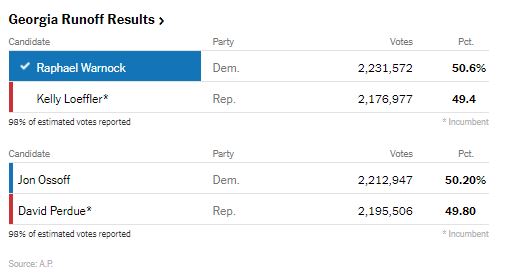 If these margins stand, Warnock will indeed have outperformed Ossoff and Perdue outpolled Loeffler. But by tiny, tiny margins. The raw totals are identical through the 100,000's place and the percentages identical to the whole number.
Relatedly: I have no idea why the race was called for Warnock so early and yet they're holding off on Ossoff. The totals are damn near identical.