Glenn Greenwald Quits Intercept
The iconoclastic journalist is out at the publication he founded.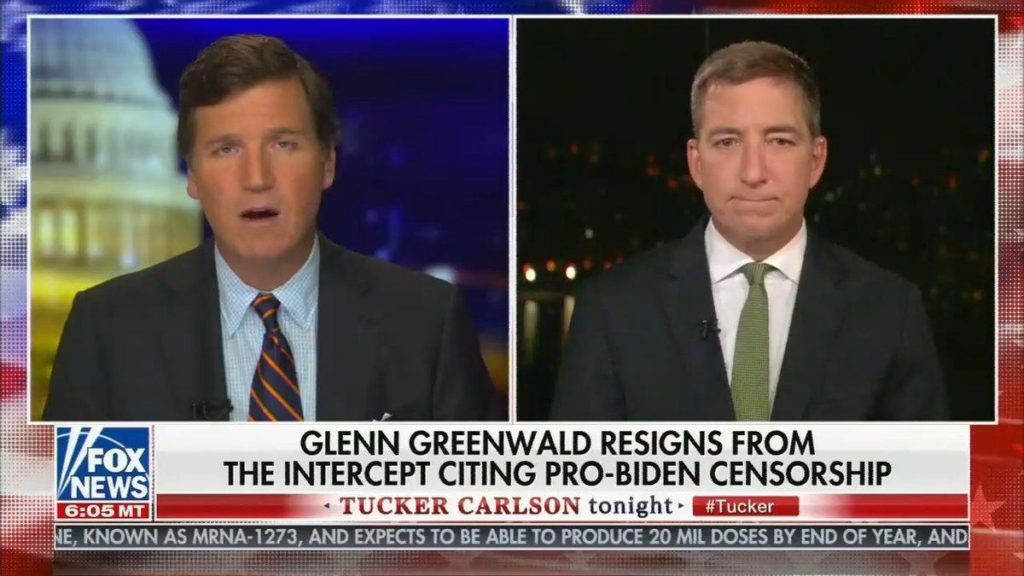 Yesterday, Glenn Greenwald resigned from The Intercept, which he co-founded, claiming that they "censored" him from publishing a story critical of Joe Biden's role in the Burisma microscandal. He published a novella outlining the charges on a new Substack blog and followed it up with another few thousand words detailing the emails back-and-forth with the Intercept's editors. In between, he published the offending article.
The New York Times ("Glenn Greenwald Leaves The Intercept, Claiming He Was Censored") and Washington Post ("Glenn Greenwald resigns from the Intercept following dispute over Biden story") both cover the story in some detail without drawing any conclusions.
Aside from his characteristic verbosity, Greenwald comes across as rather self-important in the whole thing. And, of course, being edited is not "censorship."
Still, I believe him when he says that his contract with the site he founded—but didn't finance—allows him editorial autonomy and, at the very least, the right to publish works the editors reject elsewhere. Further, while I find there to be a whole lot of nothing to the Burisma mess—aside from the routine fact that mediocre relatives of the powerful tend to cash in on that connection—there's nothing particularly egregious in the piece in question. Indeed, after years of denying that there was Russian collusion in the 2016 election, I find it odd that this is where his editors drew the line.
In response to Greenwald's deluge of charges, the editors push back pretty aggressively:
GLENN GREENWALD'S DECISION to resign from The Intercept stems from a fundamental disagreement over the role of editors in the production of journalism and the nature of censorship. Glenn demands the absolute right to determine what he will publish. He believes that anyone who disagrees with him is corrupt, and anyone who presumes to edit his words is a censor. Thus, the preposterous charge that The Intercept's editors and reporters, with the lone, noble exception of Glenn Greenwald, have betrayed our mission to engage in fearless investigative journalism because we have been seduced by the lure of a Joe Biden presidency. A brief glance at the stories The Intercept has published on Biden will suffice to refute those claims.

The narrative Glenn presents about his departure is teeming with distortions and inaccuracies — all of them designed to make him appear as a victim, rather than a grown person throwing a tantrum. It would take too long to point them all out here, but we intend to correct the record in time. For now, it is important to make clear that our goal in editing his work was to ensure that it would be accurate and fair. While he accuses us of political bias, it was he who was attempting to recycle the dubious claims of a political campaign — the Trump campaign — and launder them as journalism.

We have the greatest respect for the journalist Glenn Greenwald used to be, and we remain proud of much of the work we did with him over the past six years. It is Glenn who has strayed from his original journalistic roots, not The Intercept.
While Greenwald is very much of the left, he's not a partisan. He made his name as a critic of the George W. Bush's civil liberties violations in the early stages of the global war on terror but was equally vocipherous against Obama's. While I very much departed company from him on Wikileaks, I respected his intellectual consistency and thoroughness on the larger issues.
In the last four years, I've been rather befuddled with his stance on Trump and Russia, which seems wildly out of character and has, in combination with the turn the Edward Snowden affair took, left him open to charges of being a Russian stooge. And, of course, as the photo illustration atop the post suggests, he's also become a welcome if improbably ally of the Republican Party and its defenders.
Still, Matt Taibbi defends Greenwald and excoriates the Intercept. He provides some inside baseball:
An aside: when reporters and editors interact, they speak between the lines. If an editor only ever suggests or assigns stories from a certain angle, you're being told they don't particularly want the other angle. If your editor has lots of hypothetical concerns at the start, he or she probably won't be upset if you choose a different topic. Finally, when an editor lays out "suggestions" about things that might "help" a piece "be even stronger," it's a signal both parties understand about what elements have to be put in before the editor will send the thing through.

Reed explained that any piece Greenwald wrote on the Biden/Burisma subject would have to go through "the editorial process and fact-checking that we do with any story with this kind of high profile." Peter Maass would edit, but Reed also noted that there was a lot of "in-house knowledge" they could all "tap into."

By "in-house knowledge," she meant the work of Robert Mackey and Jim Risen, two Intercept reporters with whom Greenwald clashed in the past. Risen had already loudly denounced the Post story not only as conspiracy theory, but foreign disinformation. Essentially, Reed was telling Greenwald his piece would be quasi-edited by people with whom he'd had major public disagreements about Russia-related issues going back years.

To this, Greenwald responded that this was a double-standard: when Risen wrote an article credulously quoting intelligence officials like James Clapper, John Brennan, and Michael Hayden (more on the extreme irony of this later) describing the Post story as having "the classic earmarks of Russian misinformation," he could do so willy-nilly. But when Greenwald wanted to write an op-ed piece questioning the "prevailing wisdom on Biden and Burisma," a team of people would would be summoned.

"The only reason people are getting interested in and ready to scrutinize what I write is because everyone is afraid of being accused of having published something harmful to Biden," Greenwald told them. "That's the reality."
Additionally, he bolsters Greenwald's claim that this is part of a larger trend:
In the last few weeks I've heard from multiple well-known journalists going through struggles in their newsrooms, with pressure to avoid certain themes in campaign coverage often central to their worries. There are many reporters out there — most of them quite personally hostile to Donald Trump — who are grating under what they perceive as relentless pressure to publish material favorable to the Democratic Party cause. Greenwald's story mirrors some of these stories, but his is more striking than some others on a few levels.

[…]

Greenwald co-founded the Intercept with this exact scenario in mind, building a structure where "little private talks" with bosses would never happen, and there couldn't be high-profile dismissals for ideological reasons.

What he didn't guess at was that even in an atmosphere where managerial interference is near zero, a collective of independent journalists can themselves become censors and enforcers of official orthodoxies. In some cases, free journalists will become more aggressive propagandists and suppressors of speech than the officials from whom they supposedly need to be protected. This Lord of the Flies effect is what happened with The Intercept.

It's a long story, but the punchline is that the self-editing journalists at the Intercept somewhere along the line began to fall for what will look, years from now, like a comically transparent bait-and-switch operation. They were suckered into becoming parodies of their original incarnation.
He also notes an interesting irony:
In the Obama years, progressive journalists were infuriated by the disclosures of whistleblowers like Snowden and Chelsea Manning, and aimed their professional ire at the federal government for war crimes, drone assassination, and mass abuse of surveillance authority. The bugbears of the day were intelligence officials who ran these programs and deceived the public about them: people like CIA directors Hayden and Brennan, and Director of National Intelligence Clapper.

These intelligence community leaders only a few short years ago served an administration that sought a "reset" with the systematic human rights violator that was Vladimir Putin's Russia, a country then-President Obama dismissed throughout his tenure as a "regional power" that acts "not out of strength, but out of weakness." The consistent posture of the Obama administration — the Obama-Biden administration — was that Russia ranked far below terrorists as a potential threat to the United States.

After 2016, however, these officials presented themselves as norms-defending heroes protecting America against the twin "existential" threats of Donald Trump and Vladimir Putin. Russia, just a few years ago described by Rachel Maddow as a harmless "gnat on the butt of an elephant," was now reinvented as an all-powerful foe mounting an influence campaign of unprecedented reach, with everyone from Trump to the Green Party to blogs like Truthdig and Naked Capitalism, to congresswoman and war veteran Tulsi Gabbard, to Bernie Sanders, all potentially doing the bidding of a Cold War foe bent on "sowing discord" on our shores.
He goes into great length about Greenwald's long push against this conceit, helping answer the concerns I expressed earlier. At the end of the day, Greenwald is simply anti-establishment, regardless of who's running it at any given moment.
With regard to the larger aspersions Greenwald and Taibbi hurl at the press and which Tucker Carlson and others are lapping up, I find them overblown but with a kernel of truth. The major media outlets, including the Times and the Post, are still reeling from accusations that their "objective" reporting of the 2016 race, including daily coverage of the controversy over Hillary Clinton's emails, helped give the election to Trump. Almost from the moment of the election, both outlets—and most other mainstream papers, magazines, and networks—have reconsidered their approach, being more straightforward in calling Trump's lies "lies" and being much less prone to offer a "both sides" spin on the news. Indeed, the Post adopted, less than a month into Trump's presidency, the slogan "Democracy Dies in Darkness." While they claimed this was not a response to Trump, nobody believed them.
In an atmosphere where the President and his administration lie without shame as a matter of course, and where foreign manipulation is not only routine but sought out by the President himself, it's hardly surprising that the weird story about Hunter Biden's laptop peddled by Rudy Giuliani was so quickly and universally rejected.
There is, therefore, something mildly admirable about Greenwald's contrarianism. But one understands his editors not wanting to give that story any credence at all on the eve of an election.