Good News For Democrats In The South?
A new poll indicates that Democratic candidates are holding their own against Republican challengers in three southern states.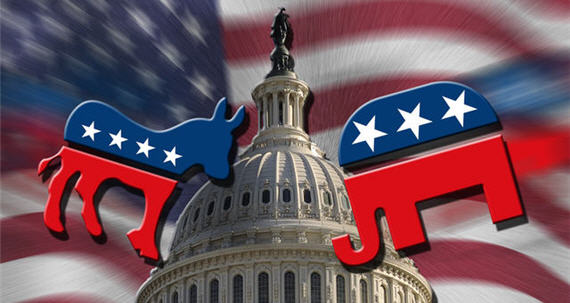 A new NBC News/Marist College Poll seems to indicate that Democratic hopes in 2014 may not be all doom and gloom after all:
Democratic candidates are holding their own in three key Senate races despite a daunting political environment for their party in the upcoming midterm elections, according to new NBC News-Marist polls of Arkansas, Georgia and Kentucky.

And in one race in particular, Democrats are more than just competitive.

In Arkansas

, with less than six months until Election Day 2014, incumbent Sen. Mark Pryor, D-Ark., leads Republican challenger Tom Cotton by 11 points among registered voters, 51 percent to 40 percent. (That finding is largely in line with 

other polling from that race

 since April showing Pryor either leading or tied.)

In Georgia, Democratic Senate candidate Michelle Nunn is running neck and neck against all of her potential GOP opponents in November.

And in Kentucky, Democrat Alison Lundergan Grimes is within one point of Senate Minority Leader Mitch McConnell among registered voters, 46 percent to 45 percent.

"These are competitive states as far as the general is concerned," says Lee Miringoff, director of the Marist College Institute for Public Opinion. "Arkansas, which was once thought to be Democrats' most vulnerable [contest for an incumbent], may not be the most vulnerable."

Still, these three Democratic candidates face a situation where President Barack Obama's approval rating is stuck in 30s or low 40s in these states, and where strong majorities believe the nation is headed in the wrong direction – hardly a good position for the party controlling the White House.

(…)

While Pryor leads the Senate general election contest in Arkansas, Republican Asa Hutchinson has a seven-point advantage in the state's gubernatorial contest over Democrat Mike Ross, 49 percent to 42 percent.

The reason why both Pryor and Hutchinson are ahead in their statewide races: Both men are leading among independents – Pryor has a seven-point edge over Cotton here (48 percent to 41 percent), and Hutchinson has a 15-point advantage (52 percent to 37 percent).

In addition, Pryor (with a 50 percent to 35 percent favorable/unfavorable rating) is viewed in a more positive light than Cotton is (38 percent to 39 percent) among voters.

Pryor also is getting the support of 32 percent of voters who disapprove of President Obama's job in Arkansas.

Meanwhile, in Georgia, Democrat Michelle Nunn finds herself running competitive against all the major Republicans in the race:

Nunn gets the support of 41 percent of registered voters, versus 45 percent for businessman David Perdue;
It's Nunn 42 percent against 43 percent for Rep. Paul Broun, R-Ga;
It's Nunn 43 percent against 43 percent for Rep. Jack Kingston, R-Ga.;
It's Nunn 44 percent against 42 percent for Rep. Phil Gingrey, R-Ga.;
And it's Nunn 42 percent versus 39 percent for former Secretary of State Karen Handel.

But just like in Arkansas, one Democrat's standing in Georgia's Senate contest doesn't translate to the state's gubernatorial race, with incumbent Republican Gov. Nathan Deal leading likely challenger Jason Carter, 50 percent to 40 percent. (Carter is the grandson of former President Jimmy Carter.)
It's pretty early in the election process, of course, and in Georgia at least we don't know who the Republican nominee is even going to be this year, and likely won't know until after the July 20th runoff election. However, at the very least a poll like this shows why it's worthwhile to be cautious when it comes to those predictions of Republican victory in 2014 that many people are tossing around so casually. Looking at the midterm elections as a whole, it's easy to conclude that this is potentially a very good year for the GOP, of course. The President's job approval numbers are down and don't seem inclined to head back north any time soon. The Affordable Care Act remains relatively unpopular despite the Administration's efforts to spin a tale of success. On the foreign policy front, the U.S. is facing challenges in places such as Eastern Europe that may require the President to act notwithstanding the fact that the American public is generally opposed to the idea of foreign activism of any kind at this point. And, while the economy does seem to be showing some signs of improvement, there are enough signs of economic sluggishness to suggest that the voting public will be in a bad mood in November. Add into this the fact that Republicans generally tend to do better in midterms than Democrats because of turnout, and there are plenty of reasons to believe that Republicans have a better than even chance of retaking the Senate this year.
Despite all of that, these polls remind us that the battle for the Senate remains a state-by-state battle in the end, and that its outcome is going to depend on the quality of the candidates in each state and how the campaign progresses. In Arkansas, for example, there's little doubt that the Republicans have found a well-qualified candidate in Congressman Tom Cotton. However, Mark Pryor has long shown that he has an ability to survive as a Democrat in a state that trends Republican, at least on the national level. Six years ago, when John McCain won Arkansas by 20 points over Barack Obama, Pryor essentially ran unopposed. So, it was perhaps naive to count him out completely even if the current polling doesn't necessarily relect where the race will end up in November. In Georgia, Michele Nunn's standing in the polls at the moment is no doubt helped both by her famous last name and because the GOP has yet to select a candidate and won't have one for another two months. Once that happens, though, I suspect that the race will take an entirely different turn. As for Kentucky, it's been apparent for some time that Mitch McConnell's General Election race against Alison Lundergan Grimes was going to be a close one, so these numbers aren't entirely surprising. The real question is going to be whether she's going to be able to sustain this race against the Majority Leader down the wire, especially once McConnell and the NRSC start pouring money into the race.
For the moment, then, it doesn't look like doom and gloom for the Democrats if you go by these three races. Whether that will sustain itself through November, of course, is another question entire