GOP Congressman: DREAMers Cannot Be Trusted To Serve In The Military
Once again, Republicans demonstrate why they have problems with Latino voters.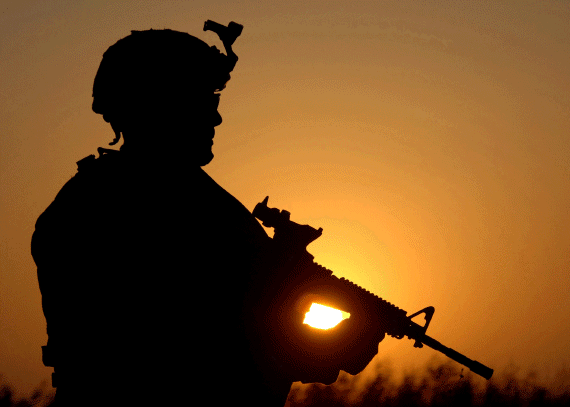 In addition to his comments that the Democratic Party was waging a "war on whites," Alabama Republican Congressman Mo Brooks also says that children of illegal immigrants should not be allowed in the U.S. military because they cannot be trusted to be loyal:
Republican Rep. Mo Brooks of Alabama says DREAMers should not be allowed to join our military because they're possibly disloyal to the United States and would have access to weapons of mass destruction like nuclear weapons.

"We are hired to represent American citizens," Brooks said in an interview with the Will Anderson Radio Show last month. "I don't want American citizens having to compete with illegal aliens for jobs in our military. Particularly when you take into account that, what does our military do: It defends our country."

Brooks was speaking about the ENLIST Act, a proposal by Republican Rep. Jeff Denham of California that would allow undocumented immigrants brought to the country as children to gain permanent residence, and eventually citizenship, in the United States for serving in our military.

Brooks said the loyalty of DREAMers serving in the U.S. military would have to be questioned.

"These individuals have to be absolutely 100% loyal and trustworthy, as best as we can make them, 'cause they're gonna have access to all sorts of military weaponry — even to the point of having access to weapons of mass destruction like our nuclear arsenal. And I'm gonna have much greater faith in the loyalty of an American citizen than someone who is a citizen of a foreign nation."
Much like his comments about the so-called "war on whites," Brooks's comments here demonstrate an incredible lack of knowledge about the contributions of immigrants, both documented and undocumented, in the United States military. I wonder, for example, if Brooks is aware that men who are undocumented immigrants are required to register with the Selective Service just like American citizens and legal residents are required to do? Is he aware of the stories of immigrants who have served in American wars for virtually our entire history? Is he aware that there are presently some 35,000 immigrants serving in the United States military? Does the fact that the people he is referring to here, who were brought here as children by their parents, have grown up knowing the United States as their home, not some foreign country? What evidence, exactly, does he have that they would not be loyal to their adopted country, especially if they were volunteering to join the military to begin with?
It's easy to dismiss Brooks's statements here, as well as the other things he's been reported as having said recently, as the inane ramblings of a single GOP Congressman. However, as Steven Taylor notes in his discussion about Brooks's racially tinged remarks, these types of comments are most assuredly not helpful to Republicans in general when it comes to reaching out to minority voters. Even though the DREAMers cannot vote, their cause is one that polling has demonstrated to be very important to Latino voters, and to younger voters in general. Showing this kind of contempt for people who have spent their entire lives in the United States and who, in this case, would want ot do nothing more than serve that country in the most direct way possible, is inexplicable on several levels, but it is not surprising.
 Ever since the President issued the regulations known generally as Deferred Action For Childhood Arrivals, it has been a target of Republican attacks. Most recently, the House voted to repeal the changes that the President made that allowed certain children of illegal immigrants want amounts to a temporary form of legal status and to prevent him from expanding the program, and Ted Cruz has sponsored a similar bill in the Senate. Neither bill has any chance of becoming law, of course, but the Republican Party has laid down its marker on this issue and it's one that Latino voters are likely to remember for some time to come. Republicans, meanwhile, continue to wonder why they have problems with Latino voters.