GOP Lawmakers Unhappy With Course Of Romney Campaign
Republican lawmakers are starting to express frustration with the course of the Romney campaign.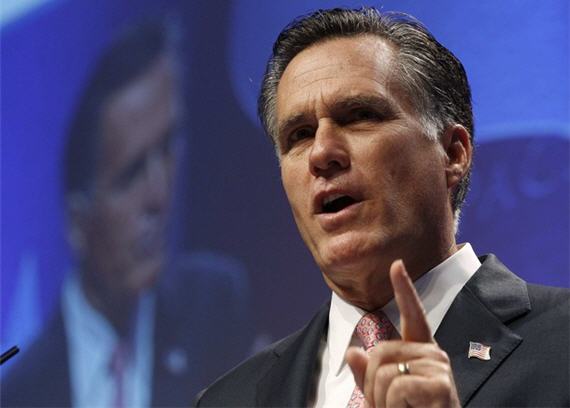 With the poll numbers not looking so great, and Electoral College projections continuing to show Mitt Romney's path to victory being a very narrow one, it's not surprising to hear Republican lawmakers, most of whom will be up for re-election in November, expressing some concern about the direction the campaign is taking at the moment:
Republican lawmakers are grumbling about the direction of Mitt Romney's campaign and say he needs to change course.

The complaints come as polls show that Romney lost ground on President Obama following the party's respective conventions in Tampa, Fla. and Charlotte, N.C.

The GOP members say Romney must do a better job of communicating to voters what to expect of him, either by making a bold pledge akin to George H.W. Bush's 1988 "no new taxes" promise or fleshing policy proposals with more details.

"Papa Bush was down after the Democratic convention in 1988, people worried he couldn't come back and then he made his 'read my lips, no new taxes' pledge," said one senator who requested anonymity.

The Republican said Romney should make a concise, bold promise to reform wasteful spending in Washington.

"He should say, 'I'm a money manager and I will manage your money in Washington. I will eliminate waste, fraud and abuse. Obama wants you to send more money so he can spend more money.'"

(…)

Another GOP lawmaker said the aura Romney's advisers are trying to create around the candidate has muddled the most compelling rationale for his candidacy: he is a no-nonsense problem-solver who can turn the economy around.

"My advice is don't try to turn him into something he's not," said the senator. You're never going to turn him into a teddy bear.

"He needs to say if you elect me, this is what you're going to get, someone who's going to bring common sense to the White House," he said.

Lawmakers spoke to The Hill about Romney's campaign on background to avoid publicly criticizing their party's nominee.
Other lawmakers are anonymously quoted in the article, and their message is essentially the same. Romney, they say, is making a mistake by not being more specific about the kind of policies he'd adopt to stimulate the economy and help fix the nation's fiscal problems, and he's hurting his campaign as a result. Indeed, there have been many pundits and observers who have wondered why the campaign didn't take the opportunity of the Republican National Convention to roll out something far more specific than the somewhat bland general statements that are part of the Romney and Ryan stump speeches, and even conservative pundits are starting to complain:
The Weekly Standard published an open letter to Romney from contributor Peter J. Hansen urging him to be more specific in his policy prescriptions. Conservative media titan Rupert Murdoch this week tweeted: "Romney must draw clear line: offer specific path to restore American dream versus ugly Obama class war with jobs disappearing."

Wall Street Journal columnist and former Reagan speechwriter Peggy Noonan on Wednesday said Romney struck the wrong note by calling Obama's response to the deadly attack on American diplomats in Libya "disgraceful."

"I don't think in his statement on what happened in Libya last night and in his remarks today I don't think he did himself any favor.  At a moment of crisis like this, I think it's kind of a water's edge moment," she said during an interview on WSJ Live.

"Romney looked weak today, I feel," she added.
Much of this, of course, is an example of the old proverb that "success has a thousand fathers, while failure is an orphan." Perhaps sensing that the Romney campaign is letting its chances of victory slip through their fingers, and likely endangering the GOP's chances of taking the Senate with it. Obviously, the Romney campaign doesn't seem to be all too interested in taking advice from outsiders, so these lawmakers are turning to other outlets to both send a message to Boston and to begin to distance themselves from what they obviously fear is going to be a losing campaign.
There's nothing new about this, of course. There comes a time in the course of nearly every election campaign when party insiders start to distance themselves, even subtly, from a candidate that appears destined to lose. Nobody wants to be associated with a losing campaign, after all, and when the inevitable intraparty battle comes after a loss, people seem to prefer to be on the side of not having to defend the losing campaign. The only thing that's somewhat unusual this time around is that this nitpicking and distancing seems to be starting earlier than usual. In a Presidential campaign, you don't usually start to see stuff like this until mid-October or so when there are less than three weeks left until Election Day. The fact that we're seeing it now, albeit anonymously, strikes me as, perhaps, a last ditch effort by party insiders in Washington to get Boston to start paying attention to them before it's too late. If past behavior is any practice, that effort won't succeed and, unless there's a massive turnaround in the polls, we'll begin to see more open criticism of the campaign from pundits and lawmakers alike as Election Day inches closer. None of this is good news for Romney, of course. The last thing you want as a Presidential candidate is to see your party starting to abandon you.