Governing? What's That?
There isn't a lot of legislating going on.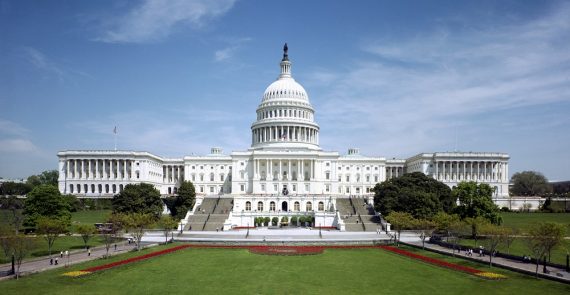 There isn't a whole lot of legislating going on in Washington these days. Such as observation will often be greeted with a quip about the less government does, the better. However, the bottom line truth of it all is that the system requires not only ongoing course corrections, but maintenance.
And yet, as the NYT reported last week, the Congress (and specifically the Senate) is not especially disposed to engaging in its core function:
Seemingly by design, Senator Mitch McConnell of Kentucky, the majority leader and self-proclaimed "grim reaper" of Washington, has turned his chamber into a legislative graveyard, opting instead to devote the Senate floor almost exclusively to confirming conservative judicial nominations and Trump administration appointees.

[…]

Barely a dozen roll-call votes have been held this year on bills, amendments and legislation, and around 20 bills have been signed into law since January.

Source: NYT: Tariff Threats Aside, the Senate Is Where Action Goes to Die
The focus for the GOP in the Senate has been judicial nominations:
While nominees churn through the chamber — nearly 50 judicial and executive nominees were confirmed in May — only a few notable pieces of legislation have passed through the Senate in the past six months, and most of those had to pass, such as legislation to reopen parts of the government after a 35-day shutdown and a monthslong delayed disaster relief package. The Senate did pass a bipartisan land conservation package that had been years in the making.
This is noteworthy for a number of reasons, but primarily it shows an attempt (if not an outright success) is dominating the courts because passing legislation is either too hard or not the goal. It is also profoundly ironic (if not straight-up hypocritical) for a party that has longed preached that judges should be neutral umpires calling balls and strikes to now see the courts as the way to shape their policy goals rather than via legislation.
This makes sense in the context of a party that is worried about its lack of majority status in the electorate: exploit institutions like the Senate which is not based on population and use that leverage to influence as heavily as possible the judiciary, with its lifetime appointments.
One has a real sense that the GOP is less interested in proactive government (and this was true prior to the current, divided Congress) than in tax policy and otherwise entrenching key elements of the status quo. Along these lines it is noteworthy that the previous, unified Congress did not attempt comprehensive immigration reform and its actions on Obamacare were about repeal rather than a serious attempt at replacing–all despite a president who said both were top priorities.
At least some members of the GOP caucus would like to see more action:
The tactic, while ideal for frustrating the ambitions of the Democratic majority in the House and furthering a conservative slant on the courts, has begun to irritate even Republicans eager to take votes on items other than procedural rules and nominees, and who have introduced bills addressing bipartisan issues, such as election security and prescription drug pricing, only to see them go nowhere. The landmark Violence Against Women Act remains expired. The Higher Education Act awaits action, as does the annual defense policy bill.

Senator James Lankford, Republican of Oklahoma, agreed in an interview that "it is more of a challenge" even to "get common agreement on simple things."

Mr. Kennedy, asked if he still believed that his colleagues in the Senate needed to get off their "ice-cold butts," offered a correction: "Ice-cold lazy butts," he said, the exact phrase he used last month to disparage the lack of legislative action.
While there are some "must-pass" stuff coming (such as the debt ceiling and spending bills), I do not expect much of significance.
Senator David Perdue, Republican of Georgia, who also is up for re-election next year, said he points to "Democratic obstructionism" and reminds constituents that there is still hope to come together on a number of priorities, including legislation that would lower the cost of prescription drugs and a bicameral push to counter the country's affordable housing crisis.

"Divided government is historically when big things happen," he added. "I'm hopeful."
That strikes me as incredibly over-optimistic. I will say that there was a time, when the Congress in general was predisposed to governing, that logrolling was common (i.e., various members working together to pass legislation) and was especially necessary in times of divided government. In that past members of both parties would have to work together to give-and-take to get what they wanted because it was the only way to accomplish anything..
The problem is that deepening polarization undercuts deal-making as a general possibility. Worse, however, is that it unclear what it is that the Republicans want bad enough to compromise with the Democrats.
One could envision, for example, a compromise infrastructure bill in a previous era (or even some progress on immigration and border security). At the moment, such things are unthinkable.
This all ties into a long-term concern of mine: the Congress, both House and Senate, do not appropriately, nor accurately, represent the population. Even if we set aside the unique nature of the Senate, the House of Representatives should do a better job of representing the people (a subject I have discussed numerous times–for example, here and here).
It is a problematic combination when institutions are failing at a basic task, like representation, and the party benefiting from skews in the system that redound to it does not want to govern. Or, at least, they eschew the main way our system is supposed to work: via legislation.
At the moment, we have an almost inert legislative branch, save for the second chamber confirming appointees to the judicial branch. We also have an executive branch abusing pre-existing laws (like the International Emergency Economic Powers Act). This is not a good combination. This is a recipe for true federal dysfunction and popular discontent over the medium to long term.
I will note, Congress has been doing a poor job for years on basic functions, such as the budget, so this problem is not one simple of the current administration. Likewise polarization and poor representation are not new. As such, Trump losing office does not solve these deeper issues.