Grenell Resignation Tied To Social Conservative Flap Over His Homosexuality
Based on the postmortems, it certainly seems like the Romney campaign threw Richard Grenell under the bus.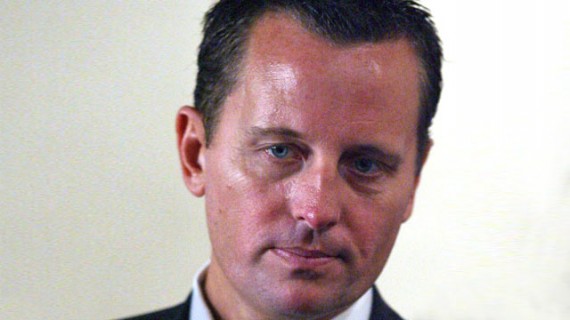 Jon Ward at The Huffington Post is out with a story tonight that seems to confirm that it was the criticism by social conservatives over the hiring of an openly gay man by the Romney campaign, and more specifically the Romney campaign's failure to defend their new spokesperson, that led to to his resignation:
WASHINGTON — Former Romney spokesman Richard Grenell left the campaign because he felt like his reputation was being destroyed by criticism and he was unable to defend himself, according to sources who have spoken with Grenell and understand his thinking.

But by the time Grenell gave notice last weekend of his intention to quit, the Romney campaign viewed any controversy about his hiring as having largely evaporated, and Romney aides were surprised when they learned of Grenell's wish to resign.

"In the scale of things, we didn't view it as a major story and in fact thought it had blown over," a source close to the Romney campaign said of the controversy around Grenell.

"The main source of the criticism was from a person on the far right that Romney had taken on before," the Romney source said.

The "far right" figure is Bryan Fischer, with the American Family Association, whom Romney had condemned in October for "poisonous language." (Romney's criticism at that time was not related to any Fischer comments about sexual orientation, however, but resulted from Fischer's attacks on Mormonism, Romney's faith.)
As I noted yesterday, Fischer was only the first social conservative activist to speak out against Grenell's hiring. At the same time, the fact that these guys spoke out in and of itself doesn't seem like such a big deal that it would cause Grenell to resign given the fact that everyone knew he was gay and he had previously worked for John Bolton of all people, something that James Joyner took note of in an update to my post yesterday. As Ward goes on to note, however, the Romney campaign's reticence to upset social conservatives who spent the vast majority of the primary campaign supporting other candidates almost precisely because they weren't Mitt Romney seemed to cause them to be nearly completely silent in the face of attacks of what had been a major hire by the campaign, and to hold Grenell back from defending himself:
Boston headquarters did not object to Grenell's sexual orientation, as Romney campaign officials have stated and as Grenell has privately told associates. But the campaign's delicate handling of the pushback — providing statements upon request rather than boldly sending Grenell defenses far and wide — does indicate some nervousness about the risk of alienating Christian conservatives uncomfortable with homosexuality and strongly opposed to gay marriage.

Because of his Mormon faith and some moderate positions on social issues, Romney has never been popular with the conservative evangelical base of the Republican Party. Many conservatives say they will still vote for Romney because they so strongly oppose President Barack Obama. But this amounts to a fragile alliance between Romney and these voters.

So the Romney campaign had to tread carefully in defending its hiring of a man who was not only openly gay but who also had agitated publicly for Obama to reverse his opposition to gay marriage.

(…)

[T]hose who have talked to Grenell said he felt "boxed in" because he was not able to publicly defend himself, from critics on the right as well as those on the left who were slamming him for his habit of making intemperate comments on Twitter. After taking the Romney job, Grenell erased many of his controversial tweets one by one. Then he simply erased all his tweets before a certain point in time. That only brought more attention to the matter, and Grenell issued an apology.

The Romney campaign told Grenell to "be quiet and not to speak up until it went away," said a source familiar with the matter, referring to criticism of his sexual orientation. A source close to the Romney campaign said Grenell was asked to lay low only on the issue of his tweets about Callista Gingrich and First Lady Michele Obama, for which he, in fact, had already apologized.
The decision to compartmentalize Grenell was so complete that he wasn't even allowed to speak about foreign policy, the subject area that he had been hired to cover for the campaign. As Ward describes it:
Last week Grenell was "instructed to shut up" before a foreign policy conference call with reporters, eroding his standing with journalists on the beat, Andrew Sullivan reported and HuffPost confirmed.
Granted, Grenell was not officially supposed to start his job until yesterday, but when they're including him on conference calls and not allowing him to speak, one has to wonder exactly what they're thinking
I'm not quite sure what the Romney campaign was thinking here, but it strikes me that they certainly didn't handle this well from the start. Grenell's homosexuality was no secret, so it's puzzling to say the least that the campaign wouldn't push back against the nonsense coming from people like Fischer, Tony Perkins, Gary Bauer, and others after they hired him. As far as the controversy over his Tweets was concerned, Grenell had already apologized for that and one assumes that the campaign was already aware of all that as part of the initial vetting process (if they weren't then one has to wonder about the vetting process). Their silence leaves the impression that they were more concerned with not upsetting social conservatives than with defending one of their one staffers and that certainly seems to be the impression it created in Grenell's mind. If that's the case, then why hire him in the first place?
At the very least, one cannot classify the way the campaign behaved in this incident as a profile in courage. And, of course, now that the social conservatives know that they can get what they want from the Romney camp simply by complaining loud enough one has to wonder what else they're going to ask for.