Openly Gay Romney Aide Resigns Amid Furor From Social Conservatives
Richard Grenell's time as Mitt Romney's foreign policy spokesman lasted less than a month. The fact that he's gay appears to be the reason it ended.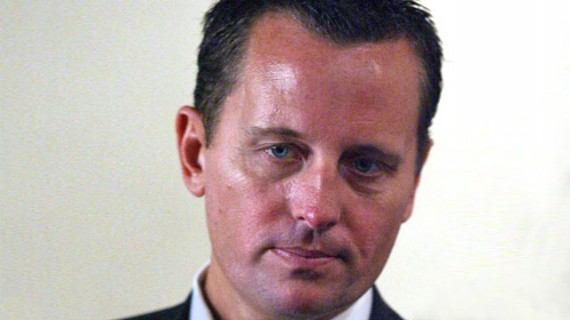 Richard Grenell, who had served as spokesperson for John Bolton during the time he was United Nations Ambassador under President Bush, has resigned as Mitt Romney's foreign policy spokesperson, and there's at least some speculation that the primary reason for his resignation was due to an uproar from leading social conservatives after his appointment:
Richard Grenell, the openly gay spokesman recently hired to sharpen the foreign policy message of Mitt Romney's presidential campaign, has resigned in the wake of a full-court press by anti-gay conservatives.

In a statement obtained by Right Turn, Grenell says:

I have decided to resign from the Romney campaign as the Foreign Policy and National Security Spokesman. While I welcomed the challenge to confront President Obama's foreign policy failures and weak leadership on the world stage, my ability to speak clearly and forcefully on the issues has been greatly diminished by the hyper-partisan discussion of personal issues that sometimes comes from a presidential campaign. I want to thank Governor Romney for his belief in me and my abilities and his clear message to me that being openly gay was a non-issue for him and his team.

According to sources familiar with the situation, Grenell decided to resign after being kept under wraps during a time when national security issues, including the president's ad concerning Osama bin Laden, had emerged front and center in the campaign.
That comes from The Washington Post's Jennifer Rubin, who seems to make it clear that it was the controversy over Grenell's sexuality, combined with the fact that Grenell apparently felt like he was being pushed to the sidelines after only two weeks on the job, that led to the resignation. It's worth noting that, when Grenell was first hired many on the left did make note of his combative nature on Twitter, and I noted here myself that he had apparently deleted many of his more controversial Tweets shortly after being hired.
However, the Twitter story didn't really have legs and it certainly wasn't generating much interest even on outlets like MSNBC. Grenell's sexuality, however, was generating much controversy among the more vocal segment of the social conservative community. Bryan Fischer of the American Family Association said that the Romney campaign was telling pro-family groups to "Drop Dead." Tony Perkins of the Family Research Council said that he feared that Grenell would spend his time lobbying Romney to support same-sex marriage. Gary Bauer called the appointment a slap in the face to the base. Dan Gainor of the Media Research Center said the appointment proved that Romney isn't a conservative as part of  Twitter rant filled with anti-gay invective. Over at National Review, Matthew Franck took issue with the position of his colleague Kevin Williamson, and argued that Grenell's sexuality was a legitimate issue for conservatives to complain about:
Williamson is quite sure that it is harmless to hire an ardent advocate of same-sex marriage for a prominent place in a campaign pledged to defeat same-sex marriage, because the hireling's brief runs to matters not directly related to the issue. If he thinks that the gay-rights agenda doesn't have any bearing on American foreign policy, he's not paying attention. If he thinks that influence doesn't run up as well as it does down in the hierarchy of a campaign, that voters are not inclined, with some justice, to regard hiring decisions such as this as an indication of the seriousness of the candidate about such a subject, and that it doesn't matter whether the campaign is seen to be unequivocal on an issue that moves many millions of voters, then he is not the keen observer of politics I took him for.
Kevin Williamson, meanwhile just posted this reaction to Grenell's departure:
My congratulations to Matthew Franck et al. for having successfully chased Richard Grenell out of the Romney campaign, handing the Democrats a nice little example of Republicans' elevating their sexual obsessions over foreign policy (for Pete's sake). I do hope that Mr. Romney extends the appropriate gratitude for the manufactured controversy.
In an update to her post, Jennifer Rubin says that people on the Romney campaign and other Republicans tried to persuade Grenell to stay. Maybe that's true, but one does have to wonder why we didn't see him front and center over these past several days given that foreign policy has been the topic of the campaign ever since the Obama campaign released it's bin Laden ad. As far as I know, he wasn't on a single cable news broadcast on any of the networks even though he had been hired to be the campaigns chief spokesperson on this very topic. Was the Romney campaign already feeling the heat from social conservatives and keeping Grenell at a distance? Unless and until Grenelll comments further than he has above, we can really only speculated about that, but it does seem like a logical conclusion. And if it's even remotely truly, it's really pretty pathetic.
Andrew Sullivan comments:
If opposition to marriage equality is a litmus test for gay inclusion in the Romney campaign and administration, then there will be scarcely a single openly gay person willing to sign up to play any part in it. It has come to this. The GOP will have no gays within it unless they are prepared openly to oppose their own core rights and dignity. Romney has gone from promising to be more pro-gay in the Senate than Ted Kennedy than hanging a lone gay spokesman out to dry and pledging to write into the very constitution that gays are second class citizens.

If you're gay, or your friend, son, daughter, brother, sister, aunt or uncle is gay, you just learned something about what the GOP now is. Do not forget it
I can't disagree with this at all. In the end, the GOP is going to come to regret its position on gay rights and same-sex marriage. The only question left is how long it will be before they realize the mistake they made.
UPDATE (James Joyner): I'm not sure I'm buying this narrative. Yes, Grenell is gay. Yes, some right wingers were angry that a gay man was named Romney's foreign policy spokesman. On the other hand, this man was openly gay when he served as John Bolton's spokesman. While I'm no fan of Bolton, he's a veritable superhero on the right. And there's this from ABC:
But, in an interview with ABC News, a source familiar with Grenell's departure from the Romney campaign disputed the "under wraps" suggestion.

This source said Grenell, whose hiring was first reported on April 19, had not yet started his duties as the campaign's top national security spokesman and was in the process of moving from Los Angeles to Boston.

Tuesday would have been his first actual day on the job.

"He wasn't under wraps; he wasn't a spokesperson yet," according to the individual with knowledge of Grenell's hiring and resignation. "If he had wanted to, he would be a spokesman right now."

Among those who called Grenell in recent days to try to persuade him not to quit: his former boss and former U.S. Ambassador to the United Nations, John Bolton; and former Republican National Committee Chairman Ken Mehlman. [emphasis added]
Let's keep our powder dry on this one until we get something more definitive. It sure sounds like it was something other than the anti-gay backlash at work here.