American Ambassador To Germany Raising Concerns About Interference In European Politics
The new American Ambassador to Germany is making what clearly seem to be inappropriate statements about domestic politics in Europe.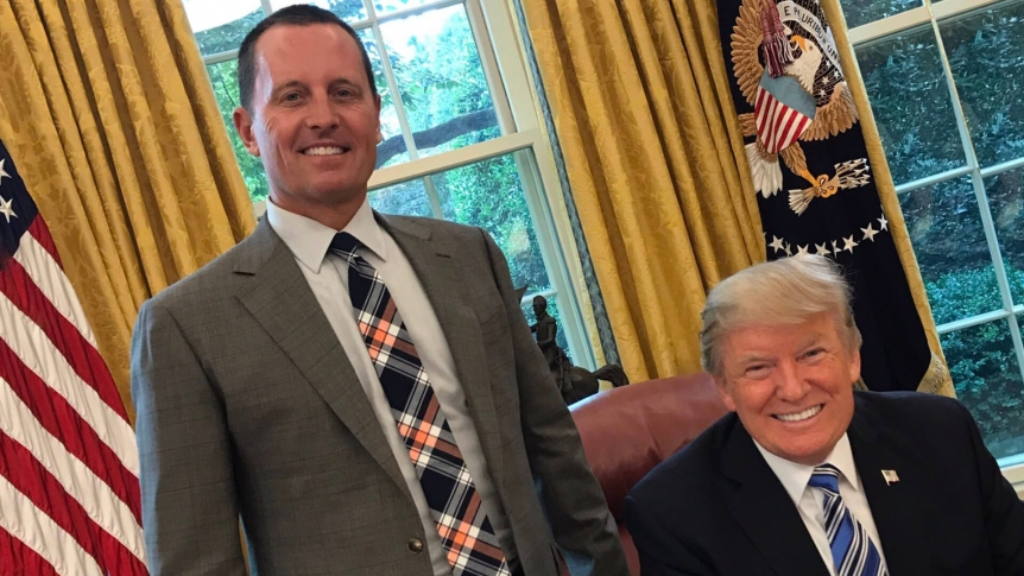 Richard Grenell, the former Republican political operative who was recently confirmed as the new U.S. Ambassador to Germany, is causing controversy in Europe due to his comments that suggest that he intends to interfere in the internal politics of his host country and other nations Europe:
BERLIN — Richard Grenell is the United States' top diplomat in Berlin, but Germans were questioning his diplomatic skills on Monday, after he said that he wanted to empower conservative leaders in Europe who dared to challenge what he called "the failed policies of the left."

A Foreign Ministry spokesman said on Monday that the ministry had requested a clarification of remarks by Mr. Grenell, the new American ambassador to Germany, which were condemned on both sides of the Atlantic as lacking the neutrality expected of a diplomat. His statements came at a time when Berlin and Washington are at odds over President Trump's moves to withdraw the United States from the Iran nuclear deal and the Paris climate accord — both of which Berlin supports — and to raise tariffs on steel and imports from Europe.

In a wide-ranging interview with Breitbart London that was released over the weekend, Mr. Grenell, who assumed his post just last month, said, "There are a lot of conservatives throughout Europe who have contacted me to say they are feeling there is a resurgence going on."

"I absolutely want to empower other conservatives throughout Europe," he said. "I think there is a groundswell of conservative policies that are taking hold because of the failed policies of the left."

Germany's coordinator for trans-Atlantic affairs, Peter Beyer, said he was looking forward to meeting Mr. Grenell on Wednesday.

"I hope he will explain what he actually said in the Breitbart interview and what he meant by it," Mr. Beyer said. "In challenging times like these, the U.S.A. and Europe need to firmly stand together to defend common values and interests."

Mr. Grenell's criticism of the 2015 deal brokered between Iran and world powers was evident in his first days on the job, when he took to Twitter to warn German businesses that they "should wind down operations immediately" in Iran, or face American sanctions. That was taken as an affront by many in Germany, where traditions run deep and where ambassadors are viewed as guests who are expected to follow protocol.

"I know you are still quite new at your post, but it is not part of the job description of an ambassador to interfere in the politics of his guest country," Lars Klingbeil, head of the center-left Social Democrats, replied in a Twitter post addressed directly to Mr. Grenell.

Other members of his party, which is in a governing coalition with Chancellor Angela Merkel's center-right Christian Democrats, were less diplomatic. Martin Schulz, the former president of the European Parliament and former leader of the Social Democrats, insisted that an ambassador's job was to represent his country, not other nations' political movements. Mr. Grenell's behavior was not that of a diplomat, he told the German news agency DPA, but more like "a far-right colonial officer."

In Washington, Senator Christopher S. Murphy, a Connecticut Democrat, called the interview "awful," insisting that Mr. Grenell had pledged that he would "stay out of politics" once he was appointed. "Ambassadors aren't supposed to 'empower' any political party overseas," Mr. Murphy said on Twitter.

Ms. Merkel's spokesman, Steffen Seibert, said the German chancellor had taken note of Mr. Grenell's interview, but he declined to comment.

On Monday, Mr. Grenell sought to walk back his comments, though only up to a point.
While I'm generally loathe to link to a source such as Breitbart, I think it's important in this case to see Grenell's comments in their full context:
Trumpian U.S. Ambassador to Germany Richard Grenell has expressed great excitement over the wave of conservatism in Europe, saying he wants to "empower" leaders of the movement.

At a sit-down interview at his official residence in Berlin with Breitbart London, Ambassador Grenell said: "There are a lot of conservatives throughout Europe who have contacted me to say they are feeling there is a resurgence going on."

"I absolutely want to empower other conservatives throughout Europe, other leaders. I think there is a groundswell of conservative policies that are taking hold because of the failed policies of the left," he added.

"There's no question about that and it's an exciting time for me. I look across the landscape and we've got a lot of work to do but I think the election of Donald Trump has empowered individuals and people to say that they can't just allow the political class to determine before an election takes place, who's going to win and who should run."

The U.S. ambassador spoke of the small circle of political and media elites saying, "That's a very powerful moment when you can grasp the ability to see past the group-think of a very small elitist crowd telling you you have no chance to win or you'll never win, or they mock you early on."

(…)

Unafraid to name names, Mr Grenell expressed a deep respect and admiration for the young Austrian Chancellor Sebastian Kurz saying, "Look, I think Sebastian Kurz is a rockstar. I'm a big fan."

Chancellor Kurz, leader of the conservative Austrian People's Party (ÖVP), formed a coalition with the populist Freedom Party (FPÖ) earlier this year, and has been one of the strongest advocates for securing the European Union's external border.

Not long after the formation of the coalition, Kurz stood up to German Chancellor Angela Merkel, rejecting the controversial European Union migrant quota system.

He was also been a leading conservative on the topic of counter-Islamisation while Foreign Minister in the previous coalition government, advocating and helping to pass a ban on the full-face Islamic veil.
Grenell, for his own part, has responded and insists that he did not say that he intends to endorse candidates:
Absurd. I condemn those comments completely. Don't put words in my mouth. The idea that I'd endorse candidates/parties is ridiculous. I stand by my comments that we are experiencing an awakening from the silent majority – those who reject the elites & their bubble. Led by Trump. https://t.co/DjSX4SL3bf

— Richard Grenell (@RichardGrenell) June 4, 2018
Early last month before the Breitbart interview, Grenell did get some advice from the former German Ambassador to the United States after Grenell had posted on Twitter regarding sanctions against Iran:
Ric: my advice, after a long ambassadorial career: explain your own country's policies, and lobby the host country – but never tell the host country what to do, if you want to stay out of trouble. Germans are eager to listen, but they will resent instructions.

— Wolfgang Ischinger (@ischinger) May 9, 2018
At least one Senator is calling for Grenell to be recalled if he continues making comments like this:
A Democratic senator said Monday that U.S. Ambassador to Germany Richard Grenell should be recalled if he cannot "refrain from political statements," after he took aim at the political and media establishment in an interview published this weekend.

"[Ambassadors] should not meddle in local or regional politics by backing political parties, candidates or causes," Sen. Jeanne Shaheen (D-N.H.) said in a statement. "If Ambassador Grenell is unwilling to refrain from political statements, he should be recalled immediately. The United States does not accept foreign meddling in our elections, and we shouldn't have an ambassador attempting to intrude in another country's political affairs."

The statement comes after Grenell said in an interview with Breitbart London Sunday that he wants to "empower other conservatives" to rise up against "elites."

The comments caught the attention of leaders in Europe and the U.S. On Sunday afternoon, Sen. Chris Murphy tweeted that he "raised concerns" to Grenell in the past about politicizing his ambassador post.

A State Department spokesperson later added: "Amb. Grenell clarified his comments via Twitter and noted it is not US policy to endorse candidates or parties. He was making general observations in the interview.
Daniel Larison, meanwhile, thinks Grenell should be recalled immediately:
Trump is already deeply unpopular in Germany, not least because of the disagreements that the president has had with the German government and our other allies over the nuclear deal and trade. That makes it all the more important that the U.S. has an ambassador there capable of repairing frayed ties and reassuring frustrated allies. Grenell clearly is not and never was capable of that. Who would have guessed that a former spokesman for John Bolton would not make a good diplomat?

Grenell's remarks in the Breitbart interview did not explicitly endorse any parties out of power. He praised the current Austrian chancellor by name. That said, the implication of his remarks was that he was interested in bringing to power parties that were not currently in government. What else could he have meant by saying that he wanted to "empower" them? That could easily be interpreted as a challenge to the current governing coalition in Germany, and it has certainly been interpreted as unwarranted meddling in internal German affairs.

(…)

Whatever Grenell's intentions may have been, he has already poisoned the atmosphere with one of the governing coalition's main partners and it is difficult to see how he can function effectively in Berlin after this. If Trump valued the relationship with Germany, he would recall Grenell now.
To be fair to Grenell, it is true that in the interview in question he didn't explicitly endorse any candidates for office either in Germany or in another country. Of course, the issue of endorsement or denunciation of specific candidates isn't really the central issue that his comments in the Breitbart interview have raised. Instead, the problem obviously arises from statements such as Grenell's statements that he intends to "empower other conservatives throughout Europe, other leaders" that are raising concerns among German officials and others who are obviously not very inclined to be taking advice about their internal politics from an American Ambassador, especially under the current circumstances. Beyond the reaction of these individual leaders, one also has to wonder what impact Grenell's statements are having with the general public in Germany and other parts of Europe.
As the former German Ambassador notes, the proper role for an Ambassador is to represent his country with government officials and others in their host country and, in appropriate circumstances, to lobby the government of the host country as instructed by the State Department. In more recent years, the role has also expanded to include being something of a cheerleader for the United States with the business community and general public of the host country. Beyond that, though, an Ambassador ought to be circumspect about what they say and do in public and should, in all cases, refrain from intervening in the internal politics of either his host country or other nations in the same region. Grenell's comments in the interview at the very least come very close to crossing that line, and his comments praising one side of the political equation in neighboring Austria seem to me to be entirely inappropriate given that the nation isn't even part of his diplomatic profile. It's not within Grenell's job description to be taking political sides in Germany, Austria, or anywhere else and he deserves to be reprimanded for doing so.
As a general rule, Europeans don't like American intervention in their internal politics any more than Americans would appreciate similar intervention from the German Ambassador or an Ambassador from any other nation for that matter. For example, what if an Ambassador to the United States from Europe or elsewhere spoke about his or her desire to "empower" progressive or left-wing activists in the United States? Quite obviously, American conservatives would be outraged as would, I suspect, many average Americans. It could even result in the American government insisting that said Ambassador be recalled and replaced due to his inappropriate intervention in internal American politics. Grenell's comments fall into a similar category, I think, and even if nothing comes from this Breitbart London interview, Grenell needs to be reminded by both the Trump White House and the State Department that interfering in the domestic policies and politics of other nations is both a breach of diplomatic protocol and not a part of his job description. The odds that this will actually happen, of course, are somewhere between slim and none.