The Problematic Acting DNI
Only the best people.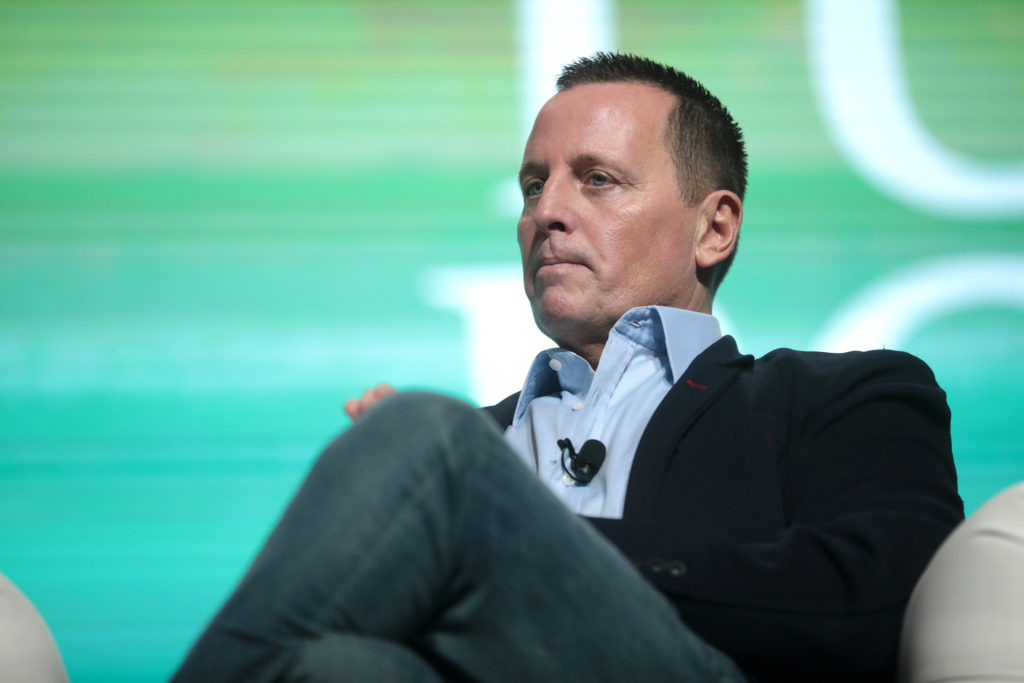 How many ways is Acting Director of National Intelligence Richard Grinell a problem? (Spoiler alert: quite a few).
First, the fact that the vacancy he is now occupying was created by Trump because he was unhappy that the congress was briefed on Russian interference in the elections is a problem. It is a problem not because of Grenell, but because it shows a president recklessly indifferent to outside meddling in our democracy.
Via WaPo: Responding to news of Russian interference, Trump sends chilling message to U.S. intelligence community
Intelligence officers pride themselves as apolitical fact-finders who follow the rule of "speak truth to power." But President Trump has tacked on a new coda: "Do so at your peril."

In ousting his acting director of national intelligence, Joseph Maguire, last week after a revealing briefing on foreign election interference, Trump has reminded members of the intelligence community that he views the information they bring him through a deeply personal lens.

Trump upbraided Maguire in the Oval Office on Feb. 14, saying that the intelligence community had handed Democrats political ammunition during a bipartisan briefing a day earlier about efforts to secure the 2020 election. A senior career intelligence officer who worked for Maguire told lawmakers that Russia had "developed a preference" for Trump. She also described other steps Russia is taking, including assistance to the presidential campaign of Sen. Bernie Sanders (I-Vt.).
Second, Grenell has no intel experience. This makes this selection utterly irresponsible. Further, he lacks experience managing a large bureaucracy.
Third, he was chosen because he is a loyalist, which is the wrong reason to choose the overseer of the US intelligence community.
Fourth, he is an ideologue, which is a terrible feature in an intelligence officer, let alone the DNI (it is pretty lousy for an ambassador, for that matter).
As ambassador, Mr. Grenell made public statements that some German officials took as expressing opposition to the government there, an extraordinary intervention into domestic affairs that diplomats typically avoid. He attacked what he called "failed" open-border policies in Germany, which has resettled hundreds of thousands of Syrian refugees, and criticized Berlin's stances on Iran, military spending and Chinese investment in global telephone networks. He also expressed an eagerness to empower conservatives throughout Europe.

"I absolutely want to empower other conservatives throughout Europe, other leaders," Mr. Grenell told Breitbart, a far-right website, in an interview shortly after his arrival in Germany. "I think there is a groundswell of conservative policies that are taking hold because of the failed policies of the left."

Source: NYT, Trump Names Richard Grenell as Acting Head of Intelligence.
And, if that's not enough, we can add linkages to a corrupt Moldovan politician as the fifth item on this list. Via ProPublica: Trump's New Spy Chief Used to Work for a Foreign Politician the U.S. Accused of Corruption.
President Donald Trump's new acting intelligence director, Richard Grenell, used to do consulting work on behalf of an Eastern European oligarch who is now a fugitive and was recently barred from entering the U.S. under anti-corruption sanctions imposed last month by the State Department.

In 2016, Grenell wrote several articles defending the oligarch, a Moldovan politician named Vladimir Plahotniuc, but did not disclose that he was being paid, according to records and interviews. Grenell also did not register under the Foreign Agents Registration Act, which generally requires people to disclose work in the U.S. on behalf of foreign politicians.

FARA is the same law that Trump's former campaign manager Paul Manafort and former deputy campaign manager Rick Gates were convicted of violating. (Manafort went to trial. Gates pleaded guilty.)
I would note, too, that Michael Flynn had FARA issues pertaining to Turkey. And, of course, Giuliani is still doing business with various Ukrainians. The ties of Trump associates to questions foreign governments and actors continue to astound.
Undisclosed work for a foreign politician would ordinarily pose a problem for anyone applying for a security clearance or a job in a U.S. intelligence agency because it could make the person susceptible to foreign influence or blackmail, according to the official policy from the office that Trump tapped Grenell to lead.

[…]

"That's really easy, he should not have a clearance," said Kel McClanahan, a Washington-area lawyer specializing in security clearances. "If he were one of my clients and just a normal [federal employee], he would almost assuredly not have a clearance."

McClanahan said it's unclear how Grenell could have already gotten a clearance as an ambassador. The House Oversight Committee is investigating whether the Trump administration has overruled career officials in granting security clearances to political appointees.
In short, Grenell lacks basic qualifications for the job in terms of service in intelligence or in running a bureaucracy but instead is an ideologue who is seen as loyal to Trump. He also has engaged in questionable practices in his work with foreign governments. Further, his main background, in fact, is being a commentator, as came up in his confirmation hearing to be Ambassador to Germany. He was confirmed 56-42:
Grenell's policy views, however, are not at the heart of the objections against him. Instead, Democrats have focused on the undiplomatic tone Grenell has struck in several comments on his Twitter profile and as a frequent commentator on Fox News, where he has jeered about the appearance of several high-profile political women, including Michelle Obama, Hillary Clinton, Madeleine Albright and Callista Gingrich, Trump's ambassador to the Vatican.

Source: WaPo, Senate confirms Grenell as ambassador to Germany over Democrats' objections
Indeed, the ProPublic piece underscores why a more thorough vetting is needed, and also calls into question the thoroughness of his confirmation to be ambassador to Germany.
One additional note of interest, in his role as acting DNI he is the first openly gay cabinet-level official in US history.