Gun-Violence Restraining Orders?
NRO's David French offers "A Gun-Control Measure Conservatives Should Consider."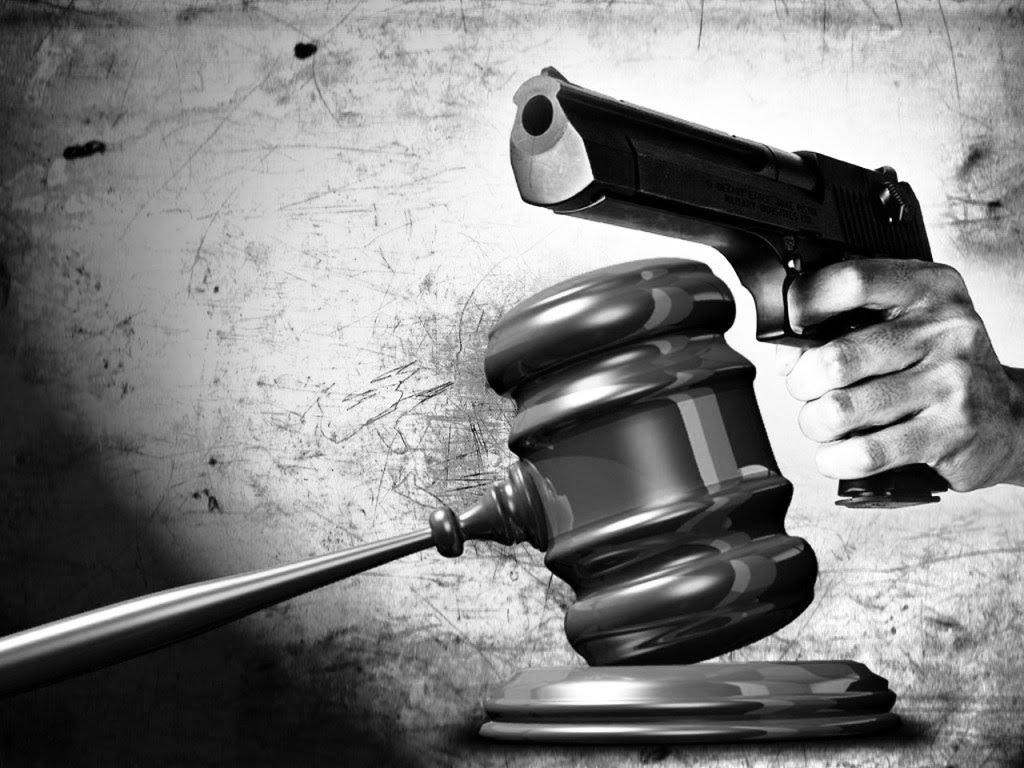 NRO's David French offers "A Gun-Control Measure Conservatives Should Consider."
After quite a bit of throat-clearing about the intractability of the pro- and anti-gun control positions, he points to a reasonable middle-ground:
[T]here is broad conceptual agreement that regardless of whether you view gun ownership as a right or a privilege, a person can demonstrate through their conduct that they have no business possessing a weapon.

Felons, the dangerously mentally ill, perpetrators of domestic violence — these people have not only demonstrated their unfitness to own a weapon, they've been granted due process to contest the charges or claims against them. There is no arbitrary state action. There is no collective punishment. There is, rather, an individual, constitutional state process, and the result of that process is a set of defined consequences that includes revoking the right to gun ownership.
That's a sensible enough starting point. He then offers a specific solution:
It's called a gun-violence restraining order, or GVRO.

While there are various versions of these laws working their way through the states (California passed a GVRO statute in 2014, and it went into effect in 2016), broadly speaking they permit a spouse, parent, sibling, or person living with a troubled individual to petition a court for an order enabling law enforcement to temporarily take that individual's guns right away. A well-crafted GVRO should contain the following elements ("petitioners" are those who seek the order, "the respondent" is its subject):

It should limit those who have standing to seek the order to a narrowly defined class of people (close relatives, those living with the respondent);
It should require petitioners to come forward with clear, convincing, admissible evidence that the respondent is a significant danger to himself or others;
It should grant the respondent an opportunity to contest the claims against him;
In the event of an emergency, ex parte order (an order granted before the respondent can contest the claims), a full hearing should be scheduled quickly — preferably within 72 hours; and
The order should lapse after a defined period of time unless petitioners can come forward with clear and convincing evidence that it should remain in place.

The concept of the GVRO is simple, not substantially different from the restraining orders that are common in family law, and far easier to explain to the public than our nation's mental-health adjudications. Moreover, the requirement that the order come from people close to the respondent and that they come forward with real evidence (e.g. sworn statements, screenshots of social-media posts, copies of journal entries) minimizes the chance of bad-faith claims.

The great benefit of the GVRO is that it provides citizens with options other than relying on, say, the FBI. As the bureau admitted today, it did not respond appropriately to a timely warning from a "person close to Nikolas Cruz." According the FBI, that person provided "information about Cruz's gun ownership, desire to kill people, erratic behavior, and disturbing social media posts, as well as the potential of him conducting a school shooting."

In other words, it appears the FBI received exactly the kind of information that would justify granting a GVRO.
My initial reaction to that was that, if a person is sufficiently dangerous to merit a GVRO  under this process, giving him 72 hours notice that you've petitioned to take his guns away gives him gives him 72 hours to shoot the petitioner and anyone else he'd planned to shoot.
But, even though I'd never heard of the practice before, it's apparently in place or being considered in several states. Connecticut, the first, passed it way back in 1999. A scholarly study published in 2016 (hat tip: Dan Friedman) found that the practice was effective in reducing suicide rates:
This article presents the results of a systematic research study on the characteristics, implementation, and outcomes of 762 gun removals conducted under Connecticut's risk-warrant law during the period 1999-2013. The study found that the law was invoked to separate guns most often from men (92 percent) who were judged to be at risk of self-harm, but had no criminal record in the preceding year. By matching risk-warrant cases to official death records, the research revealed that 21 of these individuals (3 percent) eventually completed suicide, 6 with guns and 15 by other means; this equates to a suicide rate approximately 40 times higher than that of the general adult population of Connecticut. However, even more suicides would have occurred if guns had not been removed from these individuals. We applied population-level data on the specific fatality rates associated with various methods of intentional self-injury to estimate that 142 (19 percent) of the gun removal subjects had attempted suicide, of which 121 survived. We calculated the number (within a range) of additional fatalities that would have occurred if these individuals had retained their guns and attempted suicide with a firearm instead of using some less lethal method. In this manner, we estimated that approximately 10 to 20 gun seizures were carried out for every 1 suicide averted.
California's law went into effect just over two years ago and several other states ("New York, Pennsylvania, New Jersey, Delaware, Virginia, Wisconsin, Illinois, Missouri, Minnesota, Michigan, and perhaps Massachusetts") were considering enacting similar measures in late 2016. Time will tell how effective they are but, presumably, if there were a rash of post-GVRO preemptory killings, I'd have heard about it by now.
I'm skeptical that any single measure will have much impact on mass shootings but, as seemingly commonplace as they've become, they're the outlier in gun violence. Indeed, suicide is easily the leading type. At this point, I'm happy to pass any measures that can get through our political morass and see what combination, if any, can help.
Hat tip: Joy McCann