Guns and Preventing Tyranny
The notion that guns prevent tyranny is based on fantasy and movies, not reality.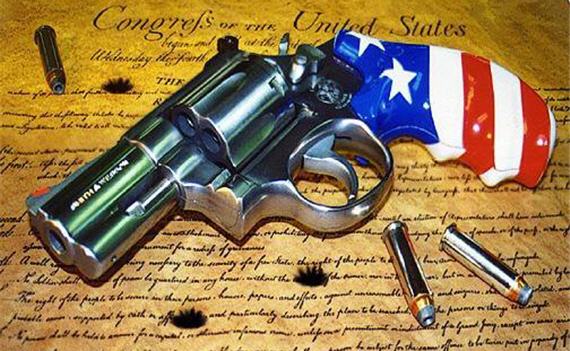 Let me start by being blunt:  the silliest argument out there about the necessity of gun rights is that a gun-owning citizenry guarantees liberty, i.e., that a well-armed populace is a bulwark against proto-authoritarians lurking the halls of democratic governments.  You know:  those nascent Hitlers and Stalins who would take us down the road to totalitarianism but are forestalled by the Second Amendment.  Pointing this out, by the way, really has not other implications for the gun debate.  One could be as pro-gun as one wants and that does not change the specious nature of the notion introduced above.  Still, this ridiculous argument needs to be filed away in this debate.
First, there is the rather obvious (or at least it ought to be) fact of the matter:  if there is a true and dominant authoritarian impulse within the government—the type that could actually be turned effectively against the population, this would mean that the coercive power of the state would be turned against the population.  It is quite clear that the coercive power of the United States government would not be taken down by an armed populace.  There really is no argument here.  Further, those who try to argue from within this scenario don't even understand how authoritarian states emerge.  They do not come about because one day some scoundrel wakes up and decides to impose dictatorship, but rather it is a far more complex process that requires substantial support from within the state and the population.  Of course, this dystopic scenario incubates in a misapprehension of the relationship between government and the citizens in the first place.  That is:  it assumes that "the people" are on one side even now and "the government" is on the other, without understanding that the government derives from people and is not some foreign entity outside of the rest of us.
In continuation of this topic:  there is no example that I can think of in which a fully developed democratic state devolved into authoritarianism.  And no:  Weimar Germany was not a fully developed democratic state.  Not even close.  Other examples of democracies that I can conjure off the top of may head, such as in Latin America, were not  fully developed of cases.  Chile in 1973 might qualify, although the irony of that example for this discussion is that it was a right-wing coup perpetrated by the military to, in its view, save the country from communists and so it was an action that many in the "guns equal liberty" crowd would probably support.*  Of course, the Chilean case, even if it represents an example of democracy going to tyranny of the type that is feared in this context, it also makes my overall point:  the military was quite willing to turn its might against the population and would not have been deterred by armed citizens (and, indeed, its ability to take power was because it had support from a substantial portion of the population).
Second, there is no evidence to suggest that an armed population leads to freedom.   As the Democracy in America blog at the Economist rightly noted back in December:
While "people's war" militia-based strategies have been employed to wear down invading armies in numerous countries over the past century, not one of those countries (Vietnam, Afghanistan, Somalia, Iraq, southern Lebanon, etc) is "free". This is not an accident of history. Freedom is the product of orderly democratic governance and the rule of law. Popular militias are overwhelming likely to foster not democracy or the rule of law, but warlordism, tribalism and civil war. In Lebanon, Pakistan, the Democratic Republic of the Congo, Mali, Colombia, the Palestinian Territories and elsewhere, we see that militias of armed private citizens rip apart weak democratic states in order to prey upon local populations in authoritarian sub-states or fiefdoms. Free states are defended by standing armies, not militias, because free states enjoy the consent of the governed, which allows them to maintain effective standing armies. Like every other free country apart from Costa Rica, the United States has a standing army in times of peace, and has since 1791, when the founding fathers realised a standing army would be necessary to fight the irregular popular militias of the continent's Native American peoples. (Guess who won?)

As crummy as popular militias have proven at defending against "sudden foreign invasions", they've been even worse at defending against "domestic usurpations of power by rulers". There is, I think, not a single case in modern history, certainly not since the invention of the Gatling gun. No popular militia has ever prevented the seizure of power by an authoritarian ruler. In countries with well-established democratic traditions, authoritarian takeovers are rare; when they occur, popular militias do not resist, or are ruthlessly crushed by national armed forces. In countries with weak democratic traditions, authoritarian takeovers sometimes go smoothly, or in other cases touch off periods of civil war, which are resolved when one faction finally defeats the others and imposes authoritarian rule. Name your authoritarian takeover: Germany, Japan, Russia, China, Egypt, Libya, Brazil, Greece, Spain, Indonesia, the Philippines, Iran, Chile, Argentina, Czechoslovakia, Syria—popular militias never resist authoritarian takeover and preserve democracy or civil freedoms. That is a thing that happens in silly movies. It is not a thing that happens in the world.
All of this is quite accurate:  just check the history.
Along the same lines, see Joshua Keating writing at Foreign Policy on this question of the correlation between gun ownership and freedom, as well as the question of the relationship between armed populations and toppling tyranny:
I haven't been able to find any published academic studies to this effect (if readers know of any, please post in the comments), but from a look at the Small Arms Survey's international rankings from 2007, it's hard to detect a pattern. (I wrote about this data in greater depth here.)

The top 10 gun-owning countries in the world (after the United States) include both democracies like Switzerland and Finland, as well as authoritarian countries like Yemen and Saudi Arabia.

With 34.2 guns per 100 people, Iraq is ranked eighth on the survey. More to the point, the country already had a well-established gun culture and a high rate of gun ownership before the overthrow of Saddam Hussein. We can't know for sure if a well-armed population could have stopped Hitler's genocide, but it certainly didn't stop Saddam's.

Given the advanced deadly weaponry available to governments these days — as opposed to the late 18th century — most tyrants aren't all that threatened by citizens with conventional weapons. Like the Iraqis, Libyans were fairly well armed under Muammar al-Qaddafi — 15.5 guns per 100 people as of 2007 — but it still took an assist from NATO air power to finally bring him down.

On the other extreme, the country ranked last on the survey — with only 0.1 guns per 100 people — is Tunisia, which as you'll recall was still able to overthrow a longtime dictator in 2011. With only 3.5 guns per 100 people, the Egyptian population that overthrew Hosni Mubarak was hardly well armed either. On the other hand, Bahrain, where a popular revolution failed to unseat the country's monarchy, has 24.8 guns per 100 people, putting it in the top 20 worldwide. A relatively high rate of 10.7 guns per 100 people in Venezuela hasn't stopped the deterioration of democracy under Hugo Chávez.
Now, as Keating notes, this is not proof of anything, as it begs for further and more systematic study.  Still, it is highly suggestive of what anyone who has studied political violence of this type knows:  successful revolts and revolutions are not simply the acts of a bunch of dedicated patriots with appropriate firepower.  Rather, the effective deployment of citizen-based political violence is almost certainly successful, in the rare cases that it is, due to broader and significant structural conditions.  It is not just the domain of a bunch of pissed off dudes with guns.
At a minimum:  there is no evidence to support the hypothesis that an armed citizenry is protection against the failure of democracy and the rise of authoritarianism.  None.  (Indeed, if you think you have some, share away).  And no:  the American Revolution is not an illustration of this notion for a host of reasons including:  a)  it was not a rebellion of a domestic population against a domestic government, but was an anti-colonial rebellion, b) it was fought not by unorganized citizens versus the government, but between two regular armies, c) it was fought at a time when it was possible for the rebellious side to achieve relative technological parity with its opponent, and d) it still required  the aid of a foreign power to be successful (the French, lest we forget).
Again:  none of this is an argument for or against specific gun policies, but it should help underscores the utter folly of the notion that an armed population is the basis for liberty.
*Indeed, there has been a long-running history of certain sectors of the American conservative movement who had a lot of nice things to say about Augusto Pinochet.  I would link to posts about this at PoliBlog, had I not messed up my archive.