Hagel's Uphill Fight
Examining SECDEF's call for radical overhaul of our defense structure against the fate of similar calls past.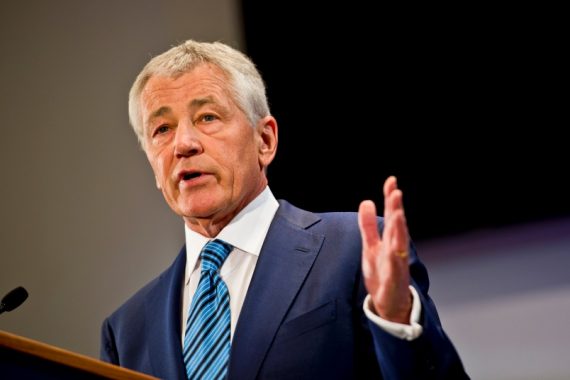 My latest for The Atlantic, "The Military Isn't Going to Change Anytime Soon," examines Chuck Hagel's call for radical overhaul of our defense structure against the fate of similar calls past.
Hagel has directed a Strategic Choices and Management Review as guide to "matching missions with resources – looking at ends, ways, and means."

While that might be a prudent step, I'm reminded of the Bottom-Up Review commissioned exactly two decades ago by Hagel's predecessor, Les Aspin. Now, the nation is trying to achieve fiscal savings as we draw down from two major wars. Then, the nation was seeking a "peace dividend" after decades of cold war. The impetus then was much greater: the entire premise of the national security posture of the postwar era was obviated by the collapse of the Soviet Union. The United States no longer faced a peer competitor and was already involved in various peacekeeping and stabilization operations that required new capabilities. And, yet, the nation wound up with essentially the same force structure that we'd deployed against the Soviets, just proportionately smaller.

[…]

[D]uring times of tight budgets, bureaucratic institutions naturally fight to protect their core capabilities — based on their deeply ingrained sense of who they are — regardless of the actual demands that they're called upon to meet.

[…]

This is compounded by the fact that military procurement, and to a lesser extent basing, impacts all fifty states and virtually every one of the 435 congressional districts.

[…]

More fundamentally than mere bureaucratic politics, turf wars, and Congressional leverage, though, is the fact that the uniformed leadership of our armed forces have a long institutional memory. Too often in our nation's history, we've torn down our military capability at the onset of peacetime only to find ourselves unprepared for the next war. In World War II and Korea, in particular, we took heavy casualties at the outset as we sent unprepared and under-equipped men to fight.
There's a lot more at the link; the article is some 1500 words.