Hamas Rejects Egyptian Cease Fire Deal Israel Had Accepted
An effort yesterday to bring about a cease fire in Gaza came to naught when Hamas rejected the proposal.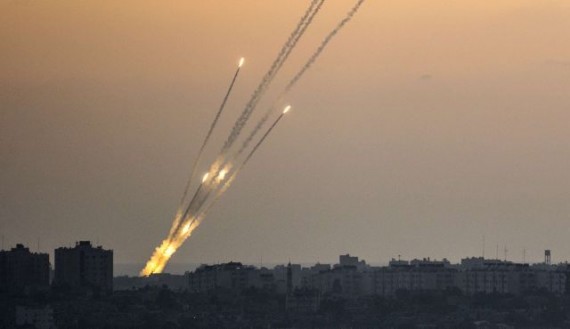 Late yesterday, Egypt proposed a cease fire to the ongoing conflict between Hamas and Israel that would have brought the conflict, which has resulted in the deaths of nearly 200 Gazans to date, to an end. After an early Tuesday morning meeting of the Security Cabinet, Israel accepted the offer and began a cease fire that lasted some six hours before Hamas decided that it was rejecting the proposal:
JERUSALEM — Hostilities between Israel and Palestinian militants in the Gaza Strip continued Tuesday, despite Israel's initial embrace of an Egyptian cease-fire proposal, which the Islamist Hamas movement appeared to reject.

Israel announced at 9 a.m. Tuesday that it had accepted the Egyptian initiative, but a barrage of nearly 50 rockets from Gaza continued to fly into its territory over the next several hours. By 3 p.m., Lt. Col. Peter Lerner, an Israeli military spokesman, confirmed that "we've resumed some striking in Gaza," but would not provide specifics. At least one airstrike hit Gaza City.

Prime Minister Benjamin Netanyahu of Israel had said earlier that he would respond with force if the rockets did not stop.

"We agreed to the Egyptian proposal in order to give the opportunity to deal with demilitarization of the strip from missiles, rockets and tunnels through diplomatic means," Mr. Netanyahu said after a meeting with the German foreign minister, Frank-Walter Steinmeier. "But if Hamas does not accept the cease-fire proposal, as it looks now, Israel will have all the international legitimacy in order to achieve the desired quiet."

Leaders of Hamas have not officially responded to Israel's acceptance of the Egyptian proposal, which would halt the aerial battle that began on July 7 and calls for Israeli and Palestinian delegations to travel to Cairo within 48 hours to negotiate further terms.

Mousa Abu Marzouk, a Cairo-based leader of Hamas, said in a message posted on Twitter around the time the rockets were flying that the organization was still "consulting" and had "not issued an official position on the Egyptian initiative."

A Twitter post, in Hebrew, by Hamas's military wing, the Izzedine al-Qassam Brigades, took responsibility for the rockets that were fired at Israeli cities on Tuesday, adding, "We will continue to bombard until our conditions are met."reportedly

(…)

The response was a stark contrast from 2012, when an Egyptian-brokered cease-fire that ended eight days of cross-border violence was greeted by street parades celebrating it as a Hamas victory. A Hamas security official outside the hospital, who gave only a nickname, Abu Mahmoud, pointed at the rocket and said, "This is our celebration."

He referred to the cease-fire proposal as "only a way for Egypt to save face" and said bluntly, "We don't accept it."

The Egyptian proposal, which was embraced by the United States, the Arab League and the Palestinian Authority, calls for border crossings into Gaza to "be opened," and for the movement of people and goods to be "facilitated once the security situation becomes stable on the ground."

Some Israeli politicians criticized the cease-fire plan, saying that not enough damage had yet been inflicted on Hamas's infrastructure and weapons caches. Haaretz, an Israel daily, reported that the foreign minister, Avigdor Lieberman, and the economy minister, Naftali Bennett, had voted against it in the early-morning meeting of top ministers known as Israel's security cabinet.

(…)

But some analysts had said there were no downsides to Israel's embrace of the cease-fire proposal: The Egyptian cease-fire would either lead to a genuine calm that benefits both sides or, if Hamas rejects the terms, provide Israel with cover to continue the conflict.

"If Hamas looks at the cards it has been dealt — and they are very weak cards indeed — resuming military operations against Israel is not a good hand to play," Michael B. Oren, Israel's former ambassador to the United States, told reporters on Tuesday in a conference call organized by The Israel Project, an advocacy group.
On some level, it's hard to figure out what rational strategy the leaders Hamas are following here, assuming that they are following one at all. To date, their rocket attacks have inflicted nothing but minimal damage on Israel itself thanks both to the fact that many of rockets are rather poorly designed to begin with, and the fact that Israel's Iron Dome defense system has been particularly effective at stopping those missiles that do threaten Israeli cities, while at the same time mostly ignoring the ones that end up falling harmlessly in the desert. The handful attempted incursions into Israel proper that Hamas fighters have made over the past two weeks, usually via the sea, have all been beaten back by the Israeli military at high cost to the attackers. Mostly importantly, each attack on Israel that is responded to results in substantial damage to Hamas's capabilities, as well as damage to the civilians that Hamas, cowardly, hides its military assets around. Rather than terrorizing Israel into some kind of submission that will lead them to make concessions at a negotiating table — a table that doesn't exist largely because Hamas refuses to negotiate with Israel or even recognize its right to exist — the attacks only serve to strengthen Israel resolve and, indeed, international sympathy for Israel itself since it is obvious that Hamas is the party at fault here.
As I've said before, while I've often been critical of Israeli policy in the past, for example the position that the Netenyahu government has taken regarding settlement expansion in the West Bank which seems to do more to retard the peace process with the Palestinian Authority than anything else, I find it hard to criticize Israeli actions here. Hamas's rockets threaten Israels largest cities on a regular basis, and the attacks they launch are largely unprovoked. Whereas Israel has arrested the Jewish extremists who are apparently responsible for the murder of a Palestinian youth, Hamas has done nothing regarding the men responsible for the murder of three Israeli teenagers, one of whom is also an American citizen, that set off the current crisis. Hamas refuses to recognize Israeli's right to exist and refuses to negotiate toward some kind of long term peace deal. Instead, it lobs rockets into Israel. What else is Israel supposed to do expect respond in the manner that they are responding? I certainly can't think of any other option that is even remotely plausible.