Has National Debt Increased More Under Obama Than Bush?
Obama has borrowed slightly more money in 3 years than Bush did in 8. Does it matter?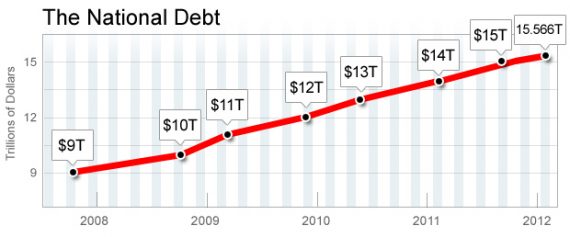 CBS's Mark Knoller made a splash with a piece headlined "National Debt has increased more under Obama than under Bush."
The National Debt has now increased more during President Obama's three years and two months in office than it did during 8 years of the George W. Bush presidency.
The Debt rose $4.899 trillion during the two terms of the Bush presidency. It has now gone up $4.939 trillion since President Obama took office.

The latest posting from the Bureau of Public Debt at the Treasury Department shows the National Debt now stands at $15.566 trillion. It was $10.626 trillion on President Bush's last day in office, which coincided with President Obama's first day.

The National Debt also now exceeds 100% of the nation's Gross Domestic Product, the total value of goods and services.

Mr. Obama has been quick to blame his predecessor for the soaring Debt, saying Mr. Bush paid for two wars and a Medicare prescription drug program with borrowed funds.

The federal budget sent to Congress last month by Mr. Obama, projects the National Debt will continue to rise as far as the eye can see. The budget shows the Debt hitting $16.3 trillion in 2012, $17.5 trillion in 2013 and $25.9 trillion in 2022.
This are all true facts. But Crooks & Liars' Blue Texan says "the piece is BS."
What Knoller doesn't specify, naturally, is what the debt was when Bush began his presidency. And that's a glaring omission, because unless you don't know that, you can't accurately compare the records. So here it is.

In 2001, the national debt Bush inherited was around $5.7T, give or take. Some of that debt in 2001 has to be attributed to Clinton, just as some of the debt in 2009 when Obama took office has to be attributed to Bush. When W. left office in 2009, the debt was nearly $11T. That's an increase of 89 percent.

Under Obama, the debt has increased from about $11T to about $15T, about 40 percent.

And what's behind that increase? Historically low taxes and historically low revenues — and the worst financial crash since the 1930s. There's been no "binge" in spending, as Knoller wants you to believe.
With the exception of the last sentence, these are also true facts.
Of course there's been a spending binge under Obama; that's the whole point of stimulus spending! So, Obama increased the debt some $700 billion in his first few months in office. Since then, as Blue Texan notes, we've taken in much less money than we otherwise would have because of a lousy economy and, yes, because of very low taxes compared to our historical norms. And not just because of the Bush tax cuts, either, but also because of the Obama payroll tax holiday.
Knoller is right that, in simple dollar terms, the delta under Obama has been higher than under Bush.  $4.939 trillion is indeed bigger than $4.899 trillion. Blue Texan's insistence that we should look at the numbers in terms of percentage of increase is also plausible, although not if we're going to compare eight years to three! On an annualized percentage basis, Obama still beats Bush.
But, again, that's not shocking! Bush inherited a mild recession that quickly righted itself. Even the massive spending on two wars and the Medicare drug boondoggle wasn't as hard a hit as the Great Recession, whose effects have occurred mostly under Obama.
Overall, I'd argue that the "who increased the debt more?" debate is rather silly. The bottom line is that Bush and Obama have continued an American tradition that's been the norm my entire lifetime: spending without regard to revenues. Bush wanted to cut taxes while funding two wars and a domestic legacy. Obama wanted to create an even bigger domestic legacy–a major move towards universal healthcare coverage–while ramping up a war and stimulating the economy. The key difference is that Obama's preference was to also raise taxes–albeit only on top earners–to help pay for it; Congressional Republicans blocked that effort.
UPDATE: Doug Mataconis wrote about this separately in "Debt Under Obama Increasing Faster Than Under Bush." Since I didn't notice before comments started on this post, I'll leave both up rather than consolidating my thoughts as an update to his post, our usual practice in these cases.