Has Romney Made His Veep Selection Already?
There are some indications that Mitt Romney may be ready to announce his running mate selection as early as this week.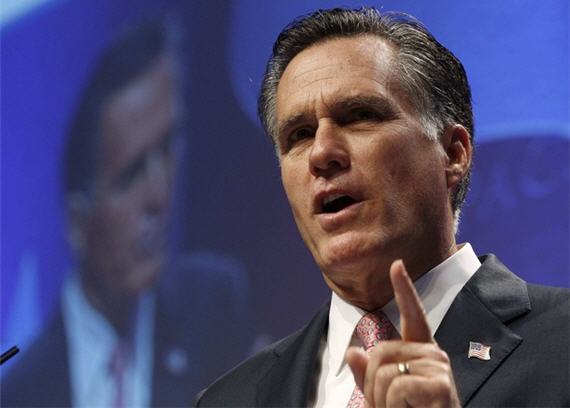 It appears that The New York Times buried the lede in an article that appears this morning about the somewhat surprising rise of Tim Pawlenty to the top of the Vice-Presidential running mate short list:
 After a short-lived presidential bid of his own last year, Mr. Pawlenty is again being considered for the Republican ticket. His fate is in the hands of Mr. Romney, a rival-turned-friend, who is on the cusp of announcing his vice-presidential selection. Mr. Romney has reached a decision, his friends believe, and he may disclose it as soon as this week.
Traditionally, of course, these announcements are usually only made a week or two before the party convention. That's what Barack Obama when he announced his selection of Joe Biden in 2008, and John McCain did the same thing with his announcement of Sarah Palin as his running mate on August 29, 2008. This year, of course, the conventions are once again late in the summer, with the Republican Convention starting in Tampa on August 27th. That would mean that the announcement would normally come sometime in mid-August. There is some advantage to this. First of all, it limits the amount of time that the potential nominee is exposed to press scrutiny. George H.W. Bush, for example, didn't announce his selection of Dan Quayle as his running mate until the Republican National Convention was already underway in New Orleans. Eight years earlier, Ronald Reagan went into the convention still unsure about who his running mate would be and nearly selected former President Gerald Ford until Ford had placed conditions on his joining the ticket that would have nearly made him a co-President. More recently, candidates have made their decision before the convention but have still waited until shortly before it opened to make the announcement in part to increase press interest in the what has basically become a very pro forma event, as well as to keep delegates and party members interested.
Despite that history, there has been speculation for weeks now that the Romney campaign was considering an extraordinarily early announcement of their running mate choice. The main reason usually cited is that an early running mate would essentially allow the campaign to send both men, and it seems almost 100% certain that Romney's selection will be a male, out on the campaign trail and to fundraising events for the ensuing six weeks until the convention, thus doubling their ability to reach out across the country.  As we see during the General Election campaign, there are advantages to being able to be in two different parts of the country at the same time. Additionally, making the choice now would allow the campaign to end the pre-Olympics period on a high note of sorts given that there's likely to be something of a political news drought during the last two weeks of July.
There are disadvantages to an early announcement as well, of course. As I noted above, the longer the VP nominee is out there the longer the press, pundits, and bloggers will be able to pick the candidate apart. If McCain had named Palin six weeks before the convention, for example, it's likely that she would've been torn apart before the summer of 2008 was over. Since the Romney campaign seems to be being much more careful about their vetting process, it seems unlikely that they'd repeat the Palin error, of course, but they would be taking a risk in putting their selection out their six weeks in advance and they would need to be sure that their record can withstand all the scrutiny will get. The other disadvantage, especially of announcing this week, is that it would be perceived as an effort to change the subject from Bain and tax returns. If that's the reason they would come out with the announcement early, though, I think they'll be making a mistake. Bain and the tar returns aren't going to go away until they answer those questions far more clearly than they have to do and if they announce a running mate without dealing with them then that will just mean there will be one more person involved in the Romney campaign who will be asked questions about Bain and tax returns.
As for who the running mate might be, whether the announcement comes soon or in August, it appears that the pool has narrowed down to a few select people. Rob Portman and Pawlenty seem to be at the top of the list, with names like Louisiana Governor Bobby Jindal, South Dakota Senator John Thune, and New Hampshire Senator Kelly Ayotte being mentioned as second tier candidate. Marco Rubio and Paul Ryan still seems like possibilities, but only very remote ones, while names like Virginia Governor Bob McDonnell, who I had thought would be the choice Romeny would make earlier this year, completely off the list. (McDonnell was recently named head of the RNC Platform Committee, a position that suggests its highly unlikely that he is being considered for Vice-President.) Also off the list, I would think, are people like Chris Christie. Given everything we've seen from the Romney campaign, it seems likely that they'll go with the "safe" choice, which means someone like Portman or Pawlenty. Not the most exciting choice ever, but perhaps that's not what Romney needs this year.
So, stay tuned because we could have some big news out of Boston this week.