Hate Crimes And The Rutgers SpyCam Case
Dharun Ravi was convicted of bias intimidation toward Tyler Clementi. It's not at all clear that he should have been.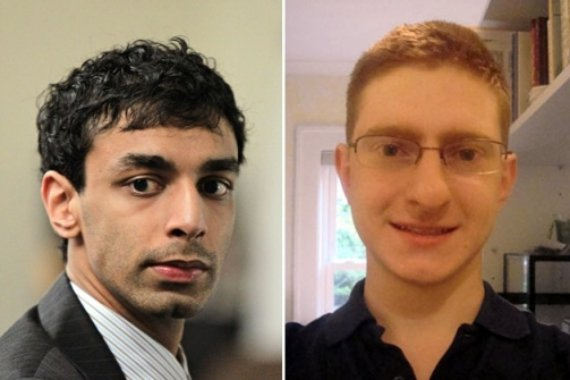 In September 2010, a saga began with the tragic suicide of Rutgers University freshman Tyler Clementi under circumstances that, at least initially, seemed to suggest that he had been harassed to the point of suicide by his college roommate, Dharun Ravi. Ravi had allegedly used a computer webcam to spy on Clementi in an intimate encounter and broadcast it on the Internet. As it turned out, the evidence that was developed as the case proceeded to trial was much different from the initial reports. Nonetheless, Ravi did go to trial earlier this month and, on Friday, the saga came to an end with Ravi's conviction:
NEW BRUNSWICK, N.J. — A former Rutgers University student was convicted on Friday on all 15 charges he had faced for using a webcam to spy on his roommate having sex with another man, a verdict poised to broaden the definition of hate crimes in an era when laws have not kept up with evolving technology.

"It's a watershed moment, because it says youth is not immunity," said Marcellus A. McRae, a former federal prosecutor now in private practice.

The student, Dharun Ravi, had sent out Twitter and text messages encouraging others to watch. His roommate, Tyler Clementi, jumped to his death from the George Washington Bridge three days after the webcam viewing, three weeks into their freshman year in September 2010.

The case set off a debate about whether hate-crime statutes are the best way to deal with bullying. While Mr. Ravi was not charged with Mr. Clementi's death, some legal experts argued that he was being punished for it, and that this would result only in ruining another young life. They, along with Mr. Ravi's lawyers, had argued that the case was criminalizing simple boorish behavior.

But Bruce J. Kaplan, the prosecutor in Middlesex County, applauded the jury for sending a strong message against bias.

"They felt the pain of Tyler," he said.

Mr. Ravi, 20, wearing a dark suit over his slight frame, sat expressionless as the jury forewoman read the verdict on the first count, of invasion of privacy. But he seemed surprised when she pronounced him guilty on the next charge, of bias intimidation. His eyes popped and he quickly turned his head from the jury. As he left the courtroom in a swarm of television cameras, his mother clutching his arm, he looked straight ahead and said nothing.

The jury also found him guilty of lying to investigators, trying to influence a witness and tampering with evidence after he tried to cover up Twitter and text messages inviting others to join in the viewing.

Some of the charges carry penalties of 5 to 10 years in prison. Mr. Ravi has surrendered his passport; prosecutors said he could face possible deportation to his native India, but that decision would be left to immigration officials. Judge Glenn Berman set sentencing for May 21.

(…)

Reflecting the difficulty of defining hate crimes, it had taken the judge more than an hour simply to instruct the jury on the questions they had to answer to reach a verdict.

The jury concluded that Mr. Ravi had not knowingly or purposely intimidated the men when he watched the first time, on Sept. 19, 2010.

But it found him guilty of the charge because Mr. Clementi "reasonably believed" he had been made a target because he was gay.

The prosecution had pointed out that Mr. Clementi had checked Mr. Ravi's Twitter feed — where Mr. Ravi told others he had seen his roommate "kissing a dude"— 38 times in the days after the first webcam viewing. Records showed that Mr. Clementi had gone online to request a room change, and a resident assistant testified that Mr. Clementi had complained to him.
It's the last part of the jury verdicts, the determination that his actions were motivated by bias and an intent to intimidate Clementi that have aroused the most controversy. As I've already noted, the actual evidence in this case as much different from what popular belief had come to be after the tragedy of September 2010, the most important difference being the fact that Clementi, while he was gay, was not closeted in any sense of the word either to his family, his friends, or while he was at college. Additionally, there didn't seem to be any evidence that Ravi himself was biased against gays at all. Perhaps most important, though, there's the question of how the jury actually could have concluded beyond a reasonable doubt that Clementi "reasonably believed" he was being targeted because he was gay. That last point will no doubt be a subject of the inevitable appeals that will follow this verdict, but it also plays into the general discussion about hate crime laws in general that this case has inspired.
In a piece at Democracy In America, for example, Economist correspondent "R.M." finds the verdict troubling:
For many this will be seen as a victory against homophobia and cyberbullying. But others will see it as overkill by prosecutors bent on avenging the death of Mr Clementi. Despite holding nothing but contempt for Mr Ravi, I tend towards the latter interpretation. Society's harsh moral judgment of Mr Ravi could not be adequately reflected in the law, nor could the law properly account for Mr Clementi's suicide. So prosecutors piled bias intimidation charges on top of the more appropriate spying and tampering ones, essentially doubling the possible sentence, in an effort to express the public's disdain for the defendant and somehow balance Mr Ravi's callous acts with Mr Clementi's tragic death.

(…)

Certainly Mr Clementi's death and the outcry that followed affected their judgment, as it will affect the way many view this case. I may find it excessively harsh to impose a ten-year jail sentence on a student for spying on his roommate and being a jerk. You may find it appropriate for the man who pushed a confused teenager to his death. We can disagree, but the law is meant to be administered without emotion, and it seems to have not been in this case. Mr Ravi was not charged in Mr Clementi's death, but there is little doubt that part of his sentence will be punishment for it.
Jacob Sullum meanwhile notes the problems with New Jersey's law that likely led to Ravi's convictions for what likely may have been a "hateless hate crime":
As for finding Ravi guilty of an unintentional, hateless hate crime, as the jury did with regard to the September 19 incident, the concept only compounds the injustice of imposing extra punishment for crimes motivated by bigotry. Under New Jersey's law, bigotry is not even necessary. Assuming the underlying offense (in this case, invasion of privacy) was intentional, there need not be any evidence that the intimidation was. Surmising how Clementi felt in this situation based on the available evidence—in particular, distinguishing between anger and intimidation—is fraught with uncertainty, and the judgment as to whether his imagined feelings were reasonable is even harder to make. In a case like this, where the victim cannot testify about what he was thinking and no one else knows, these elements have reasonable doubt built into them.
All of this raises the question of whether hate crime laws should even exist. Many, including people like Andrew Sullivan argue that they should not, that they pose the severe risk of infringing on freedom of speech and thought and that making "hate" a crime puts the entire concept of crime on its head. Advocates of the laws, on the other hand, argue that society must send a message to those who commit crimes because of their bias against a group. There is some merit in this argument, I will admit, and at the very least I would argue that it makes sense to consider bias motivations as an enhancement factor at sentencing even if they aren't the basis for a separate crime themselves. At the same time, though, is there really a difference between someone who kills for money, or because they dislike someone personally, and someone who kills another person because of their race, religion, or gender? Does it matter more if someone gets knocked unconscious because of their sexual orientation than if it happens because an assailant simply wanted to take their wallet? The crime is serious regardless of the reason it was committed and, in fact, motive is not an element of a crime that prosecutors generally have to prove at trial.
Getting back to this particular case, it does strike me that R.M.  has a point. Ravi was, without question, a jerk for what he did but it's not at all clear that what he did arises to the level of a crime that he should spend a decade behind bars, and possibly be deported, for. Had Clementi not died, it's unlikely that Ravi ever would have been charged with a crime at all. Either he and Clementi would have worked out their differences, or they would have gotten new roommates. Does the fact that, for reasons that we can never really know, Tyler Clementi killed himself, mean that Dharun Ravi should effectively be punished for a murder that he didn't really commit? I'm not seeing the logic behind this verdict at all.