Collegiate Prank Leads To Suicide
Three lives intersected last week at Rutgers University, but one person didn't make it out alive.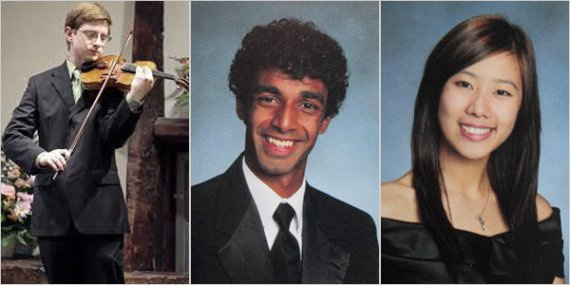 There's really no other way to describe this story except as tragic:
It started with a Twitter message on Sept. 19: "Roommate asked for the room till midnight. I went into molly's room and turned on my webcam. I saw him making out with a dude. Yay."

That night, the authorities say, the Rutgers University student who sent the message used a camera hidden in his dormitory room to broadcast the roommate's intimate encounter live on the Internet.

And three days later, the roommate who had been surreptitiously filmed — Tyler Clementi, an 18-year-old freshman and an accomplished violist — jumped from the George Washington Bridge into the Hudson River in an apparent suicide.

The Sept. 22 death, which the authorities disclosed on Wednesday, was the latest by a young American that followed the online posting of hurtful material. The news came on the same day that Rutgers kicked off a two-year, campuswide project to teach the importance of civility, with special attention to bullying and the use and abuse of new technology.

Those who knew Mr. Clementi — on the Rutgers campus in Piscataway, N.J., at his North Jersey high school and in a community orchestra — were anguished by the circumstances surrounding his death, describing him as intensely devoted musician who was sweet and shy.

"It's really awful, especially in New York and in the 21st century," said Arkady Leytush, artistic director of the Ridgewood Symphony Orchestra, where Mr. Clementi played since his freshman year in high school. "It's so painful. He was very friendly and had very good potential."

The Middlesex County prosecutor's office said that Mr. Clementi's roommate, Dharun Ravi, 18, of Plainsboro, N.J., and another classmate, Molly Wei, 18, of Plainsboro, N.J., had each been charged with two counts of invasion of privacy for using "the camera to view and transmit a live image" of Mr. Clementi. The most severe charges carry a maximum sentence of five years in jail.

Mr. Ravi was charged with two additional counts of invasion of privacy for attempting a similar live feed on the Internet on Sept. 21, the day before the suicide. A spokesman for the prosecutor's office, James O'Neill, said the investigation was continuing, but he declined to "speculate on additional charges."
Clementi left no suicide note, although, in a bizarre twist on a story that started out with too much of his life being revealed on the internet, he did leave a message on Facebook:
A Rutgers University freshman posted a goodbye message on his Facebook page before jumping to his death after his roommate secretly filmed him during a "sexual encounter" in his dorm room and posted it live on the Internet.

Items belonging to 18-year-old Rutgers student Tyler Clementi were found by the George Washington Bridge last week, according to authorities. Clementi's freshman ID card and driver's license were in the wallet.

Clementi's post on his Facebook page, dated Sept. 22 at 8:42 p.m. read, "Jumping off the gw bridge sorry."
There really isn't any big take away from this story, other than the overall sadness of the story. I'm sure in the days to come people will wonder if the two students who pulled this prank either can or should be held legally responsible for the course of events that their actions set into motion. Quite honestly, I'm not sure that there's a law out there that would even cover something like this, although I'm sure that prosecutors in New Jersey will look for one. There will also be discussions, no doubt, about potential liability on the Universities part, although I can't imagine how the school could be held responsible unless they knew what was going on.
No, the only take away from a story like this is to wonder how two seemingly normal, well-education kids from a middle-class community in New Jersey could do something so incredibly mean spirited and stupid.