Rutgers Spycam Defendant Gets 30 Days In Jail
A surprisingly short sentence in a case that caused a nationwide sensation.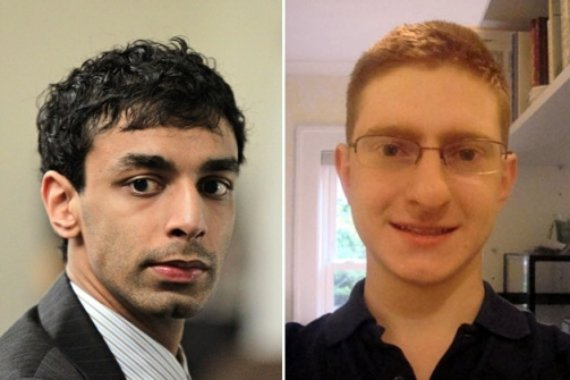 When Dharun Ravi was convicted on a series of charges by a New Jersey jury back in March for invasion of privacy and bias crimes in connection with the tragic course of events that ended with the death of his roommate Tyler Clementi by suicide, the possibility existed that he would be sentenced to as much as ten years in state prison. As I argued at the time, this seemed like an overly harsh outcome for what really amounted to Ravi acting like a jerk. While the trial was ongoing, it became clear that much of what we thought we knew about what had happened in September 2010 wasn't true at all, and specifically that there was actually very little evidence that anything that Ravi did was motivated by bias toward Clementi because he was gay. More than a few post-trial commentators suggested that the jury verdict was more a reflection of the jury's desire to be as harsh as they could toward Ravi despite the fact that he was not, and could not have been, charged with direct responsibility for Clementi's death.
In fact, as Ravi's sentencing date approached, many of the same voices who have spoken out against anti-gay bullying in schools expressed unease about Ravi being subjected to what they felt was an overly harsh sentence:
While Mr. Clementi's suicide in September 2010 galvanized public attention on the struggles of gay, lesbian and bisexual teenagers, the question of how to punish Mr. Ravi has revealed the deep discomfort that many gay people feel about using the case as a crucible. "You're making an example of Ravi in order to send a message to other people who might be bullying, to schools and parents and to prosecutors who have not considered this a crime before," said Marc Poirier, a law professor at Seton Hall University who is gay and has written about hate-crimes legislation. "That's a function of criminal law, to condemn as general deterrence. But I think this is a fairly shaky set of facts on which to do it."

In an op-ed article in The Star-Ledger of Newark this month, Jim McGreevey, who resigned as New Jersey's governor after declaring himself "a gay American," argued that Mr. Ravi's conviction "showed how far we have traveled from the hateful, homophobic past."

"The criminal justice system worked, this time for a gay victim," Mr. McGreevey wrote. "But there was something disquieting about the prospect of retributive punishment being meted out on behalf of a gay young man."

Mr. McGreevey, who now counsels prisoners, argued that jail time would neither rehabilitate nor send a message. "Perhaps the long trail of gay history inevitably leads to this call for punishment," he wrote, "but it need not."

The discussion itself is causing some gay rights advocates discomfort. Richard Kim, the executive editor of The Nation online, who wrote after Mr. Clementi's suicide about his own experience growing up gay in New Jersey, said he was wary that expressing opposition to a prison sentence would make him appear to link hands with those who accuse gay men and lesbians of seeking "special treatment" with laws against bullying.

"That's not my argument," Mr. Kim said. Still, he added, he does not think the verdict against Mr. Ravi was justified, and he does not think he should serve jail time.

"I haven't seen anything to convince me it has any deterrent effect," he said.

(…)

Dan Savage, a gay columnist whose video campaign, "It Gets Better," began in response to other suicides of gay teenagers just before Mr. Clementi, 18, jumped to his death from the George Washington Bridge, argued that simply locking up Mr. Ravi was a lost opportunity to talk about the other institutions and people "complicit" in Mr. Clementi's death.

"What was he told about being gay growing up, by his faith leaders, by the media, by the culture?" Mr. Savage said. "Ravi may have been the last person who made him feel unsafe and abused and worthless, but he couldn't have been the first.

"The rush to pin all the responsibility on Ravi and then wash our hands and walk away means we're not going to learn the lessons of these kids."

In an essay, J. Bryan Lowder, a columnist at Slate, urged against a prison sentence: "Unfortunately, we can't lock the bully up, because the bully is in all of us."

Mr. Lowder, 24, argued that Mr. Ravi's remarks had to be viewed in the context of being a teenager in a culture where low-level homophobia is pervasive — whether it is high school students dismissing things not vaguely homosexual as "so gay," or Mr. Ravi's texts suggesting that gay men were at least a bit icky.

"It's not to say that those things don't hurt and those things are fine," Mr. Lowder said in an interview. "But to pin the whole weight of our culture of homophobia on Ravi and to think that sending him a message is going to fix all that is misguided."
It's a compelling argument, I must say. I don't know that I agree  that Ravi should not spend any time in jail at all. He broke the law and set in course a tragic course of events, even if he never intended to do so. To allow him to walk away without serving any time would send the wrong message. At the same time, it struck me from the time that he was convicted that putting this still very young man in jail for up to a decade for essentially being a jerk would be overly harsh, and would accomplish little except exposing him to a prison culture that would potentially turn him to a life of more violent crime in the future.  The prosecution, obviously, argued that Ravi should be sentenced to jail time and rejected the notion that there was any reason for the judge to deviate from the 5-10 range recommended under New Jersey law. The defense, obviously, was arguing for leniency.
Somewhat fortunately for Mr. Ravi, New Jersey state court judges are not bound by the same kind of tight sentencing guidelines that Federal Judges are, because he ended up getting what can only be characterized as a very big break:
NEW BRUNSWICK, N.J. — A judge here sentenced Dharun Ravi to 30 days in jail on Monday for using a webcam to spy on his Rutgers University roommate having sex with a man, in a case that galvanized concern about suicide among gay teenagers but also prompted debate about the use of laws against hate crimes.

The case drew wide attention because his roommate, Tyler Clementi, jumped to his death from the George Washington Bridge in September 2010, a few days after learning of the spying. A jury convicted Mr. Ravi in March of all 15 counts against him, which included invasion of privacy and bias intimidation. The relatively light sentence — he faced up to 10 years in prison — surprised many who were watching the hearing, as it came after the judge spent several minutes criticizing Mr. Ravi's behavior.

"You lied to your roommate who placed his trust in you without any conditions, and you violated it," the judge, Glenn Berman of State Superior Court, said. "I haven't heard you apologize once."

In addition to jail, Judge Berman sentenced Mr. Ravi to three years' probation, 300 hours of community service, counseling about cyberbullying and alternate lifestyles and a $10,000 probation fee, to be used to help victims of bias crimes.

Prosecutors appeared angry — they and the Clementi family canceled a planned post-sentencing news conference — and said they would appeal. Mr. Ravi's relatives, meanwhile, hugged one another; just a few minutes earlier, his mother sobbed through a statement in which she implored the judge to go easy on her son.

"The media misconstrued the facts to the public and misconceptions were formed," she said, adding that she watched helplessly as her son sank into despair after he was charged, barely eating while trying to take online courses from home. "All I could do was hug him and cry."
At first glance, it sounds surprising. A possible 10 year prison sentence reduced to 30 days in county jail, community service, three years' probation, and a fine. It's worth noting, though, that the pre-sentence report prepared for the case recommended that Ravi be sentence to probation, with no jail time at  all, arguing that in light of his "immaturity, sheltered upbringing, and lack of foresight as an 18-year-old college freshman, " Ravi was not an appropriate candidate for incarceration even taking into account the facts of the case. Jacob Sullum, who has commented on the trial from the beginning, adds this thought:
[Judge] Berman expressed doubt that the state legislature had this sort of case in mind when it enacted the bias crime statute, which heretofore has been used to prosecute people who commit or threaten violence. He also disagreed with the state's description of Ravi's underlying invasion-of-privacy offenses, which contrary to the charges did not involve viewing sexual penetration or genitalia. He worked hard to arrive at the 30-day jail sentence despite the presumptive prison term, employing a series of maneuvers that no doubt will be challenged by the prosecution. In the end, except for the month in jail, the sentence is similar to what would have happened if Ravi had accepted the plea deal offered by prosecutors (who, like Berman, said they would try to prevent his deportation). This is a pretty good outcome for Ravi, if you ignore all the reasons why he should not have been prosecuted orconvicted on these charges to begin with.
In the end, I think Judge Berman got this about right. Ravi broke the law and he needs to pay something for that, but he's not a murderer and there's little real evidence that what he did really qualifies as a "hate crime."  This incident started with the end of one person's life, there's no reason it should have ended another.