Hawaii's Governor Seeks To End The Birther Myth Once And For All
Hawaii's new Governor is taking on the Birther myth.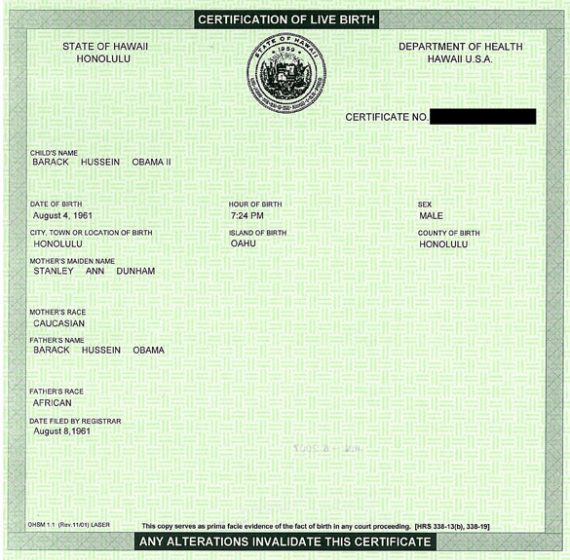 Neil Abercrombie, the former Congressman who is now Hawaii's new Governor, is on a one man crusade to finally silence the myth that Barack Obama was not born in Hawaii:
HONOLULU — Gov. Neil Abercrombie of Hawaii, who befriended President Obama's parents when they were university students here, has been in office for less than three weeks. But he is so incensed over "birthers" — the conspiracy theorists who assert that Mr. Obama was born in Kenya and was thus not eligible to become president — that he is seeking ways to change state policy to allow him to release additional proof that the president was born in Honolulu in 1961.

"It's an insult to his mother and to his father, and I knew his mother and father; they were my friends, and I have an emotional interest in that," Governor Abercrombie said in a telephone interview late Thursday. "It's an emotional insult. It is disrespectful to the president; it is disrespectful to the office."

The governor, a Democrat and former congressman, said he has initiated conversations with the state's attorney general and the chief of its Health Department about how he can release more explicit documentation of Mr. Obama's birth on Aug. 4, 1961, at Kapiolani Maternity and Gynecological Hospital. He said he has done so of his own accord, without consulting the White House, which declined to comment.

"He's a big boy; he can take sticks and stones. But there's no reason on earth to have the memory of his parents insulted by people whose motivation is solely political," Mr. Abercrombie said. "Let's put this particular canard to rest."
And Abercrombie has some specific knowledge relevant to the whole silly controversy:
Mr. Abercrombie, 72, said that although he did not see the elder Obamas at the hospital with their newborn son, he did remember the couple bringing the baby to social events. He says the critics who suggest that Mr. Obama's mother slipped off to Kenya to give birth are engaging in a "demonological fantasy." And he is angry about legislation in several states that would require presidential candidates to document that they were born in this country. A similar bill died in Congress last year.

"My thought was, 'Wait a minute, why didn't you ask me, my friends in the national Congress, the House of Representatives?' " he said. "They know me, they know that I was here, but they didn't even bother to have the courtesy to do that, which is disappointing to me, because it is very difficult for me not to conclude that bills like that are meant as a coded message that he is not really American. My thought is, rather than get into some kind of argument or play into that mentality, why not just simply try to authenticate this and let the facts speak for themselves?"
The problem, of course, is that the facts, and logic, don't matter to the people who continue to believe that the President is not Constitutionally eligible to be President. Presented with the evidence of a Certification Of Live Birth from the State of Hawaii, the only document that Hawaii issues to verify births, they either claim it's a forgery or that it isn't good enough and they must see the "long form" birth certificate. They make up the false claim that Hawaiian law at the time allowed parents to get a birth certificate for their child `even if the child was born in a foreign country. They spin a bizarre tale to attempt to prove that the President's mother somehow made her way to Kenya while she was pregnant with him in 1964. And, they make up the law to argue that one can only be a "natural born" citizen if both of your parents were a citizen at the time you were born.
Like I said, facts and logic don't matter to these people. Most of them are, I am convinced, motivated by racism and prejudice and they aren't going to be persuaded by anything that doesn't fit into their worldview.
So, good luck Governor, but I fear that by taking these people  on you're just going to encourage them more.