Supreme Court Sides With Muslim Woman In Religious Discrimination Case
The Supreme Court ruled in favor of a Muslim woman who was refused a job because of her hijab.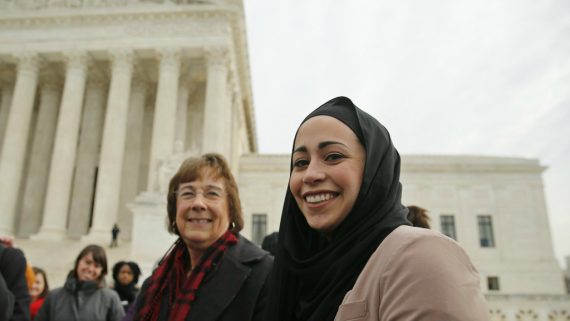 Today, the Supreme Court ruled in favor of a Muslim woman who was denied at job at Abercrombie & Fitch because her hijab violated store policy for acceptable employee dress:
WASHINGTON — The Supreme Court on Monday revived an employment discrimination lawsuit against Abercrombie & Fitch, which had refused to hire a Muslim woman because she wore a head scarf.

"This is really easy," Justice Antonin Scalia said in announcing the decision from the bench.

The company at least suspected that the woman, Samantha Elauf, wore the head scarf for religious reasons, Justice Scalia said, and its decision not to hire her was motivated by a desire to avoid accommodating her religious practice. That was enough, he concluded, to allow her to sue under federal employment discrimination law.

The vote was 8-to-1, with Justice Clarence Thomas dissenting.

The case started in 2008, when Ms. Elauf, then 17, applied for a job in a children's clothing store owned by Abercrombie & Fitch at the Woodland Hills Mall in Tulsa, Okla. She wore a black head scarf but did not say why.

The company declined to hire her, saying her scarf clashed with the company's dress code, which called for a "classic East Coast collegiate style." After the Equal Employment Opportunity Commission sued on Ms. Elauf's behalf, the company said it had no reason to know that Ms. Elauf's head scarf, a hijab, was required by her faith.

In its Supreme Court brief in the case, E.E.O.C. v. Abercrombie & Fitch Stores, No. 14-86, the company argued that job applicants should not be allowed "to remain silent and to assume that the employer recognizes the religious motivations behind their fashion decisions."

After the case was argued in February, an Abercrombie spokesman said the company "has a longstanding commitment to diversity and inclusion, and consistent with the law has granted numerous religious accommodations when requested, including hijabs."

The Supreme Court ruled that Ms. Elauf did not have to make a specific request for a religious accommodation to obtain relief under the Civil Rights Act of 1964, which prohibits religious discrimination in hiring.

At the trial, Ms. Elauf said she loved movies, shopping, sushi and the mall. "It's like my second home," she said. Her experience with Abercrombie, she said, made her feel "disrespected because of my religious beliefs."
Lyle Denniston summarizes the opinion:
The eight-to-one ruling in Equal Employment Opportunity Commission v. Abercrombie & Fitch Stores gave a strong new level of civil rights protection against religious bias in employment.  The case involved a  young Muslim woman who wears a head scarf as a matter of her faith; she sued after failing to get hired at a "preppy" clothing store at a shopping mall in Tulsa seven years ago.

She had won a $20,000 damages verdict against the retailer, but that was overturned by the U.S. Court of Appeals for the Tenth Circuit.  The appeals court ruled that a company does not violate the ban on religious bias in the workplace unless the management actually knows, specifically, that a job applicant needs an exception from a work rule to satisfy religious dictates.  That ruling seemed to impose a duty on a job applicant to explicitly ask for a religion-based exemption from a work rule.

The Justices overturned that ruling, and sent the case back to apply the new legal approach the Court mandated for such cases.

Even if the applicant does not inform the management of a religious practice, the 1964 civil rights law may be enforced against any employer who refuses to make an exception for that worker, when that refusal is based on at least a suspicion or hunch that the worker follows such a practice and wants to keep doing so, even if contrary to company policy.

Justice Antonin Scalia wrote the Court's main opinion.  In a significant footnote, the ruling left open the possibility that an employer may still violate the law by failing to hire someone who follows a religious practice, even if the employer were completely ignorant of that fact.

The footnote, and its implications, caused one member of the eight in the majority — Justice Samuel A. Alito, Jr. — to object in a separate opinion.  While he supported overturning the appeals court, he did so for his own reasons, rather than those of the Scalia opinion:  he would have made it clear that Abercrombie & Fitch can avoid a damages verdict if it had no knowledge of the young woman's religious needs.  The retailer does have the option of making that argument when the case returns to the appeals court.

Justice Clarence Thomas dissented alone, supporting the Tenth Circuit's decision.  Thomas, a former chairman of the EEOC, used his opinion to provide a lengthy essay on the evolution of employment discrimination law as it applied to the need to accommodate the religious beliefs of workers or job applicants.  He said Monday's decision turns a legal ban on a policy that falls more heavily upon workers of one faith than others, into a ban on intentional bias without proof of an intent to discriminate.

The case grew out of a policy that Abercrombie & Fitch enforces in its clothing stores, which cater to a "preppy" or "casual" look.  Part of that rule is a ban on wearing a cap of any kind for those who work as sales clerks.  When seventeen-year-old Samantha Elauf applied for a sales job at a company outlet in Tulsa in 2008, she was wearing a head scarf as part of her Muslim practice.

Although there is a dispute about what the management knew about the applicant's faith, the Court found on Monday that it had at least a suspicion that she needed a religious accommodation, and yet refused to hire her.  That was enough, the Scalia opinion said, to potentially make the company liable for refusing an accommodation.
As Justice Scalia put it when he read the opinion from the bench today, this really was a fairly easy and obvious decision. It had been established at trial that Elauf was not hired specifically because of the hijab that she wore to the job interview, an interview that by all accounts otherwise went exceedingly well. This is as clear a case of religious discrimination in employment as if Elauf had been a Catholic who wore a crucifix around her neck to the interview and she wasn't hired because of that. Discrimination in employment based on religion has been prohibited ever since the passage of the Civil Rights Act of 1964 and the case law and administrative decisions that have been handed down in the five decades since it became law make it clear that what Abercrombie & Fitch did here was simply impermissible under the law.
To the extent there was a legal issue here it involved the question of whether or not the fact that Elauf had informed Abercrombie of her desire for a religious accommodation, but even that wasn't all that complicated based on the facts of this case.  The testimony at trial had established that, after Elauf's interview, "higher-ups" in the company made the determination that her hijab would be a violation of the existed dress policy for sales models and that they were aware that the headscarf was part of her religious beliefs. Perhaps even more egregious is the fact that the decision was made not to hire her based solely on these determinations and that nobody at Abercrombie had even bothered to try to contact Elauf to determine if there was some accommodation that could be made that would satisfy their concerns about the dress code. Given these facts, the fact that she had not specifically asked for an accommodation is pretty much irrelevant. Abercrombie made a conscious decision to hire her based on something related to her religious faith, and that's simply not permissible under the law. In the case below, the jury saw that quite clearly and awarded Elauf $20,000 for the violation. That verdict was overturned on appeal, but thanks to the Supreme Court that verdict will now stand. On a final note, it's worth pointing out that, subsequent to this case Abercrombie changed its policies to allow hijabs to be worn by Muslim employees serving as sales models.
Simran Jeet Singh notes in a piece at The Washington Post that this decision is more than a victory for Ms. Elauf, it's a victory for everyone:
As the religious composition of our nation becomes increasingly diverse, the decision impacts how we account for these differences and how guarantees of religious freedom extend to our places of work. This is especially true for people who, like Elauf, identify with minority faith communities and maintain visible articles of faith.

The Court's decision could shape how we think about pluralism and equal opportunity in this country. Government policies on religious freedom deeply influence what Americans perceive to be acceptable.

Our national debates tend to circle around the right to profile communities on the basis of ethnicity, to monitor places of worship on the basis of religion or to strip the rights of individuals on the basis of sexual orientation.

(…)

This case illustrates how we see ourselves as a society. Current policies on workplace discrimination have gaping loopholes that allow employers to not hire applicants on the basis of their appearance. Therefore, the American workforce does not accurately reflect or leverage the proud diversity of this nation. Having a more diverse cross section represented in the workforce would cut against negative stereotypes that contribute to xenophobia and hate violence targeting minority communities.
This case is unique because it is one of the first high profile employment discrimination cases that involves a member of what could be termed a "minority" religion. If nothing else, the result today stands for the proposition that the hijab is entitled to as much protection under existing law as the yarmulke or the crucifix. And that strikes me as a good thing.
Here's the opinion: