Heading Into Crucial Debate, Romney Has Florida Momentum
Right now the situation in Florida is Advantage: Romney. But, will it last after tonight's debate?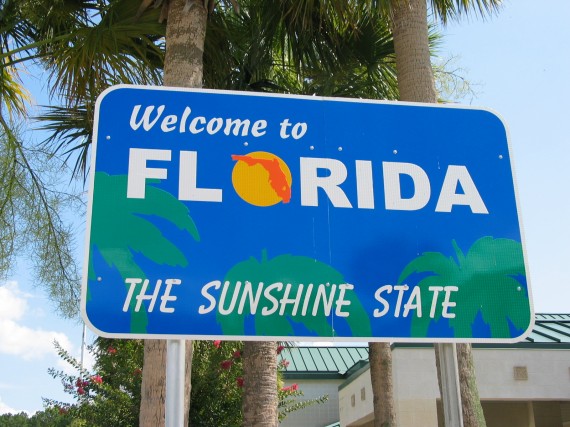 With the final debate only hours away, and the biggest primary to date a mere five days away, Mitt Romney appears to have brushed off a good deal of the damage he suffered last week in South Carolina and has the momentum behind him that could catapult him to a crucial victory. If nothing else, it appears to be confirmation of just how important the debates have been in this campaign, especially those debates that have occurred this month each one of which has propelled the race in a new direction. That makes tonight's debate in Jacksonville perhaps the most crucial one of the race. If Romney can seal the deal with Florida voters and keep his momentum alive, he will find himself very well positioned to do well in the February to Super Tuesday (and there is currently only one debate schedule for the entire month). If Newt Gingrich repeats his success in the South Carolina debates and somehow pulls off a victory in the Sunshine State, he could throw the race in to chaos as whatever is left of the Republican Establishment panics over the idea of Newt Gingrich as their nominee.
First up in the new polls, is one from Insider Advantage that shows a massive shift from what that company had found when the polled Florida immediately after South Carolina:
A Times-Union/Insider Advantage survey out Wednesday has Mitt Romney with a 40-32 lead on Newt Gingrich, a significant swing in less than two days. No other candidate polled in double-digits.

Riding a wave of momentum after winning South Carolina's Jan. 21 primary by double-digits, Gingrich took a 34-26 lead over Romney into Monday night's Tampa presidential debate, according to Insider Advantage's last Florida survey.

The swing does not come as a shock to Matt Towery, Insider Advantage's founder.

"Gingrich does not have the television presence, and he had a tepid debate performance," said Towery, a Times-Union columnist who is a former Gingrich staffer.

Towery said that because debates have played such an influential role in the nominating process, tonight's Jacksonville debate at the University of North Florida could serve as kingmaker in Florida.

"We expected Gingrich to be this great debater, and he just wasn't [in Tampa]," Towery said. "Jacksonville will be his make or break."
Another poll that shows a huge shift in Romney's direction comes from Rasmussen:
Mitt Romney has jumped back ahead in the fevered Florida Republican Primary race with his support back to where it was before Newt Gingrich's big win Saturday in South Carolina.

The latest Rasmussen Reports telephone survey of Likely Florida Republican Primary Voters, taken Wednesday night, shows Romney with 39% support to Gingrich's 31%. Former U.S. Senator Rick Santorum earns 12%, and Texas Congressman Ron Paul runs last with nine percent (9%). Four percent (4%) prefer some other candidate, and seven percent (7%) are undecided. (To see survey question wording, click here).

Four days ago, just after the South Carolina Primary, Gingrich led Romney 41% to 32%.  Less than two weeks earlier, coming off Romney's decisive win in the New Hampshire Primary, it was Romney 41%, Gingrich 19% in Florida.  Santorum's and Paul's support has remained largely the same throughout.
Next up, there's a Monmouth University poll [PDF}:
In what has been a topsy-turvy campaign, Mitt Romney currently holds a 7 point lead over Newt Gingrich among likely Republican primary voters in Florida according to the Monmouth University Poll. The former Massachusetts governor registers 39% support while the former House Speaker has 32%. Former Pennsylvania Senator Rick Santorum (11%) and Texas Congressman Ron Paul (8%) are well behind the top two contenders.

There are decided age and gender gaps in the voting intentions of Sunshine State Republicans. Men give a slight edge to Gingrich over Romney (38% to 33%), while women prefer Romney over Gingrich by a sizable margin (45% to 26%). Voters age 65 and older prefer Romney, by a 48% to 33% margin. The contest is closer among those age 45 to 64 (36% Romney to 31% Gingrich) and age 18 to 44 (33% Gingrich to 29% Romney).

Gingrich (40%) does well among those who call themselves very conservative, leading both Romney (34%) and Santorum (15%) among a voting bloc that comprises nearly 4-in-10 likely voters. But Romney does better among the bulk of voters who see themselves as either somewhat conservative (44% to 34% for Gingrich) or moderate to liberal (44% to just 19% for Gingrich).  Among those who support the Tea Party movement, support is split at 38% for each of the two leading candidates. However, Gingrich does better among those who say they strongly support the Tea Party with 49% to 24% for Romney. It's the mirror image among those who support the Tea Party only somewhat – 51% for Romney to 27% for Gingrich. Romney also bests Gingrich among voters who either oppose or have no opinion about the Tea Party (42% to 18%).
Here's the RealClearPolitics chart:
Clearly what we've got here is a chaotic and volatile race. Just as the numbers in South Carolina shifted on a dime last week thanks largely to one debate performance, so the same thing appears to have happened in Florida. So, it's entirely possible that tonight's debate could lead to yet another shift in the polls that could propel Gingrich forward. Of course, Florida is not South Carolina and Mitt Romney seems to have learned from the mistakes he made last week. On the first point, it's worth remembering, as I've noted before, that early voting has been going on in Florida since last Saturday, and in some parts of the state since January 16th. Unfortunately, none of the polls released today appear to have accounted for early voters at all (which sort of calls their value into question of course).  This means that a late Gingrich surge might not mean as much in Florida if it is offset by what appears to be a very effective early/absentee voting operation by the Romney campaign.
So that leaves us with tonight's debate. As I noted yesterday, it doesn't appear that CNN is going to make the same admonishments to the audience about spontaneous demonstrations of support or disapproval that Brian Williams did on Monday so Newt will have his cheering section back most likely. At the same time, Romney has been fairly aggressive on the campaign trail all week so I think we can expect both of them to go after each other fairly hard. Of course, the danger for both of them, and especially Gingrich, is that they'll go over the top and turn off the voters. And the guy trying to keep control of the whole train wreck? Wolf Blitzer? Yea, this will turn out well.