Heath Shuler To Democrats: It's Time To Change Quarterbacks
Former Washington Redskins Quarterback, and current Congressman, Heath Shuler has launched a quixotic campaign against Nancy Pelosi for House Minority Leader.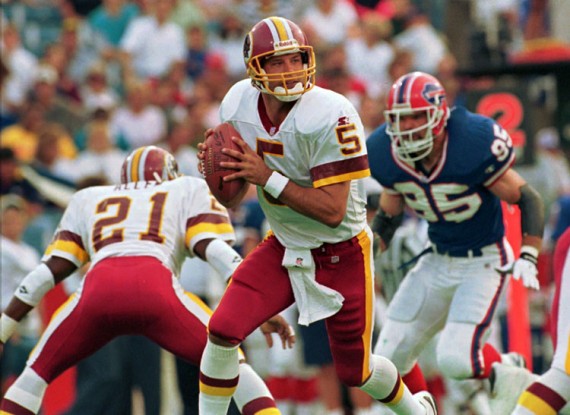 North Carolina Congressman Heath Shuler announced today that he would be challenging Nancy Pelosi for leadership of the Democratic caucus in the new House Of Representatives:
North Carolina Rep. Heath Shuler said Sunday he would challenge House Speaker Nancy Pelosi for the leadership of the Democratic minority in the next Congress although he acknowledged that he does not have the votes to win.

"We've just come off the largest … loss for the Democratic Party in almost a century," Shuler said on CNN's State of the Union. "And to be able to put Speaker Pelosi as minority leader is truly … unacceptable for our party."

"If she doesn't step aside then … I'm going to press forward," he said. "I can add and subtract pretty well. I don't have the numbers to be able to win, but I think it's a proven point for moderates and the Democrat Party that we have to be a big tent. We have to be all-inclusive. We have to invite everyone into the party."
As part of his nascent campaign, Shuler is reaching back to his ill-fated career in the NFL to persuade his fellow House Democrats that they need to make a leadership change:
After a junior year in which he almost won the Heisman Trophy, Heath Shuler was picked in the first round of the 1994 National Football League draft by the Washington Redskins. In less than two seasons — and after a few too many interceptions — he was replaced as the team's starting quarterback. ESPN described him as one of the all-time draft busts.

He might be expected to play down such a distinction. But Mr. Shuler, 38, who just won a third term as the congressman representing North Carolina's 11th District, has turned it into metaphor.

"It's no different than me as a quarterback," he said in an interview here on Thursday. "I didn't play very good. So what they'd do? They benched me."

The Redskins in this instance are the Democrats in Congress. The dismal season is the trouncing they received at the polls two weeks ago. And the quarterback is Nancy Pelosi, the soon-to-be former speaker of the House.

Since surviving that election, Mr. Shuler has emerged as one of most prominent voices in the debate about the Democratic Party's immediate future. He was among the first to call for Ms. Pelosi to step down from her leadership role in the new Congress and said he would run for minority leader himself if no alternative emerged (though he admitted that he would be an underdog).

The Democrats' achievements in the last Congress, Mr. Shuler said, are unpopular with the public because the party's leadership has been too reflexively partisan. He says a more moderate approach is needed.

"It's my guys that worked probably harder than any group in Washington, did all the right things, voted the right way and still got beat for the simple fact that you've got the far edges running the Congress," Mr. Shuler said.
While Shuler has a good argument that it doesn't make much sense to go into the minority with the same team that led you there, the odds of Shuler's quest succeeding seem slim to but it mildly. The Blue Dog Coalition that Shuler is a part of suffered devastating losses in the November 2nd elections, while the progressive/liberal wing of the party, from which Pelosi hails, actually saw its position in the caucus enhanced in the new Congress. Given that, it seems unlikely that Shuler could come anywhere near being able to put together an effective challenge to Pelosi, although his candidacy may serve as a rallying cry for Democrats who agree with him about how the party could recover from its historic losses:
"We've got to be able to recruit. We have to go into those moderate areas, those swing districts, and be able to get great recruits or get back those members of Congress that we lost, be able to have them on the ticket in 2012 to be able to win back the House. And I just don't see that path happening if we have her at the top of the leadership."

(…)

Shuler said the leadership under Pelosi had pushed legislation that was "so far to the left," that by the time lawmakers managed to push it back towards the center "it had been demonized by everyone involved and made it very difficult to be able to get a real message out clearly to the American people."
While I am loath to give advice to Democrats as to how they might recover, it strikes me that Shuler is on the right track, and that the party's apparent decision to react to the election results by not changing anything is pretty dumb.