When It Comes To Ideological Purity, Democrats Can Be As Dumb As Republicans
A call for ideological purity in the Democratic Party in today's New York Times demonstrates that Democrats can be just as foolish as Republicans.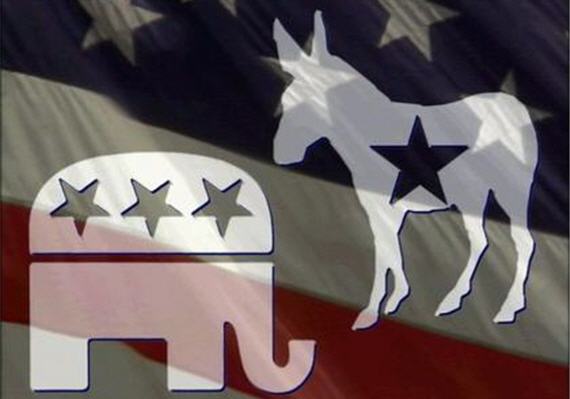 In today's New York Times Ari Berman, a writer for The Nation, makes the case for booting the s0-called Blue Dog Democrats out of the Democratic Party:
In conservative Democrats in the House of Representatives — whose election in 2006 and 2008 enabled Nancy Pelosi to preside over a supermajority (there are 255 Democrats and 178 Republicans) — increasingly question whether she should relinquish her position as speaker. Representative Heath Shuler of western North Carolina, a leader of the restive Blue Dog Coalition of Democrats, has even hinted that he may run for her job. Representative Shuler is an unlikely candidate for leader of the party — a devout Southern Baptist who voted against the stimulus, the bank and auto bailouts and health care reform. Yet he's exactly the kind of Democrat that the party worked very hard to recruit for public office.

In 2005, Howard Dean, who was then the chairman of the Democratic National Committee, carried out a campaign to elect as many Democrats as possible. In long-ignored red states, both Mr. Dean and Rahm Emanuel, then the chairman of the Democratic Congressional Campaign Committee, backed conservative Democrats who broke with the party's leadership on core issues like gun control and abortion rights. Mr. Shuler was one of Mr. Emanuel's top recruits. The party leaders did not give much thought to how a Democratic majority that included such conservative members could ever effectively govern.

(…)

Margaret Johnson, a former party chairwoman in Polk County, N.C., helped elect Representative Shuler but now believes the party would be better off without him. "I'd rather have a real Republican than a fake Democrat," she said. "A real Republican motivates us to work. A fake Democrat de-motivates us."

Ms. Johnson is right: Democrats would be in better shape, and would accomplish more, with a smaller and more ideologically cohesive caucus. It's a sentiment that even Mr. Dean now echoes. "Having a big, open-tent Democratic Party is great, but not at the cost of getting nothing done," he said. Since the passage of health care reform, few major bills have passed the Senate. Although the Democrats have a 59-vote majority, party leaders can barely find the votes for something as benign as extending unemployment benefits.
Of course what Berman, Johnson, and Dean fail to acknowledge is that it's entirely likely that without candidates like Schuler and other conservative and moderate Democrats, the party might not even have control of the House of Representatives right now to begin with. That was the reason, after all, that Emanuel and Dean set about recruiting these types of candidates back in 2005. Back then, Republicans held on to a slim 14 seat majority in the House and the idea behind the Emanuel/Dean plan was that if the Democrats were going to win back a majority, they would have to go after Republican-held seats in moderate Districts. While dis-satisfaction with the Bush Administration played a huge role in the final outcome of the 2006 elections, it's fairly clear recruiting candidates like Schuler played a large role in giving Democrats control of Congress for the first time in twelve years. Casting those Democrats (In Name Only ?) aside as Berman suggests would only hurt the party. Heath Schuler, for example, wouldn't be replaced by a progressive Democrat, he'd be replaced by a likely more conservative Republican. How, exactly, is that smart politics?
Republicans have taken the same tack over the years, and we can see the results of it quite easily. Thanks to foolish crusades against "Republicans In Name Only," the GOP after 2006 had virtually no representation in the Northeast outside of Senators like Olympia Snowe and Susan Collins, both of whom have long been the bane of conservative Republicans for years. Even after the GOP started to experience a Northeastern renaissance with the election of Scott Brown in Massachusetts, the quest for ideological purity didn't go away. On those occasions when Scott Brown, or Chris Christie, have strayed from GOP orthodoxy on issues like extension of unemployment benefits, offshore oil drilling, or cap-and-trade, they've been foolishly denounced as "RINOs" and some Republicans have even said they should be challenged in future primaries by more conservative Republicans. Of course, nominating someone further to the right of Scott Brown in 2012 would merely mean handing the seat to the Democrats, but the ideological purists don't seem to care. Perhaps the most absurd act of ideological purity, though, came in Christine O'Donnell's defeat of Mike Castle in the GOP Senate primary this summer, an event which guarantees that a once winnable seat will state in the Democratic camp.
What this quest for ideological purity in both parties forgets is the fact that America's major political parties have never been overly ideological. While there have always been a core set of principles that unite Republicans and Democrats, there has typically been enough room within that core to allow for regional variations. The Republican Party of 1978, for example, was broad enough to include Ronald Reagan and Charles Percy of Illinois, and that year Reagan campaigned vigorously for Percy even though the two disagreed on many issues, and despite the fact that there was a more conservative candidate running as an Independent. Similarly, the Democratic Party of 2006 was broad enough to include Nancy Pelosi and Heath Schuler. Writing Schuler out of the party as Berman suggests, which many just send him into the arms of the GOP, strikes me as foolish in the long run, just as it was ultimately foolish for conservatives to unite behind a flaky candidate just to punish Mike Castle for the "sin" of supporting cap-and-trade.
Like those conservative Republicans, Berman seems to think that the solution to the Democratic Party's problems is to make it more liberal. They are both letting their ideology blind them to the realities of American politics.